Bean Trailer offers a limited lifetime warranty against leaks where the endcap ends and the roof begins (roof line). Roof line begins above the rear hatch and continues forward on both sides to the beginning of the molded in recess for protective material(ie diamond plate). This warranty is granted to the original owner and is not transferable. Lifetime warranty excludes, but is not limited to, the following:
​1. Leaks resulting from roof penetrations such as the installation of vents, fans windows or rack systems. Warranty does not include leaking associated with side wall penetrations such as doors, windows, inlet and outlets.
​2. Leaks associated with damage, misuse and modifications of Bean.
3. Leaks associated with the rear hatch hinge, door, latching system and galley rain gutter.
30 YEARS OF FIBERGLASS EXPERIENCE
With decades of fiberglass experience and an industry needing a facelift, Bean set themselves apart by building their shell (side walls and roof) out of molded fiberglass. This means no more leaky nights and a product that will last a lifetime! This construction method allows for up to 12" more of headspace so you never feel confined. We also use a thick (10-12mm) glossy marine grade gelcoat or Raptor Liner which means enhanced durability and UV resistance. Our gelcoat color application is so deep you can buff out fine scratches and discoloration associated with normal wear and tear. Inside the cabin, we build a modern and spacious interior of durable laminate walls, impact resistant fiberglass floor, cabinetry with grain matching wood veneers and a soft touch headliner.
FEWER SEAMS, SEEMS OBVIOUS
Our insulation is comprised of 3/4" bug and water resistant space age composite material. Not only is your trailer going to manage variable weather better, but you'll never need to worry about wood walls getting moldy. Sure, it's more expensive to build but it's the right way if you want a product that will last. Ask experienced RV users and you're bound to hear stories about leaks, dry rot, and mold resulting from seams between the roof and side panels. You can't have a leak in a seam that doesn't exist, and it will never exist in your Bean. 
"Its simple but smart construction ensures that road trippers and off-road adventurers will be able to drive farther and enjoy their time at camp."
– New Atlas
"The classic teardrop shape gets a modern reboot."
"The bean trailer is like towing a tiny "modern hotel room" behind your car."
"It has all the right ingredients to become a favorite among camping aficionados."
– Men's Gear
HOW MUCH ROOM DOES THE CABIN HAVE?
Meet Steven, our 6' 7" Welder
Bean's cabin has 20% more space than most teardrop trailers. Traditional teardrop trailer manufacturers are limited to building with 4′ side walls based on the standard  sheet size of aluminum. Instead, because we build Bean with our famous one-piece fiberglass shell, so our floor to ceiling height is a spacious 54 1/2″. As you can see, even Steven is able to camp comfortably in Bean!
THIRD PARTY CERTIFICATION
Bean Trailers are Pacific West Associate (PWA) Certified. PWA is a third party inspection agency that audits compliance with NFPA 1192 Standard for Recreational Vehicles. You can rest assured that your Bean Trailer is audited for the latest in fire, electrical, structural, plumbing, heating, and life safety issues.
THERE IS SOMETHING ABOUT BEAN
People flock to Bean because it makes immediate sense.  Human factor engineering was used in every design aspect. From glossy sculpted fenders and soft headliner to clever storage solutions, warm cabin lighting, and pass thru cabinets, Bean is carefully designed to make you comfortable and feel at home. In fact, the cabin is so ideal for rest and sleep that you might feel a twinge of guilt that you are not "roughing it" enough.
Every Bean we sell creates 10 kid meals in Utah through a donation to the Utah Food Bank.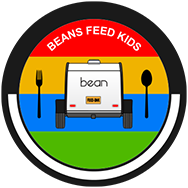 The economic crisis of 2020 has resulted in food insecurity for many Utah children. Bean Trailer has partnered with the Utah Food Bank to donate the equivalent of 10 meals for every Bean Trailer sold. 
For over 117 years, Utah Food Bank has stayed true to our objective of serving those in need throughout our state. We work tirelessly with community partners and volunteers to continue making an impact and fulfilling our mission of Fighting Hunger Statewide.
2020 MANUFACTURER OF THE YEAR AWARD
"Part of the reason they were selected is their fearless innovation..." - UMA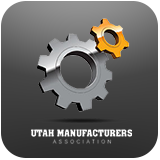 On Nov. 11, 2020 the Utah Manufacturing Association (UMA) awarded Bean Trailer with Utah's 2020 Manufacturer of the Year, just one year after receiving the award for 'Coolest thing made in Utah' in 2019. The award was based on a range of criteria including innovation, operational excellence, financial performance, employee engagement, and company culture.
2019 COOLEST THING MADE IN UTAH AWARD
The Coolest Thing Made In Utah Contest was introduced to improve and enhance public awareness of manufacturing and the incredible products made in the state of Utah. From 222 nominations, products advanced rounds from Top 25, Top 10 and Final 3 based on public vote.

Ultimately, the public voted and Bean Trailer was named the 2019 Coolest Thing Made In Utah.
Let's Talk About Sustainability
Aluminum is very abundant but fiberglass is even more so. The main ingredient in fiberglass is glass. Since glass is made from sand, an abundant, natural, non-depleting resource, from this stand point fiberglass is sustainable. The more durable a trailer, the longer it will last and the less need for disposal. Less disposal means less waste and more sustainability. Fiberglass trailers last longer than aluminum trailers.
Fiberglass is known for its very low embodied energy – the total energy required to produce a product from the raw materials stage through the delivery of fiberglass products. In comparison, aluminum extraction requires an excessive amount of electricity. The joke about aluminum is that it is "congealed electricity" https://theconversation.com/the-trouble-with-aluminium-7245 . Shockingly, 3% of the world's entire energy supply goes to aluminum extractions!
Our employees are passionate about our trailers!