New and improved, Black Bean continues the tradition of functional design and quality construction. This trailer features a high clearance and off-road capabilities with the addition of the 3,500 Timbren independent suspension and durable powder-coated steel frame with Cruisemaster DO35 articulating coupling.
Order to completion lead time is 60 days for Black Bean and 4 months for Black Bean with Cloud Suspension.
ᐁ Roofline Lifetime Warranty
Bean Trailer offers a limited lifetime warranty against leaks where the endcap ends and the roof begins.
Bean Trailer offers a 1 year structural warranty.
Black Bean shown with Black Bean galley configuration and optional upgrades*
LIMITED TIME PRICING STARTING AT: $42,390

INCLUDES THE FOLLOWING STANDARD FEATURES
4.5″ queen foam mattress
Under mattress floor storage
Left and right arm cushions
Interior walls with stain and abrasion resistant wall coverings
Optional custom wood grain laminate slate ceiling system
Woodgrain laminate upper cubby with LED push buttondown lighting & dual USB ports 
(4) Woodgrain laminated interior cabinets with galley pass through
TROFAST compatible shelving system
MAXXFAN Deluxe with remote
Dimmable recessed lighting in inviting warm tone
Large attic over cabinet doors
(2) Organizer, keyholder, and retractable drink holders   
(2) large drawers under cabinet drawers
(4) floor-mounted D-rings
Floor storage compartment with integrated lid
11 lb propane tank
18 gallon fresh water tank
105AH Lion Energy Lithium-Polymer batteries
1500W Inverter
RedArc Manager 30
RedVision power display interface

Shore power connection and 120-volt outlet

(2) AC wall plugs with USB plugs (galley and cabin)
LED taillights and illuminated side markers

License plate lighting
Timbren 3500 independent suspension with 2″ lift and powder-coated steel frame

Cruisemaster DO35 articulating pin coupler

20" of ground clearance
Safety chains
15" steel wheels with 30″ BFG AT tires
7 pin wiring harness
Drivers sidewall mounted spare tire

2 rear stabilizer jacks

Breakaway braking system pre-wired for electronic braking
One-piece fiberglass shell construction
Raptor coated sidewall including black endcaps, and marine-grade white gelcoat roof

Rugged black stand-on aluminum fenders with slip/scuff resistant finish, and round side marker

Armadillo coated front storage box. Box dimensions are 60.5″ x 29.4375″ x 24.25″ and is capable of storing optional DOMETIC CFX3 75DZ. 
(2) Side entry doors with integrated port windows, circular shades, and screen doors
Passenger side large operational window
(2) Outdoor porch lights
Rear galley hatch with integrated lift and latching system 
A 2" lift is standard on the Black Bean.
Bean Trailer is pleased to announce Cloud Suspension is available on Black Bean trailer models!
Cloud Suspension is an important upgrade for overlanders and rugged back country campers.  This system provides a smoother ride and tempers vibrations so your trailer will experience less stress over the duration of its lifespan. It creates 22 3/4″ of ground clearance in the raised position and has 17 3/4″ in it's lowered position. Since you can adjust these heights independently this increases galley ergonomics and gives you the ability to level your trailer in dispered camp sites. 
Black Bean's trim and fenders are coated with black Raptor liner. The sidewalls are lined with the color of your choosing.
TAKE YOUR BEAN TO THE NEXT LEVEL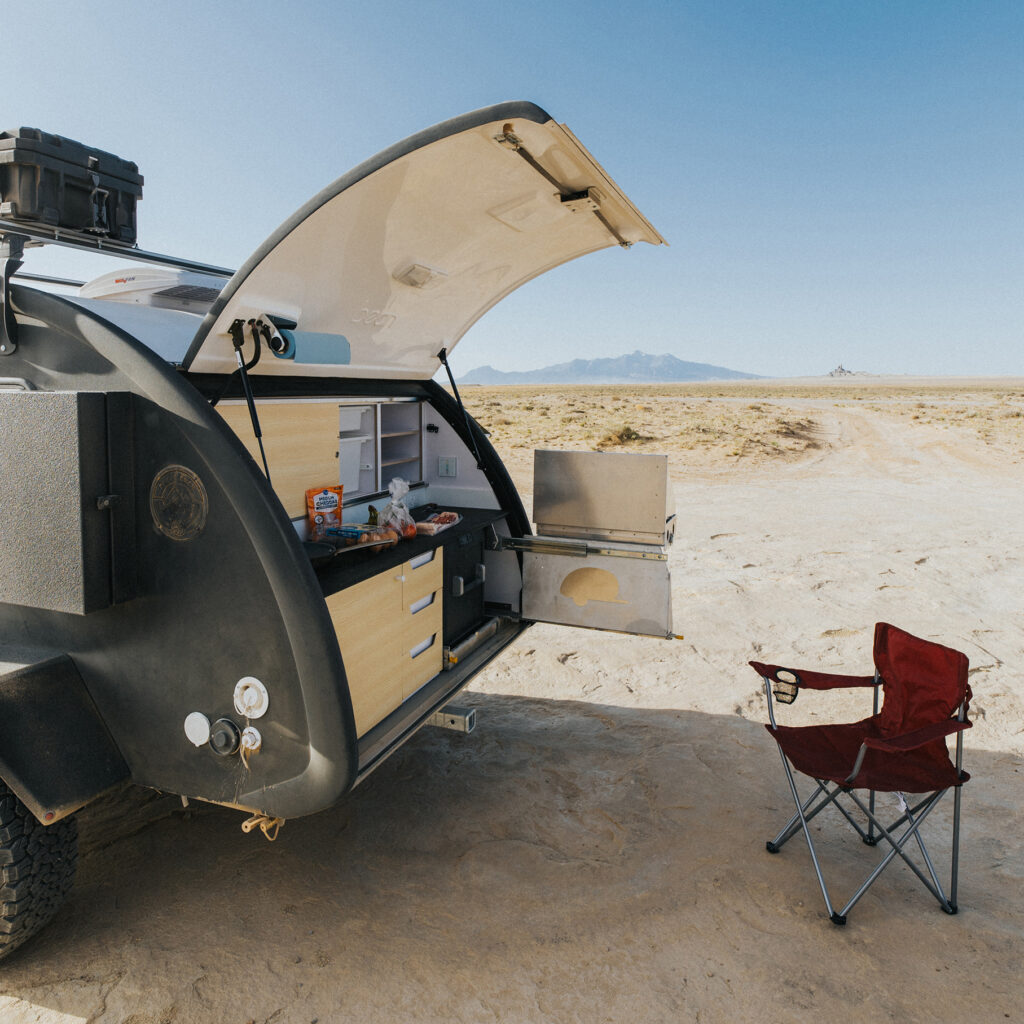 Hatch mounted dome light
RGB strip lighting with touch controller
Paper towel dispenser
3 large drawers
Stainless bottom edge trim
Richlite counter and solid surface backsplash
Large recessed sink with pressurize fold-down faucet
Rack out 22″ Partner Steel 2 burner stove
Dometic CFX3 55IM with rack out tray and lock out system
Lower storage area with washable surfaces
(2) D-ring tie downs
Hover over each item to learn more.
Add  lighting to your cubby and attic space. With this option you'll create an even more of a  relaxing environment fit for movie nights,  great nights rest.
A favorite new upgrade amongst most owners. This table converts the cabin sleeping space into a relaxing dining and recreational room. 
The spray port is a great option for people who want the ability to bring pressurized water to the road.  Instantly spray off totes, coolers, bikes and other camp accessories by simply connecting the coil hose. This option is only available with the Premium and Premium Plus galley options. 
Rhino Rack Sun Seeker Awning
Lightweight and easy to deploy. Using this awning protects you from the elements as you take a break from the trails and relax next to your Bean.
Need more room for your favorite gear? Our roof rack provides a sturdy and highly customizable system that can be used to rig a canopy, rooftop tent, or even a road shower. 
These brackets are the key to be able to upgrade your trailer with most of our exterior options included on this list.  They are through-bolted to provide superior strength for options like storage racks, roof top tents, and awnings. 
DOMETIC CFX3 55IM Fridge/Freezer
Upgrade your galley to include this huge fridge/freezer. This electric fridge has a rugged design, it can fit up to 83 cans, and even has it's own ice maker.
For Bean owners with children and dogs, this detachable bunk is a great feature to add to provide additional sleeping space. It installs at the foot of Bean's queen size bed and  measures, 57.5 in x 22.5 in. 
A key option for our mountain bike fanatics, mount two bikes to the front of Bean with this 14 lb. front box rack. It can accommodate up to a 54" wheelbase.. 
For the camper who plans to utilize Bean beyond a weekend getaway, we're proud to release our custom annex, the next best thing since our 23 Zero 180°  awning. Combine the two upgrades for even more additional coverage from the elements, privacy when you need it, and possibly even as a personal shower stall. The options are endless!
Get the best view of the mountains, lakefronts, or sprawling landscapes right from the comfort of your teardrop trailer. With this upgraded front window, you'll create a modern style with added lighting for your cabin space. 
Freshen up and bring the luxury of a shower on the road with you. Instantly heat water from our 18 gallon water tank to use with your galley's faucet or the  quick connect shower head. 
140 Watt LightLeaf
Solar Panel
Add this light weight, rigid, and durable carbon fiber backed solar panel to your Bean!  It's easily removable so you can angle it properly towards the sun. 
DOMETIC CFX3 75DZ
Dual Zone Fridge/Freezer
Black Bean is now reconfigured to fit this heavy duty 75 L fridge/freezer. It comes with dual storage compartments with independent temperature control for simultaneous cooling and freezing. Additionally, this cooler will fit in the front box.
Keep your trailer's interior temperature cozy, even if you're adventuring in the middle of winter. With the upgraded Truma Varioheat, take advantage of traveling around with your Bean no matter the season or weather conditions.
Protect your Bean Trailer from harsh weather elements while it's being stored! The cover is made from Sunbrella fabric with Sunbrella SUNZIP zippers, allowing you to get inside the cabin at any time. One-size fits all for a tight and snug fit, with the option to customizing the cover for any upgrades/add-ons you might be getting on the outside of your trailer. 
A robust power system is a must-add! Upgrade to get (2) 105 amp hour lion energy lithium batteries, a Victron 1500 Watt inverter, and solar charge controller. This equals 1/2 the capacity of a Tesla Powerwall.
Front Box Slide Out & Box
Add storage and convenience to the Black Bean Front Box with this Slide Out & Box upgrade. This feature has a generous 200 lb. weight limit and is compatible with the Dometic CFX3 75DZ powered fridge/freezer. 
This A/C is fast, efficient and will keep your Bean cool and comfortable when you're camping in hot and humid climates! We recommend a shore power connection for prolonged use but the unit will run for approximately 3 hours off of a dual lithium battery setup alone. This unit is not retrofittable for Bean owners or Bean Trailer's that have already started production. 
ARMADILLO® A3
Roof Top Tent
Bean Trailer was built with ample space and comfortable sleep in mind. In fact Bean's cabin has 20% more room than the average teardrop trailer but how should you sleep multiple friends or family members? Easy. Travel smart with an  easy-to-deploy king size rooftop tent. 
The Peregrine shower tent is a great addition to your trailer to add privacy whilst showering or using a portable toilet when camping.
Plan on going off the grid? A robust power system is a must-add! Upgrade to get (4) 105 amp hour lion energy lithium batteries, a Victron 1500 Watt inverter, and solar charge controller. This equals 1/2 the capacity of a Tesla Powerwall.

DRY WEIGHT: 2600 LBS | TONGUE WEIGHT: 350LBS
 CONFIGURE YOUR
TRAILER ONLINE