What kind of outdoor company would we be if we didn't show our neighboring brethren from Canada what the teardrop life is all about? In an effort to extend our reach further outside of Salt Lake City, we hit the road up to the North country and are now here to share the travel tips, the stops, the destinations and the good eats we indulged in along the way. Best of all, this will include activities for every type of traveler from your laid back vagabond to the hardcore woodsman. It's also important to note the Pacific Northwest is famous for it's rainfall, so be prepared for a little inclement weather!
Departure: Salt Lake City, Utah
First Stop: Lake Cle Elum x Denny Creek Campground, Washington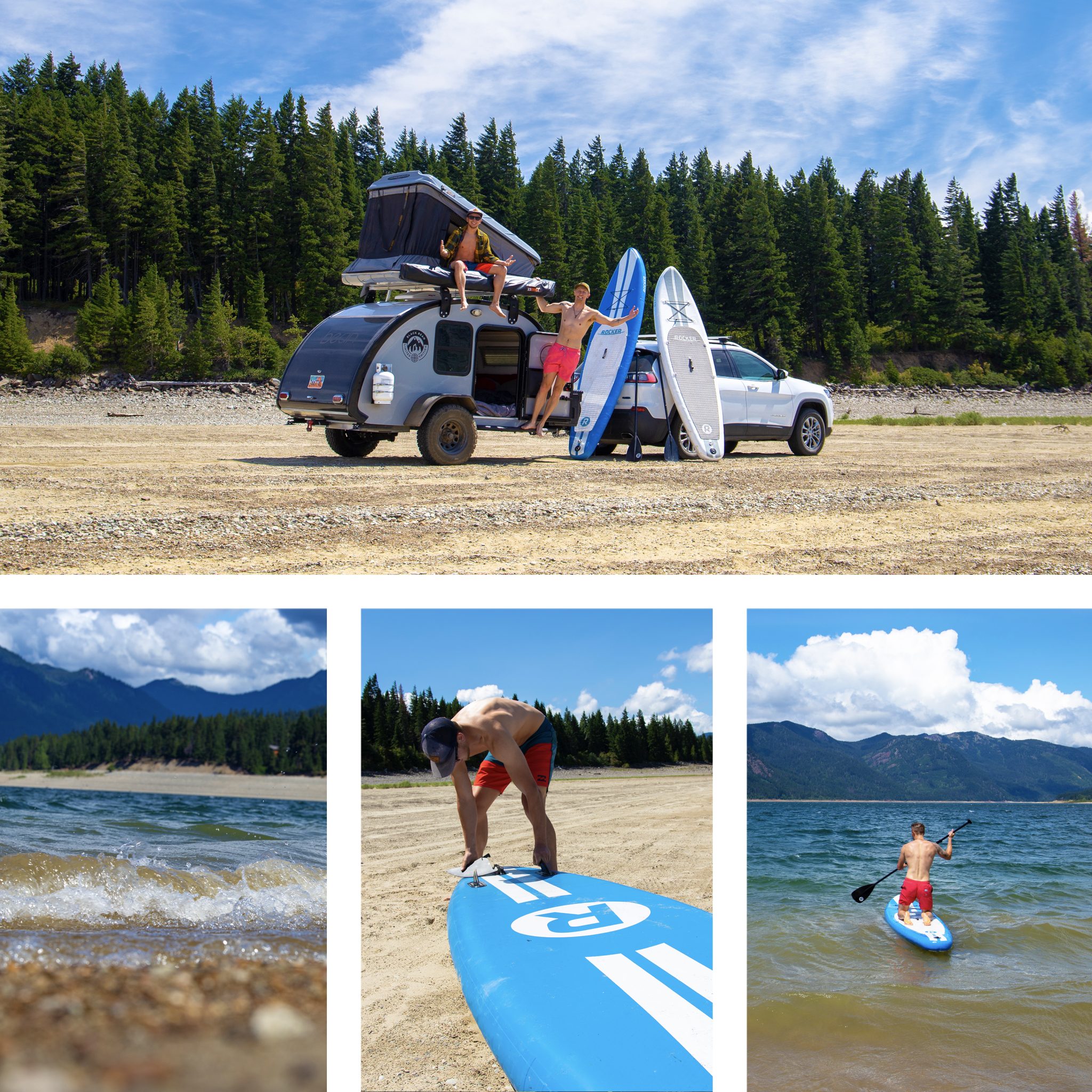 Washington is an outdoor mecca and it'd be impossible to experience the whole state in a year let alone a couple days so it's always a blessing when I can spend some time exploring around chipping away at the many places to go. Before crossing the border we found ourselves enjoying Lake Cle Elum and Denny Creek Campground located on route just outside Snoqualmie Pass. It's always a very freeing feeling to be able to drive right out onto the beach, park lake side, and step out to feel the sand between your toes. For paddle boarding purposes, the only thing I'd do differently next time is plan to make it here early in the AM to avoid the aggressive waves. We still gave it a valid effort but we probably spent more time falling off the board than we did on standing on top.
On our next stop, we found the beautiful Denny Creek Campground, situated deep within the towering evergreen trees. Depending on when you arrive, If you want to hang out near the campground, follow Franklin falls trail to a 70 ft. waterfall only 2 miles away. If you need to get away for day, driving a mere 14 minutes will take you to the incredible Snow Lake trailhead situated next to the Alpental Resort. For the more adventurous traveler, dock your teardrop at your campsite and off-road your way up to Lost Lake in the Mount Baker Snoqualmie National Forest, of course, we made sure to bring our paddle boards along to completely enjoy the still water seclusion at dawn. I remember counting my breath with each stroke across the black lake illuminated in gold. These are the moments you never forget!

Second Stop: Victoria, Vancouver Island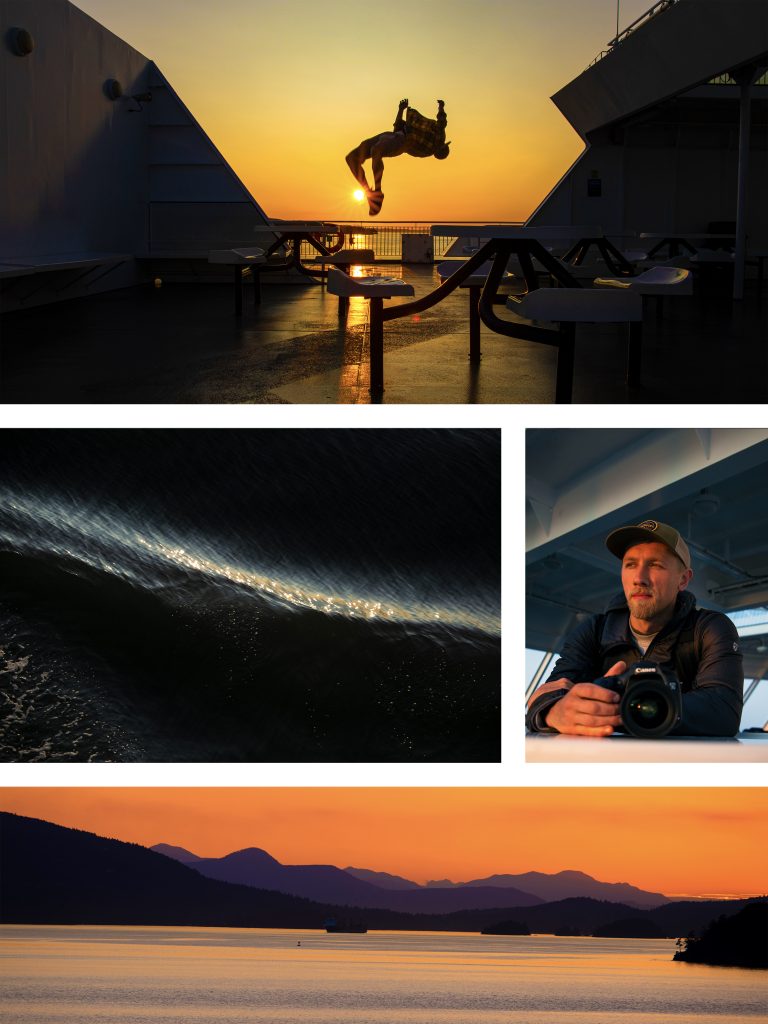 Thankfully, our golden adventures didn't stop there! Even though Bean Trailer is built similar to a boat it's capabilities on water differ. So when crossing the Haro strait to get to Vancouver Island its best to catch a ferry ride to Sydney before arriving in Victoria. During our voyage we were overjoyed to witness a perfect clear sky sunset. We watched as silhouetted boat goers rushed from the warm cabin of the ferry to the windy top deck to witness the enchanting orange flaming ball from millions of miles away set upon the now lit up riveting waters. I love seeing people adapt to a native child-like state, away from the chaos of our muncipal lives to enjoy a simple nuanced beauty of our world. As you reach the island, there are campgrounds all around the historical town so choosing a site won't be a challenge but timing might be. So just be sure to look at individual reservations because during peak season they can book up fast! Make sure to spend at least a half day strolling around the capital, breathing in the fresh sea air, and taking in the stunning views from the James Bay. If you're looking for something to do in the evening, be sure to grab a bite to eat and a drink at Brown's Socialhouse before enjoying the night life around Douglas st. downtown.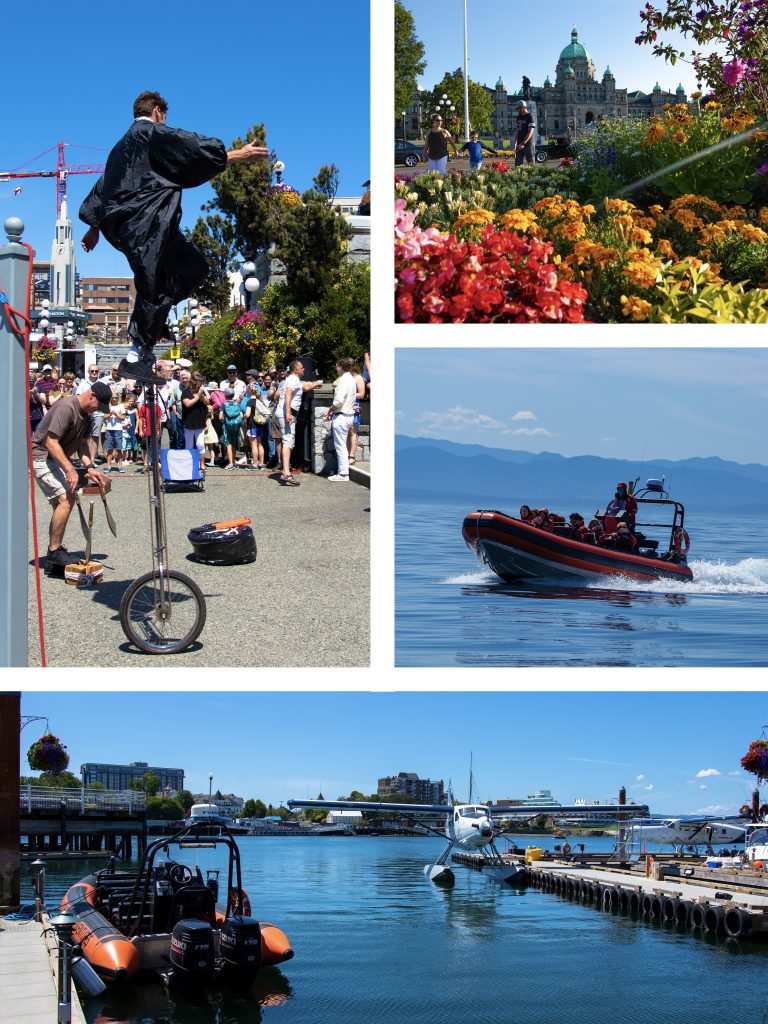 During the day plan for a few hours on the water to enjoy a whaling tour where you'll be surprised to find that the mountains in the distant are the stunning backdrop of Olympic Peninsula. When you're done, strip off your baggy expedition suite, walk a couple feet to the Flying Otter Grill at sunset, and relish in the coast-life glory. In addition to all of this leisure living, the outdoor seating in right on the dock so you can enjoy the coastline views, bobbing sea lions, and the occasional sea plane take off right before your eyes.

Third Stop: Triple Peaks Trailhead, Vancouver Island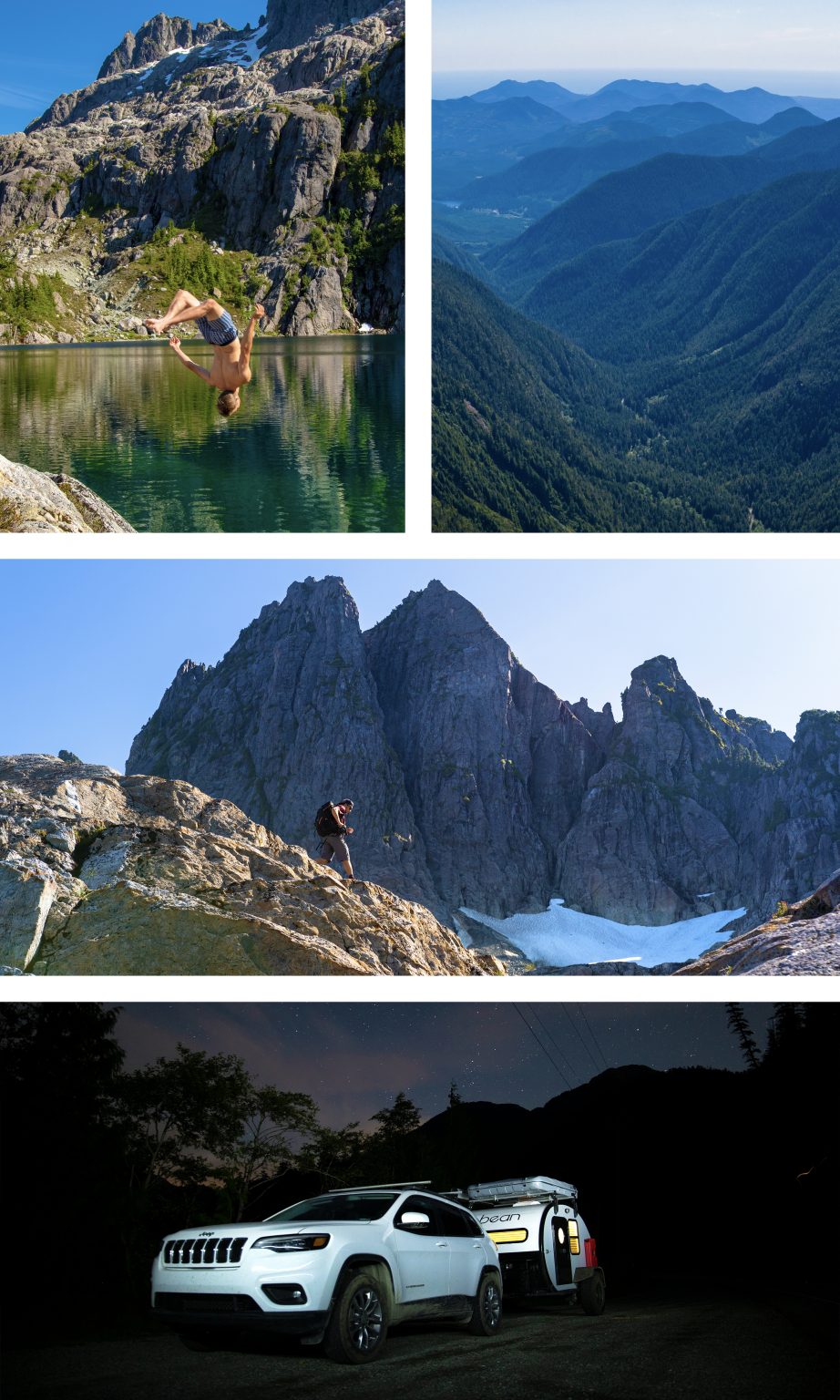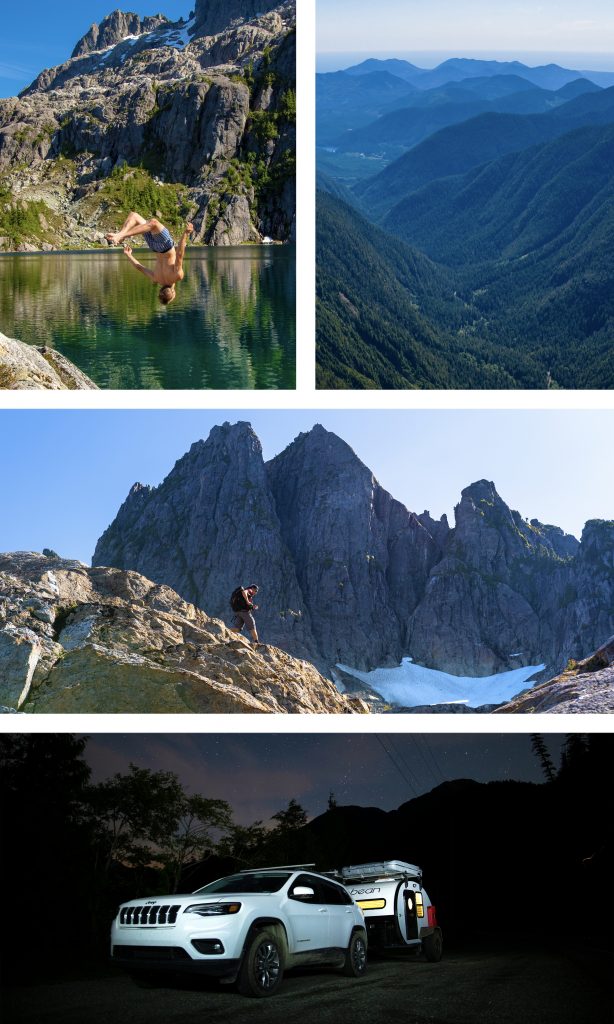 If these tourist day dates aren't wild enough for you, I have the ticket to take your experience up to new heights. I forewarn you the second half of our stay on Vancouver Island might be a bit extreme for the average traveler but are great ideas for our adventurous spirits in the bunch. Heading north along the Trans-Canadian highway, 3 hours out you'll find a dirt pull off that heads up to the Triple Peak trailhead. Before accessing this dirt road, make sure your galley is stocked with food, snacks, and water because it is long, unkept, and secluded with no reception, so it's best to be prepared. Regrettably, we ended up making it to the trailhead without four-wheel drive but I'd suggest it, especially if you're visiting when it's rainy. Upon starting the hike, I immediately knew we were in for a grind. Looking back on this day, I can barely even call it a trail as 90% of it wasn't maintained or noticeably a path. On top of that, almost half of the approach could be classified as a scramble as we dodged from rocky outcrop to the next. After about 2.5 miles through the vertical bush, 2,500 ft of elevation gain, and crossing about a hundred different waterfalls, we arrived at one of the most beautiful tarns I've ever set my eyes on. To celebrate the feat, there was no better prize than jumping off into the frigid waters to cool off!

Fourth Stop: Tofino, Vancouver Island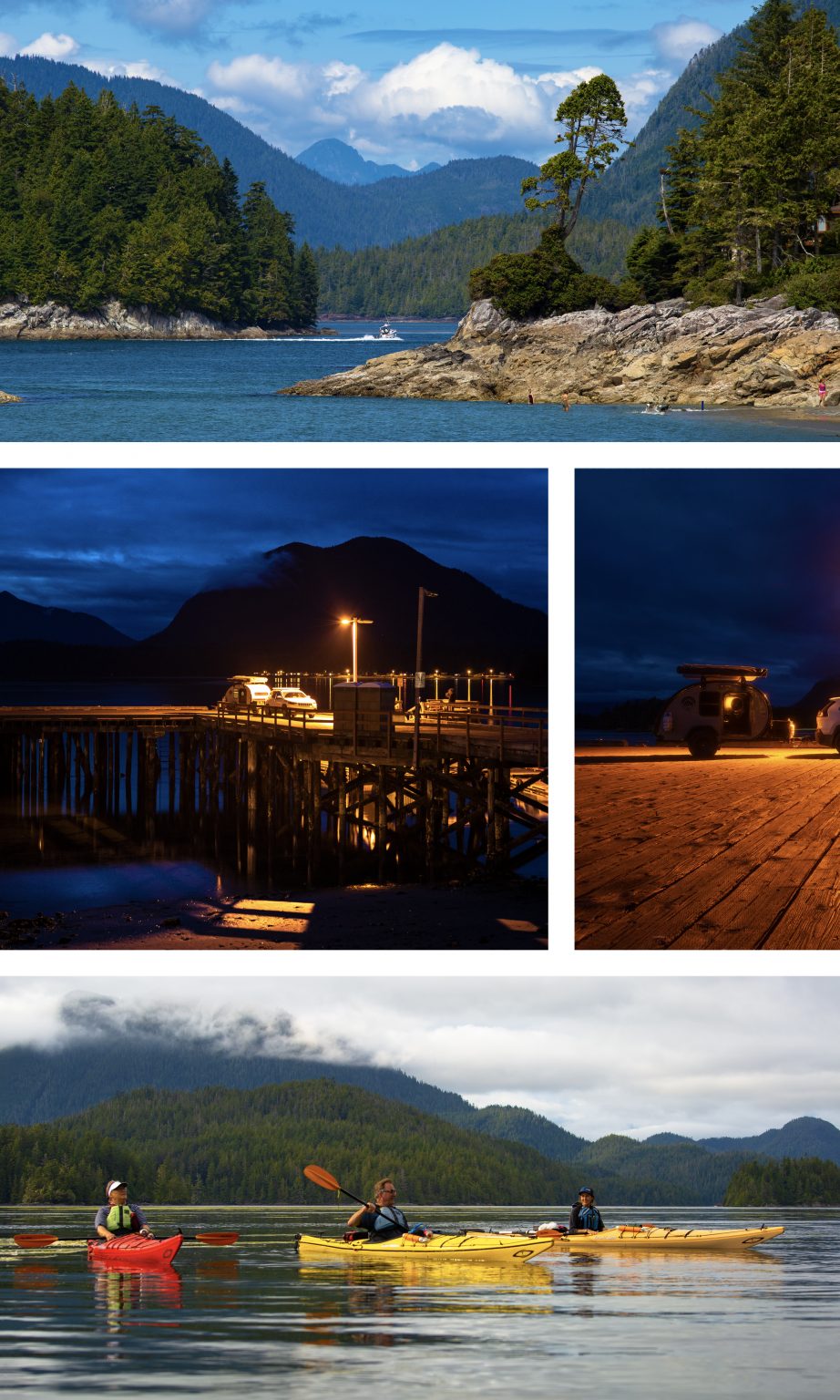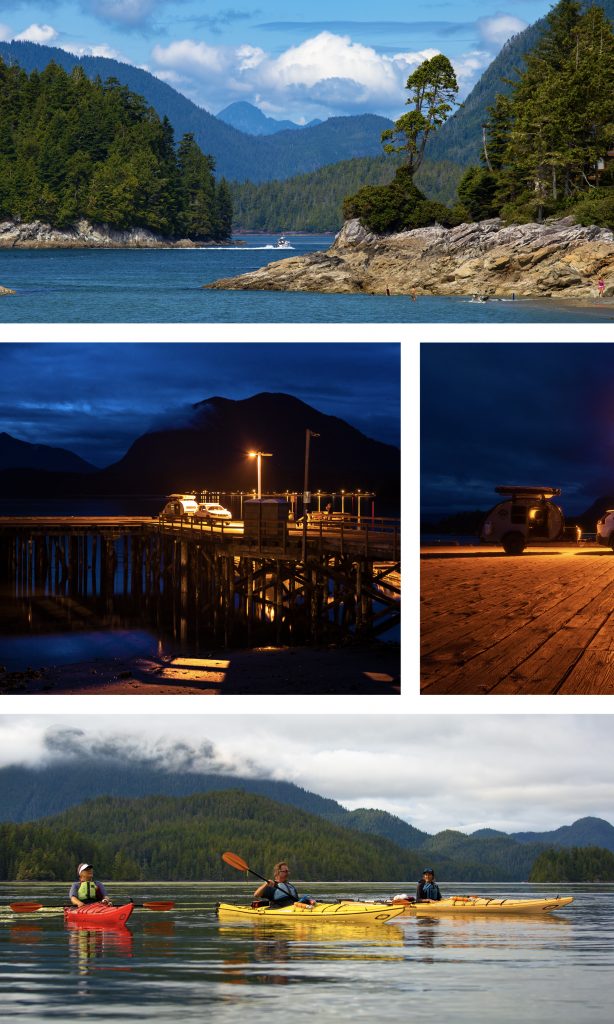 Next up on our whirl wind of a journey through the western most island, takes us even farther north to the legendary town of Tofino. Again be careful about planning your stay here if you want a legitimate campsite because during the peak season they book up very fast. Call ahead in advance! While you're here, you must sway with the locals way of life and give surfing a try. Almost everyone in the town is supportive and will help you stay safe and have fun. Plus, it's an entirely new experience to beach bum it with pine trees hovering over you instead of a typical palm tree. Next up, rent sea kayaks and navigate around the many islands dispersed through the very scenic Browning Passage. While many of the restaurants in Tofino boast high reviews, for a delicious and moderately priced meal, walk to Shed at night for an upbeat yet relaxed evening.

Fourth Stop: Vancouver, British Columbia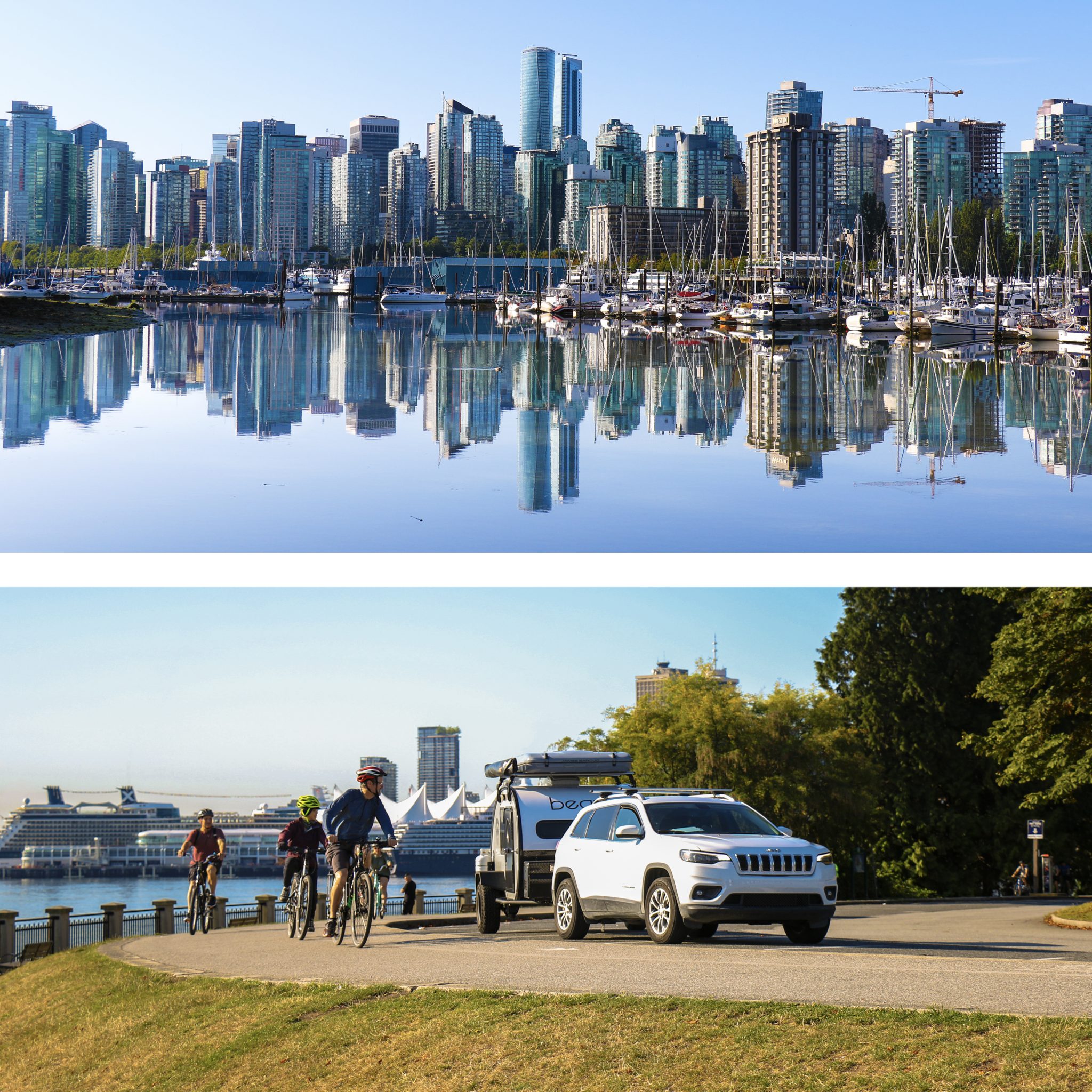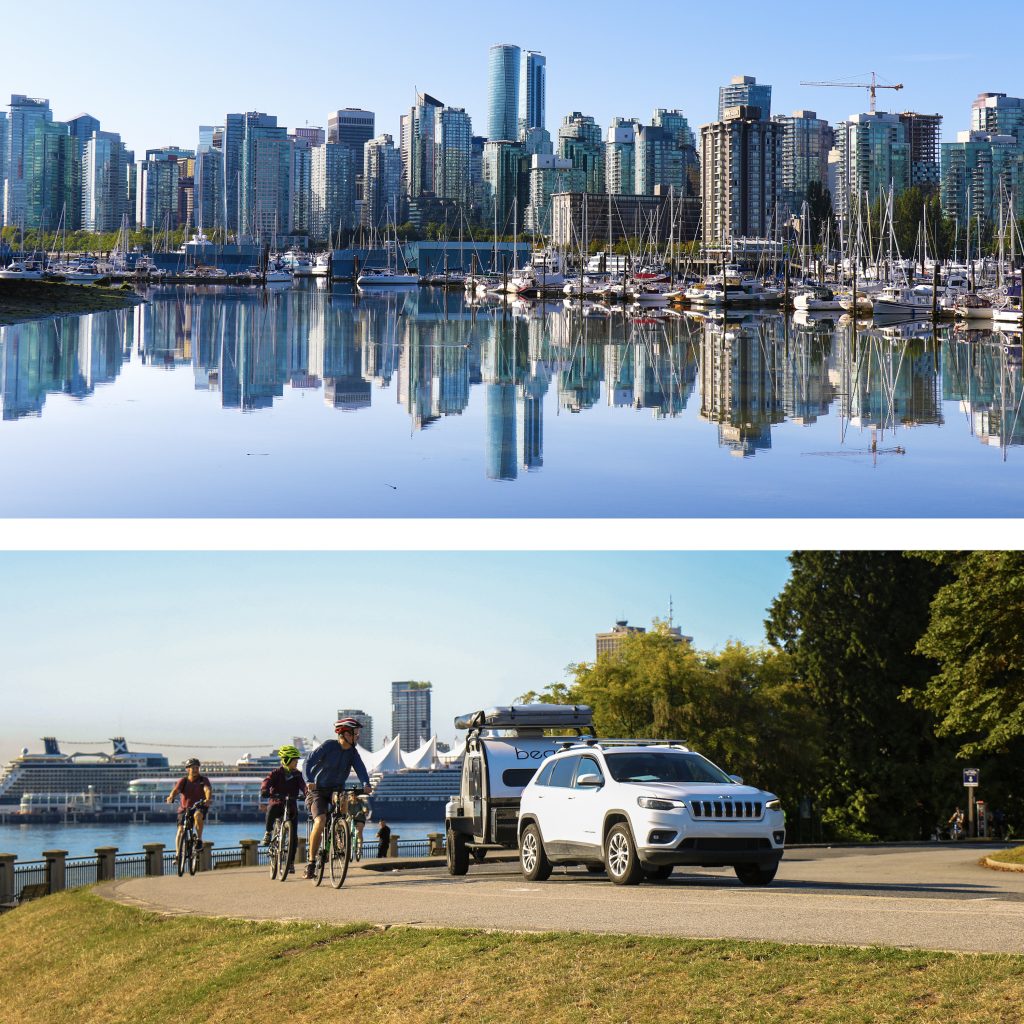 We didn't spend much time exploring the city because this is an adventurers summer guide and not a city starlets dream but we did get a chance to stop into Stanley Park. I went early on a beautiful still Sunday morning which worked out much to my benefit because by noon the park was flooded with people and just about all of the parking spaces were consumed. So especially when you're traveling with a teardrop trailer the early bird gets the worm. Bring a bike or running shoes and complete the beach front-forest infused peninsula loop. Oh yeah, you'll also have panoramic views of the city skyline almost the entire way around. When you need a break, come back, relax in Bean's cabin, and make use of our convenient screen doors during a warm breezy afternoon. Considering how big and congested a city like Vancouver can get, this park is completely a breath of fresh air!

Fifth Stop: Squamish & Whistler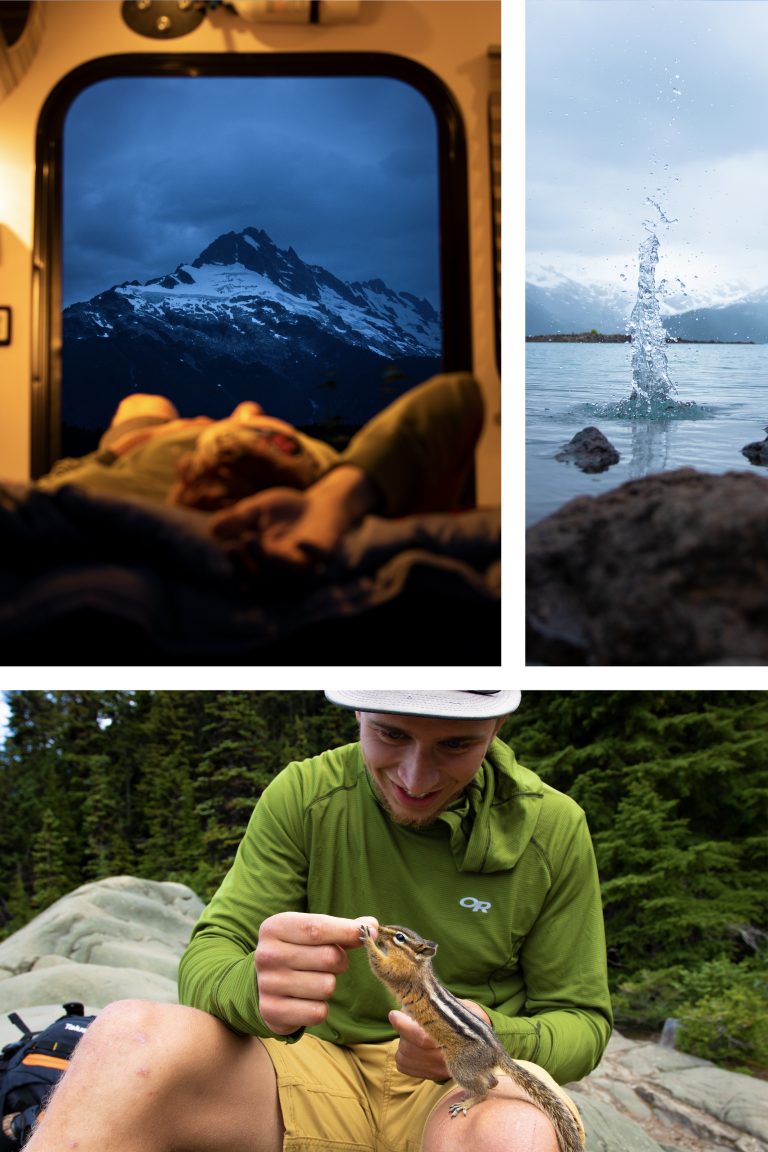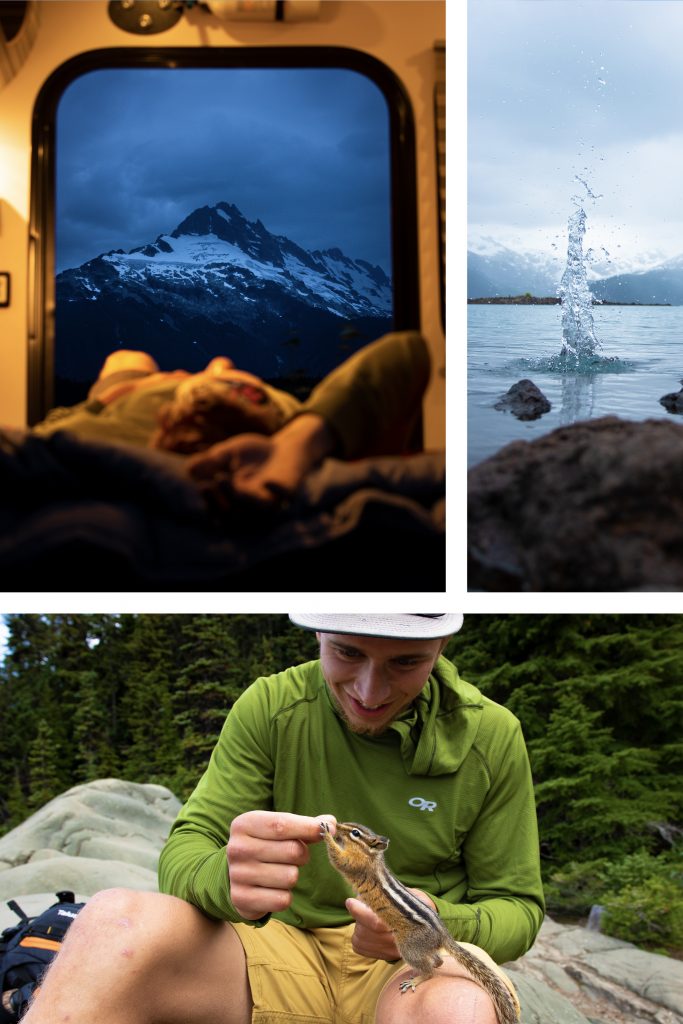 No true PNW travel guide would be complete without recommending the Sea to Sky Highway. Along this route you'll find iconic BC hikes and scenic views that will turn your world upside down. Along this highway we made sure to stop in Squamish to complete the Stawamus Chief Trail or "Chief" as the locals call it.At the top, if you're lucky, you might catch a glimpse of hang-gliders floating above you or heroic rock climbers that regularly scale the face of the mountain.
As promised, for the go-getters and mountaineers of the group, the next stop is for you! Since, you're all warmed up from Chief, next on the journey is the daunting task of reaching Panorama Ridge high above Garabaldi Lake. We were able to tackle the 17.5 mile trek in one day but fortunately there is an extremely well maintained campground that could help you split it up into two or more days of Coast Mountain adventure. This time around you'll have to leave the teardrop behind as there is no road access to reach Garibaldi Lake Campground. The milage seems daunting, but every last minute of this hike was worth it! Just be sure to go prepared and bring the bug spray!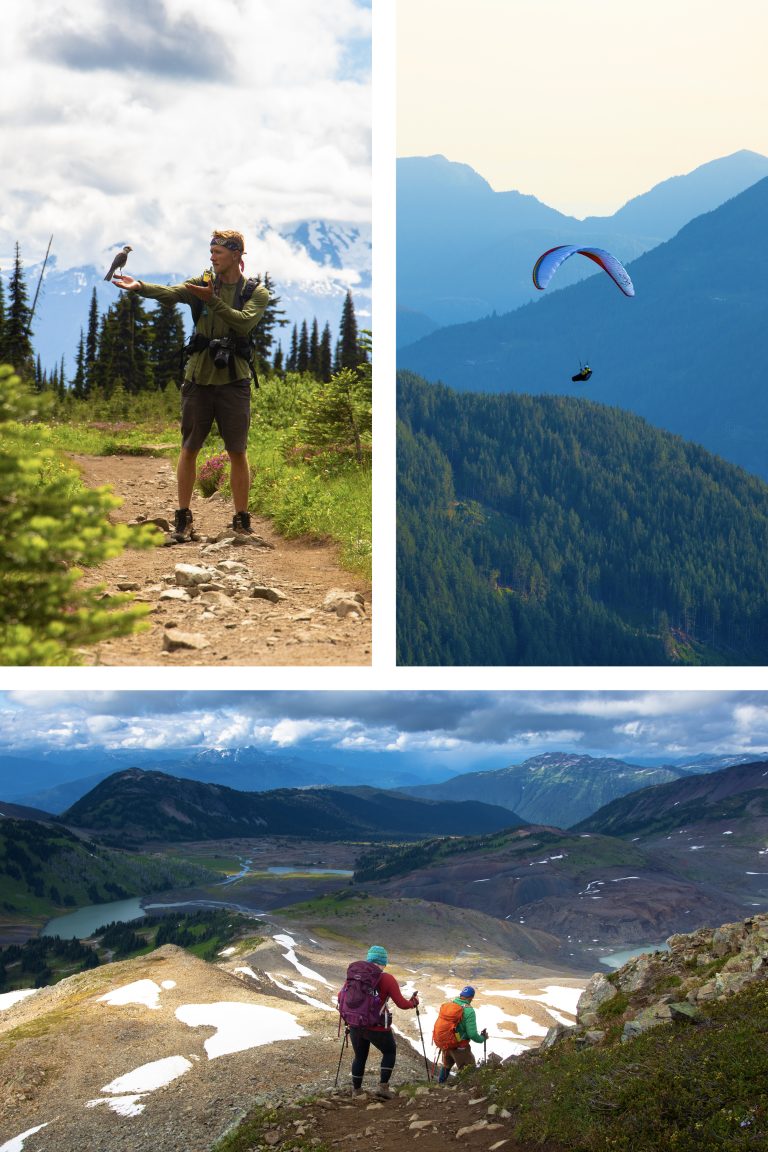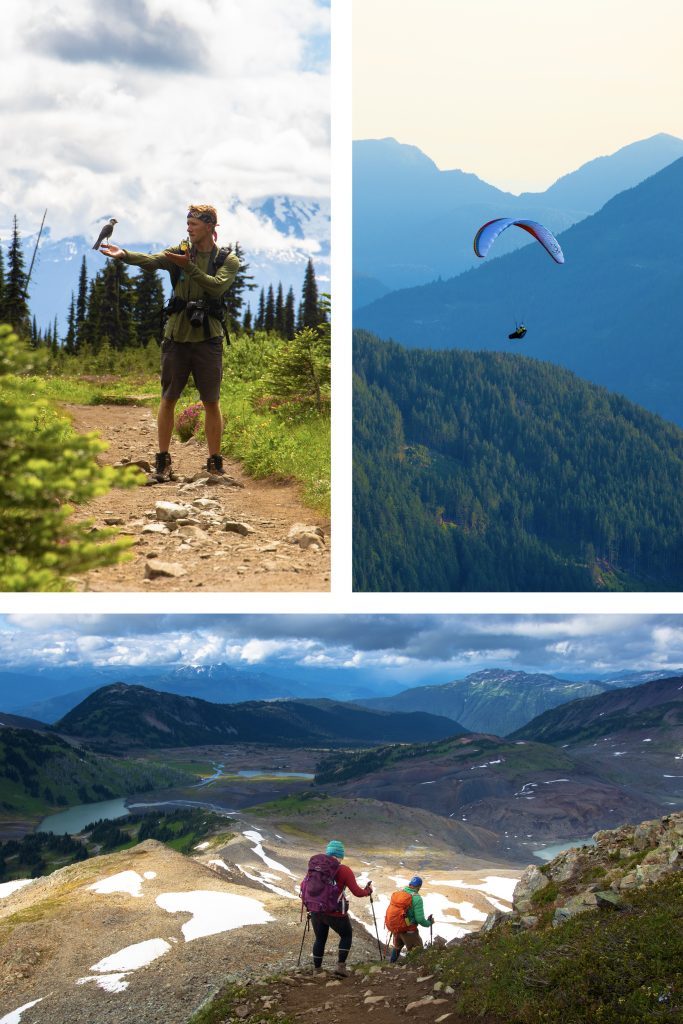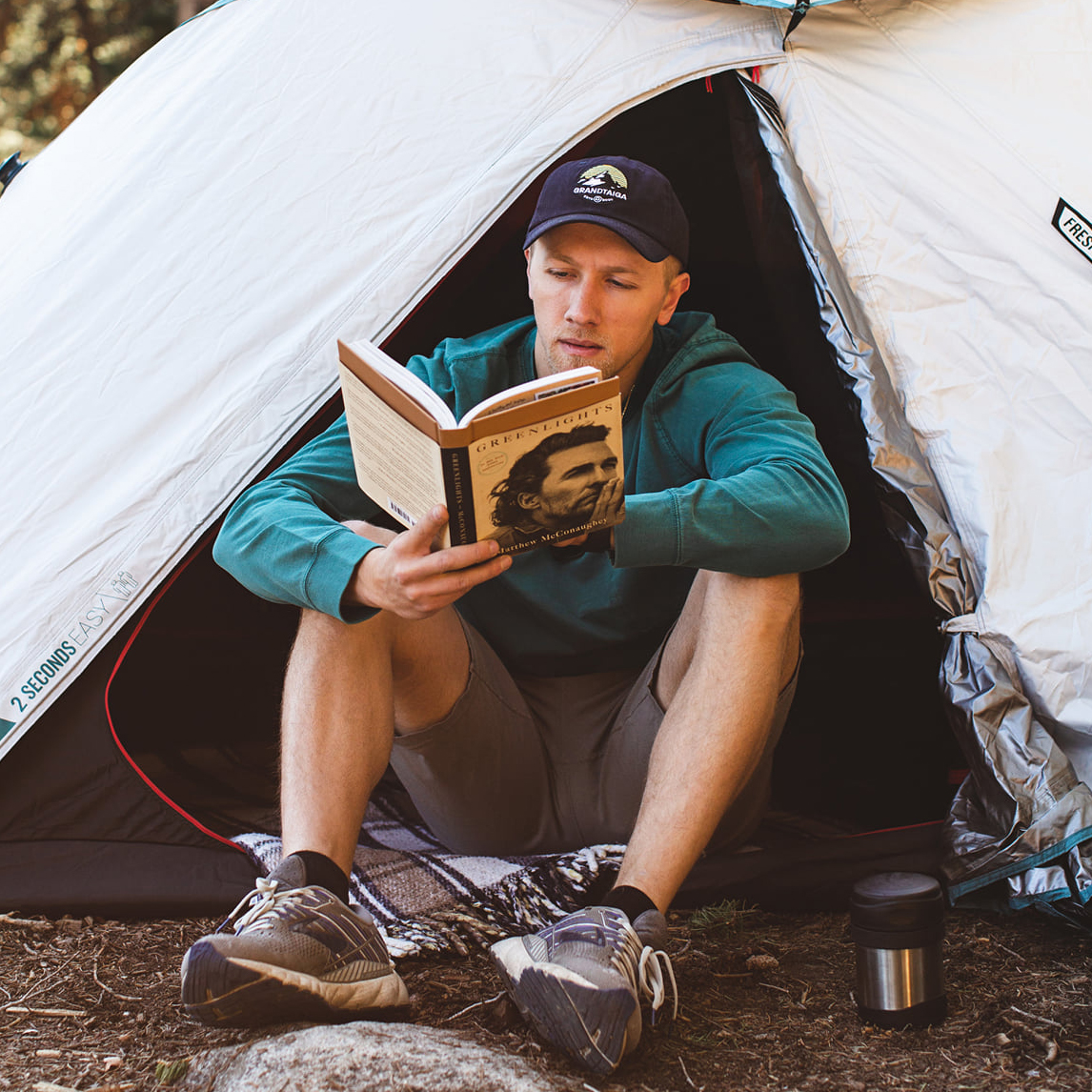 Nick lives a "can do" lifestyle, with a deep passion for exploration, and curious living. His goal has always been to encourage everyone to get outside, live healthier, and walk lighter on our feet.