Cindy, and I just finished a whirlwind trip that stretched from the red rocks of Moab to the Tahoe National Forest, the breath-taking ocean cliffs of Highway 1 and the warm sandy beaches of Southern Cal. Some of those experiences were things we have done many times before and some were terrifyingly new. All of it created another memorable adventure with Bean. You can skip to the Don't Miss section and pictures if you have the attention span of a goldfish, like me.

Moab, Utah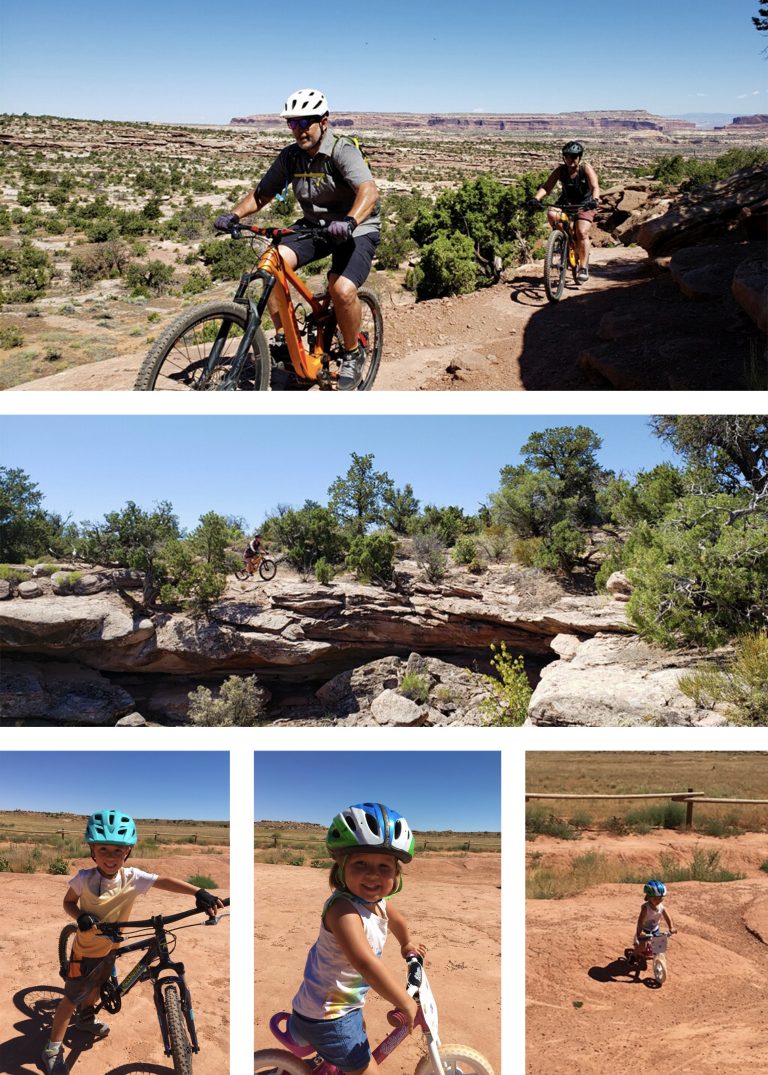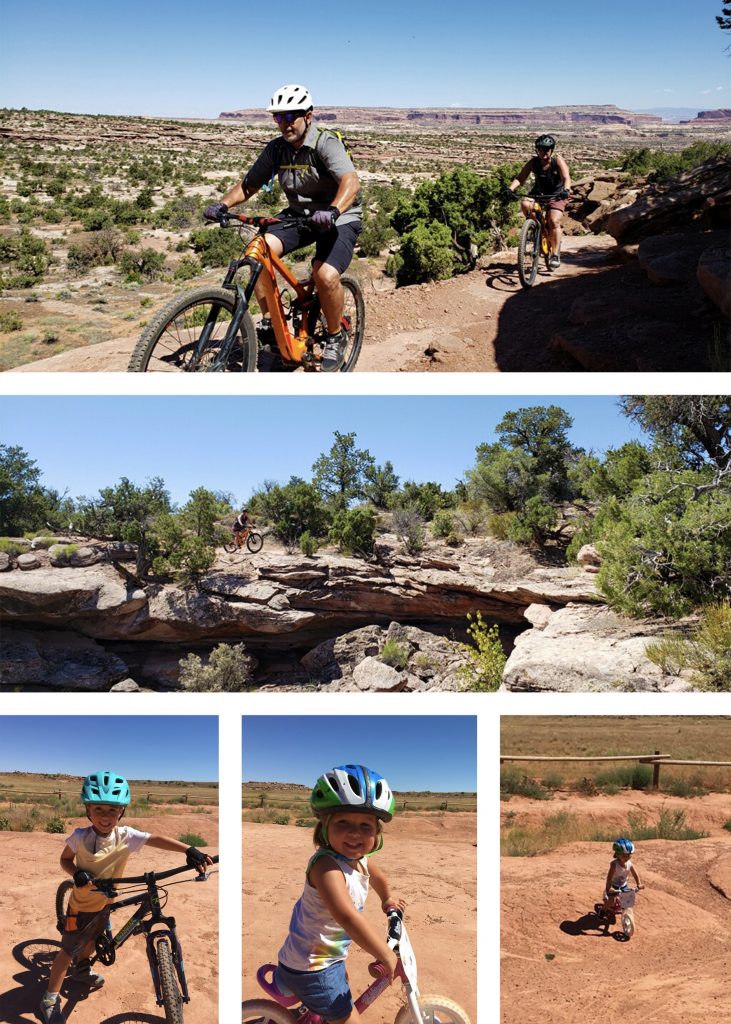 I love the Brand trails because they are located on the way into Moab from Salt Lake, so you can get a quick ride in even with a late start. There are also lots of nearby camping spots. The Brand Trails have an easy pump track right off the main parking lot that is good for little tykes to hone their skills. My daughter Allie and her husband Chad joined us along with my two grandkids. Brody 5 attacked the pump track with an intensity that manifests itself in some interesting facial expressions. Yes, I was proud! Nora Bean, 3 (Bean Trailer's namesake) took to the pump track with her strider. She was not about to let her older brother steal the limelight! We also rode with our daughter Allie and son in law Chad, making mountain biking a multi-generation family affair! We rode Rockin A trail with Allie which is a good intro to slickrock riding. Chad loved the Mag 7 trails, calling them one of his all-time favorite rides. By the way, Chad marks his Strava when riding with us "with the in-laws" to "give us credit." We also suspect it is a disclaimer about his ride time with 'old folks'!

Downieville, California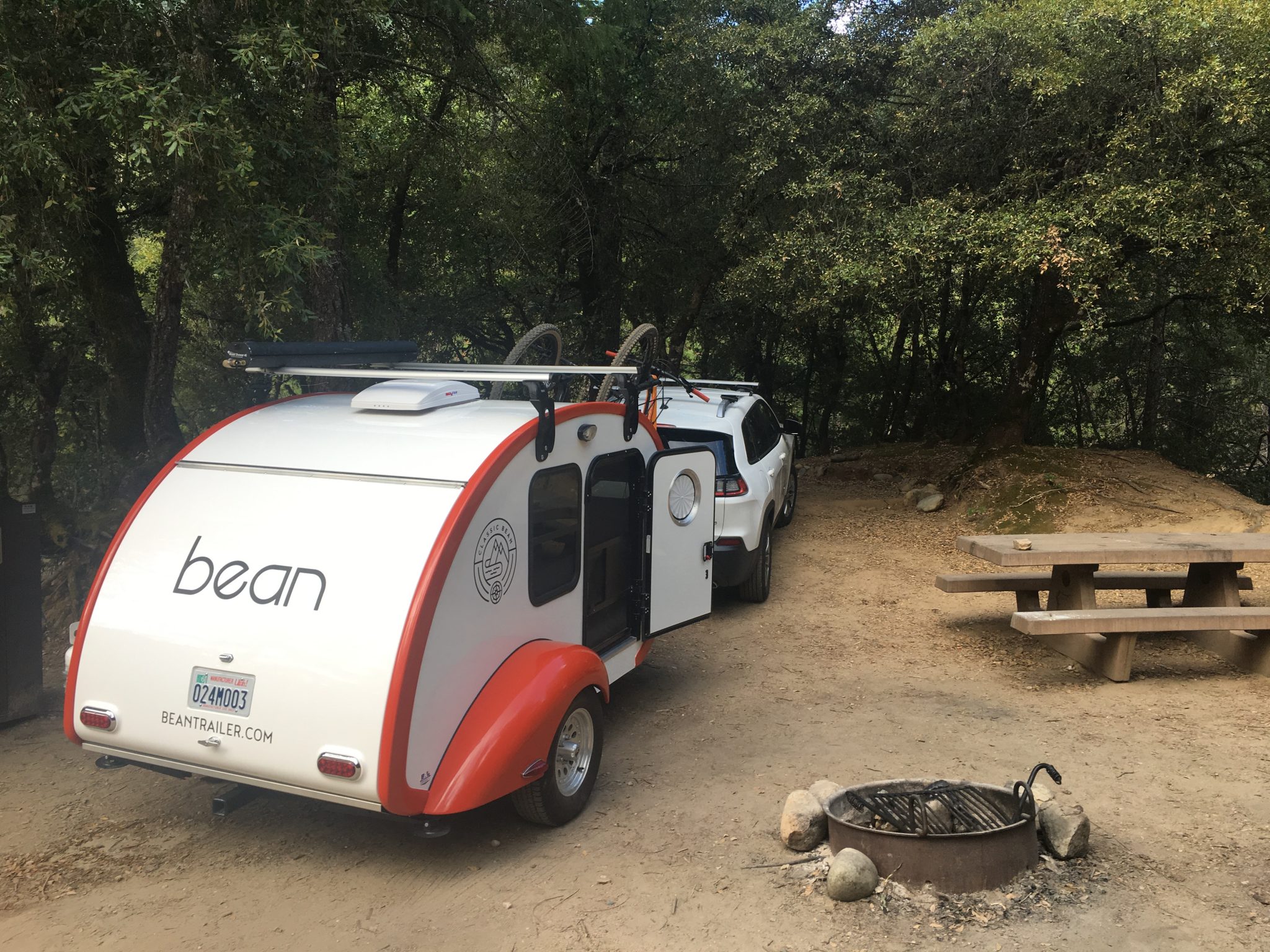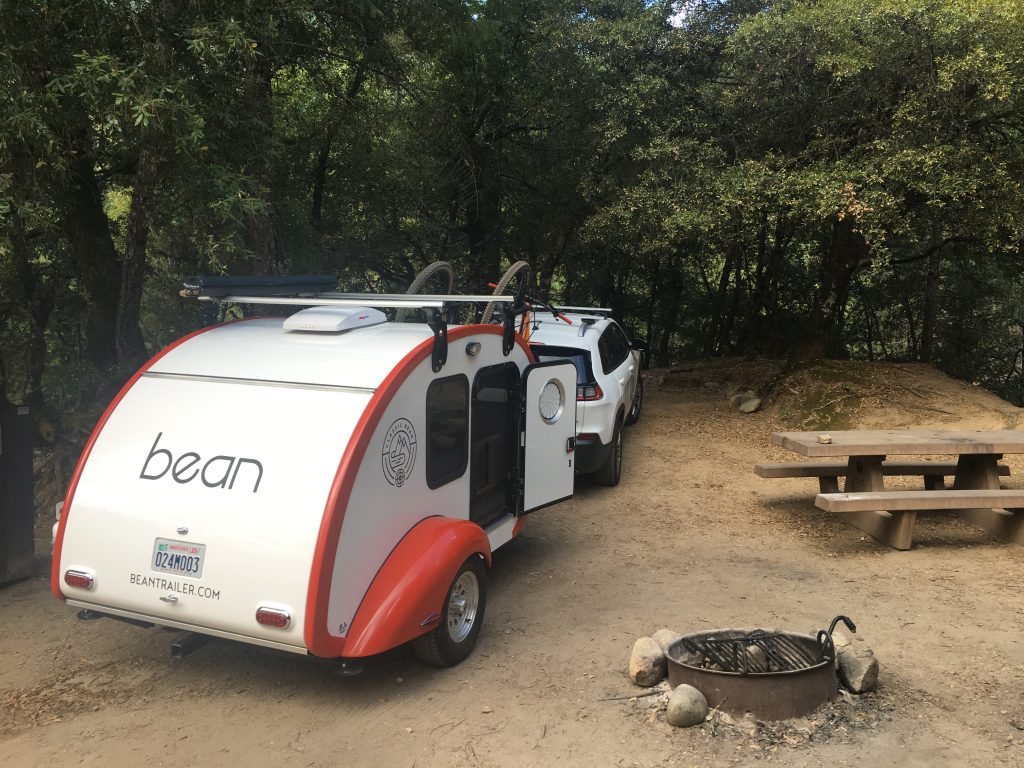 After a quick stop in Salt Lake to replenish, it was off to Northern California for some highly anticipated downhill mountain biking. By the way, it is so nice to have the convenience of a teardrop trailer like Bean. Load up, make a quick stop at the grocery store, and go!
We drove to Rocky Rest campground on the Yuba River outside of Downieville, CA, in the Tahoe National Forest. It was dark by the time we got to the campground and a party was in full swing. Large families were having a great time and their kids took a break from their night games to welcome us and give us the tour. We were excited about the steaks we prepared "sous vide" at home, needing only to sear them quickly in a frying pan. I could taste the perfectly caramelized crust my cast iron pan and high heat from Bean's powerful stove would put on my filet mignon. Oh, no, we (Cindy) forgot the frying pan! No problem, our neighbors were happy to help. Soon we were enjoying pan-seared steaks, mash potatoes (Bob Evans-don't knock it, they are so good!) and radicchio salad. It was an easy and delicious campsite meal!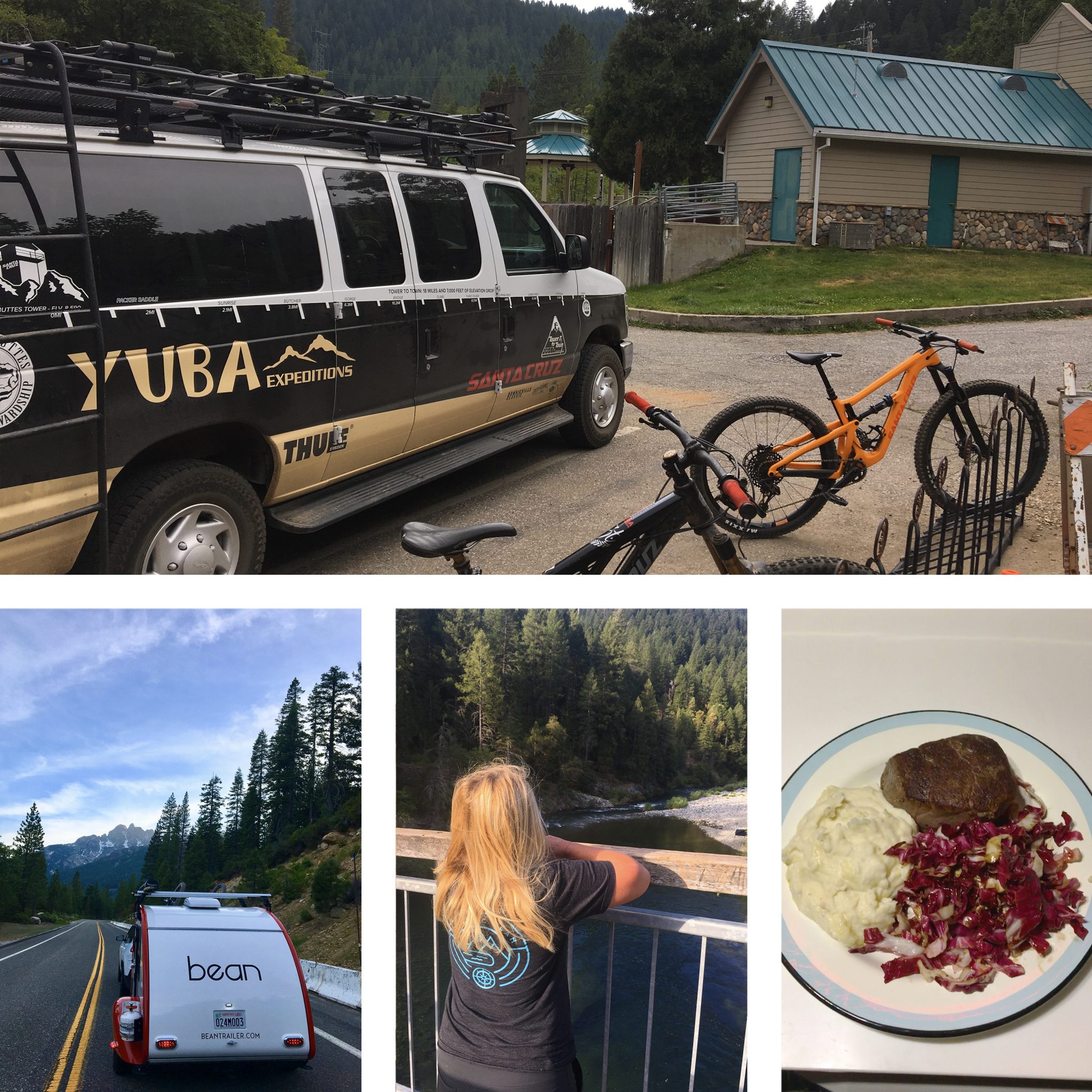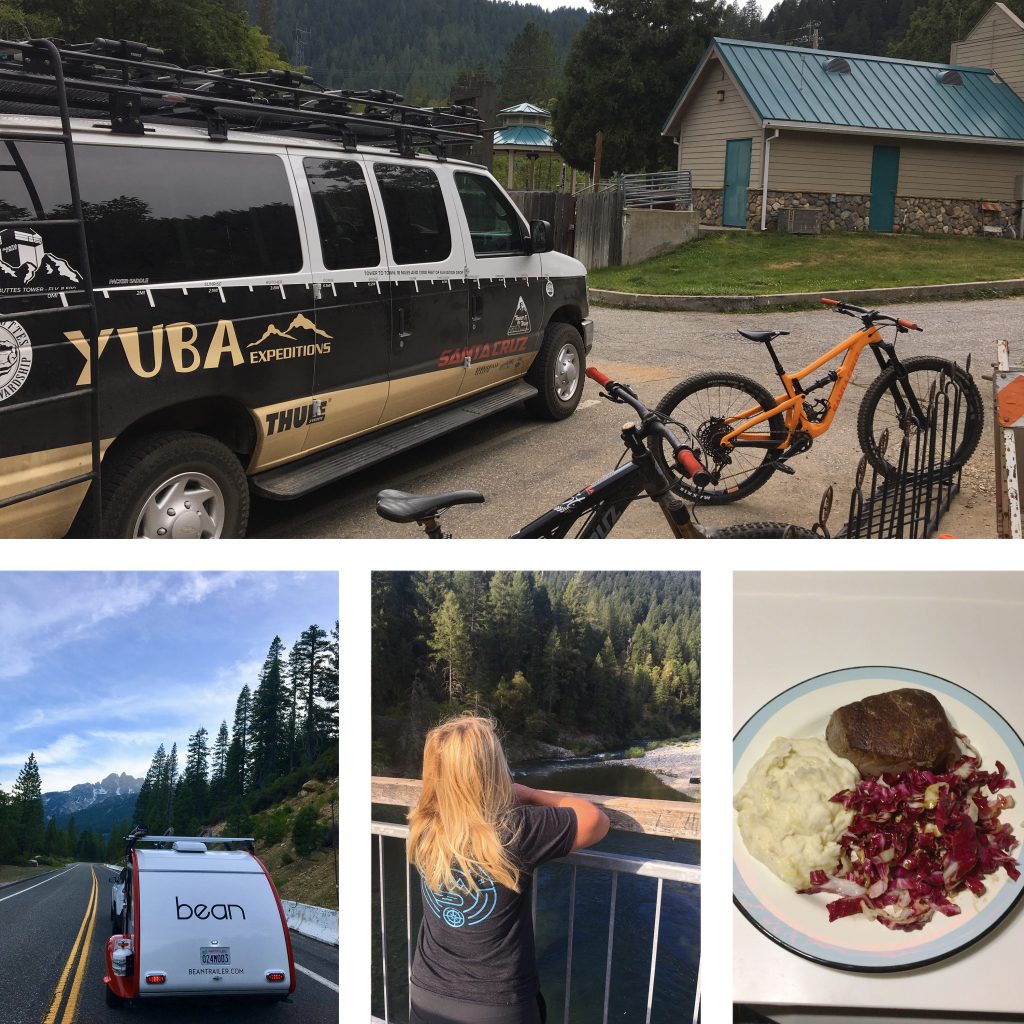 It was nice to have the color adjustable LED accent lighting in the teardrop galley to minimize bugs and not blast bright light at the neighbors. However, not sure they would have noticed even an alien spacecraft landing at our campsite because they were having such a good time. Luckily, Bean is so well insulated that we could barely hear them once we settled in for the night.
The next morning, the sounds of the previous night were replaced with the rush of the Yuba River. It's so soothing to wake up in crisp mountain air and hear the calming sounds of a river. It's a nice place to contemplate the day's challenge, fourteen miles of Downieville mountain biking!
Gold discovered on the north fork of Yuba River in the 1800s made Downieville, but mountain biking sustains it today. The Downieville Classic is a well-known yearly downhill race and festival every August. It's a cool town where a 12-year-old practicing wheelies on Main Street is common. It has old single-lane bridges and a couple of decent restaurants. You can enjoy pizza, burgers or Mexican food and a beverage sitting under a forest canopy on the banks of the Yuba River. What it does not have is a stoplight or cell coverage both of which is a source of pride. It is surrounded by the Tahoe National Forest and is a hub for outdoor recreation and has a biker (leather vested to Lycra shorts) friendly vibe. We heard a lot about the fishing but Cindy and I were there for the downhill. There are two shuttle companies that will take you to the start of the Downieville trail. We chose Yuba Expeditions and for $25 per person, they will shuttle you to the top of the mountain to begin 14 miles of a fast, flowy, chunky and loose descent. The shuttle driver was telling us about a rider who hit a bear on the trail at high speed a few years ago. He elaborated on an increasingly suspicious sounding bear/human cuddle session that resulted from them both being knocked unconscious. Serendipitously, the rider who hit the bearwas on the shuttle, listened patiently and then corrected the hyperbole! Broken shoulder, broken bike, and a spooked bear but no mutual interest in cuddling.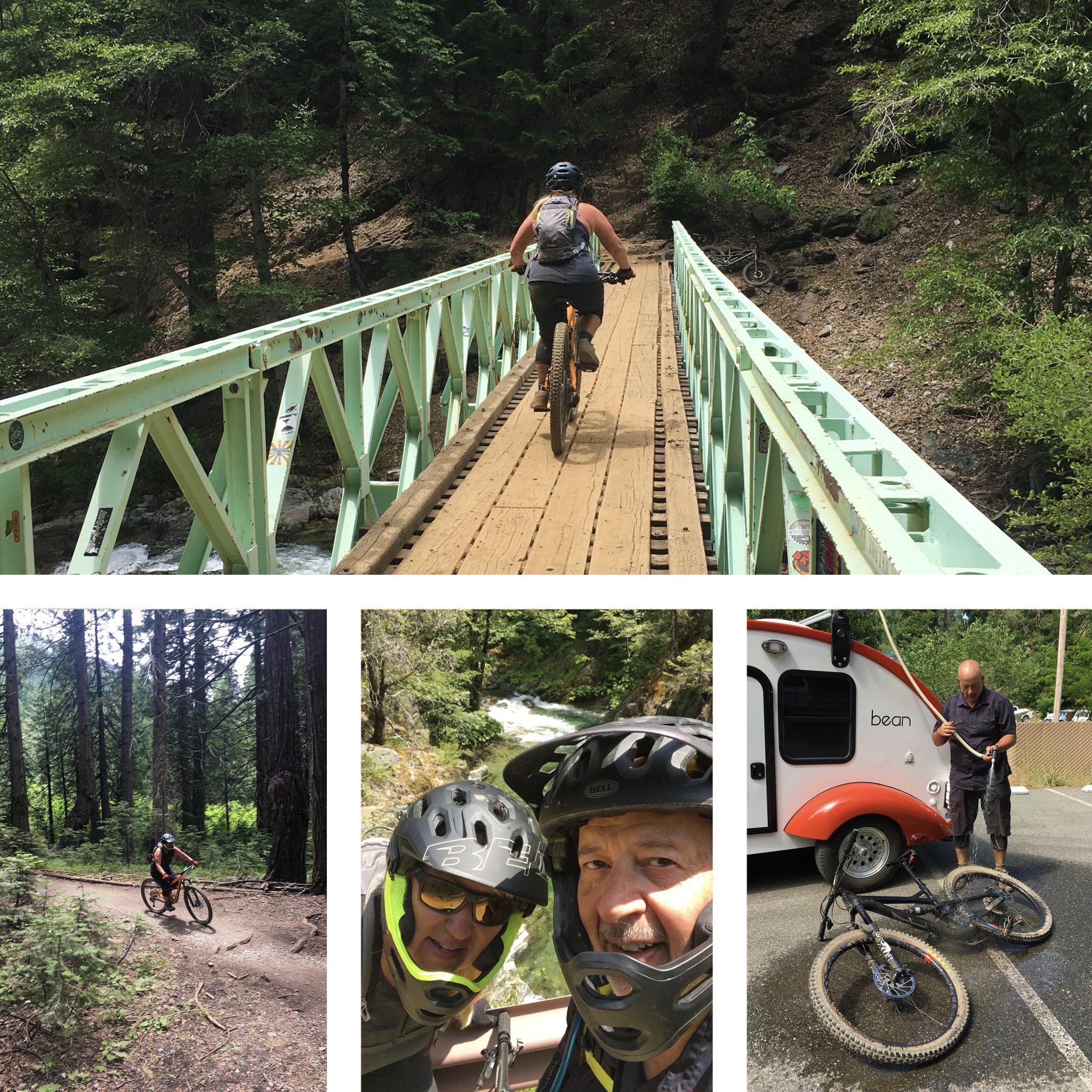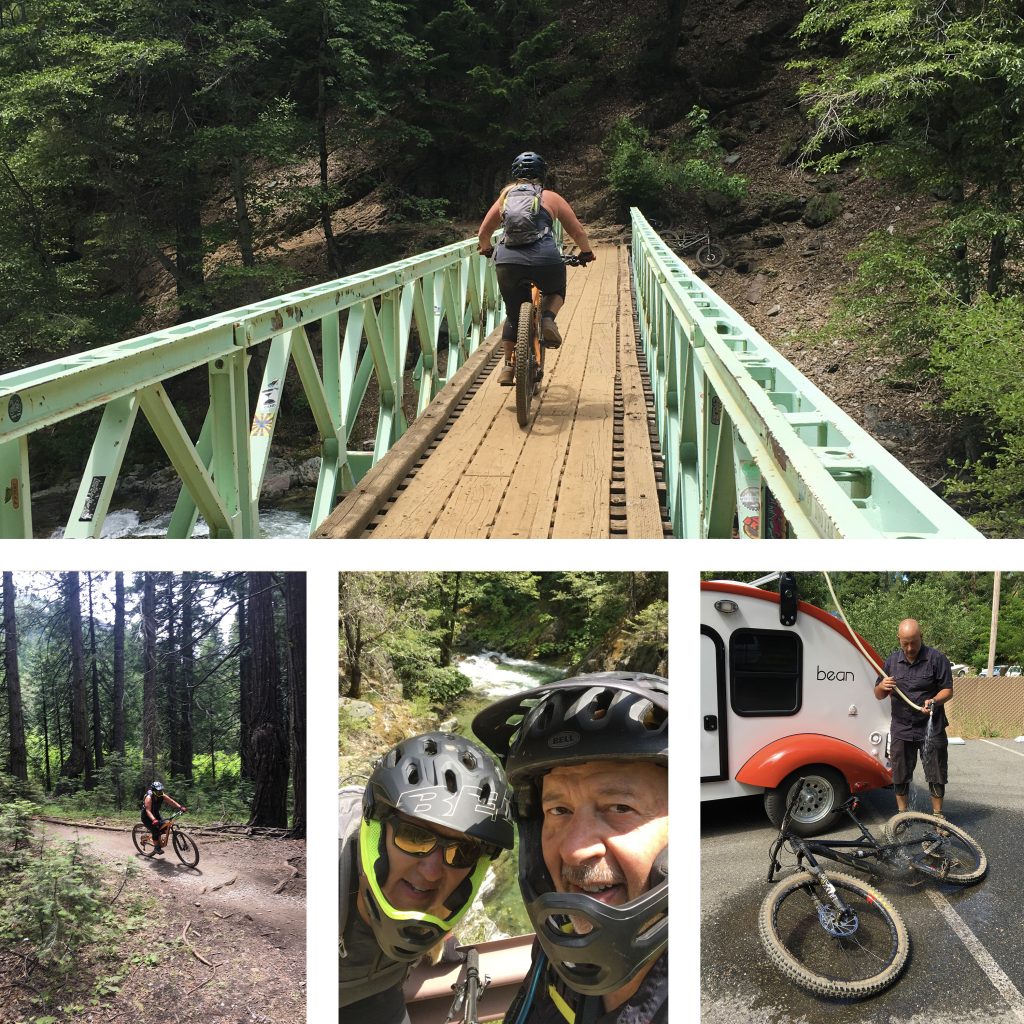 One trail section, Butcher Ranch Trail, is advanced and created so much apprehension the night before for Cindy that she decided not to ride. However, she asked locals the right questions and decided she was not going to let fear keep her from experiencing one of the best rides in the country. It ended up being the highlight of her trip and gave her the bonus of vanquishing a fear. It was scary, fun and scenic, featuring lots of stream crossings and a couple of suspension bridges. We ended the trip in town exhausted but content. Repeated stream crossing results in dirty bikes so it was nice to have a pressurized road shower on the teardrop trailer to wash them off. We put our bikes back on Bean and crossed over an old bridge one last time and we were off to Santa Cruz. Great camp spot, great town and a ride we will never forget. Definitely going back.
Santa Cruz, California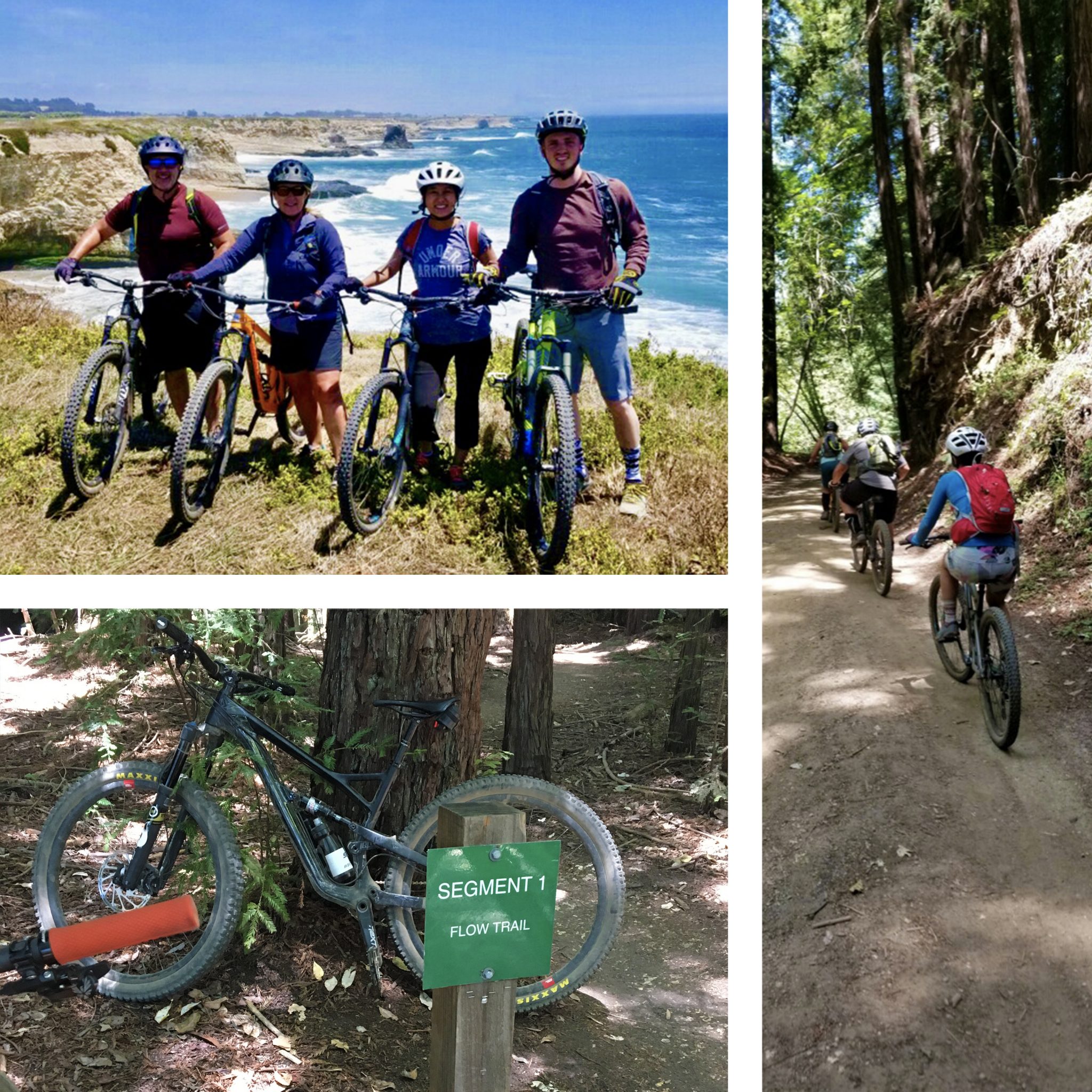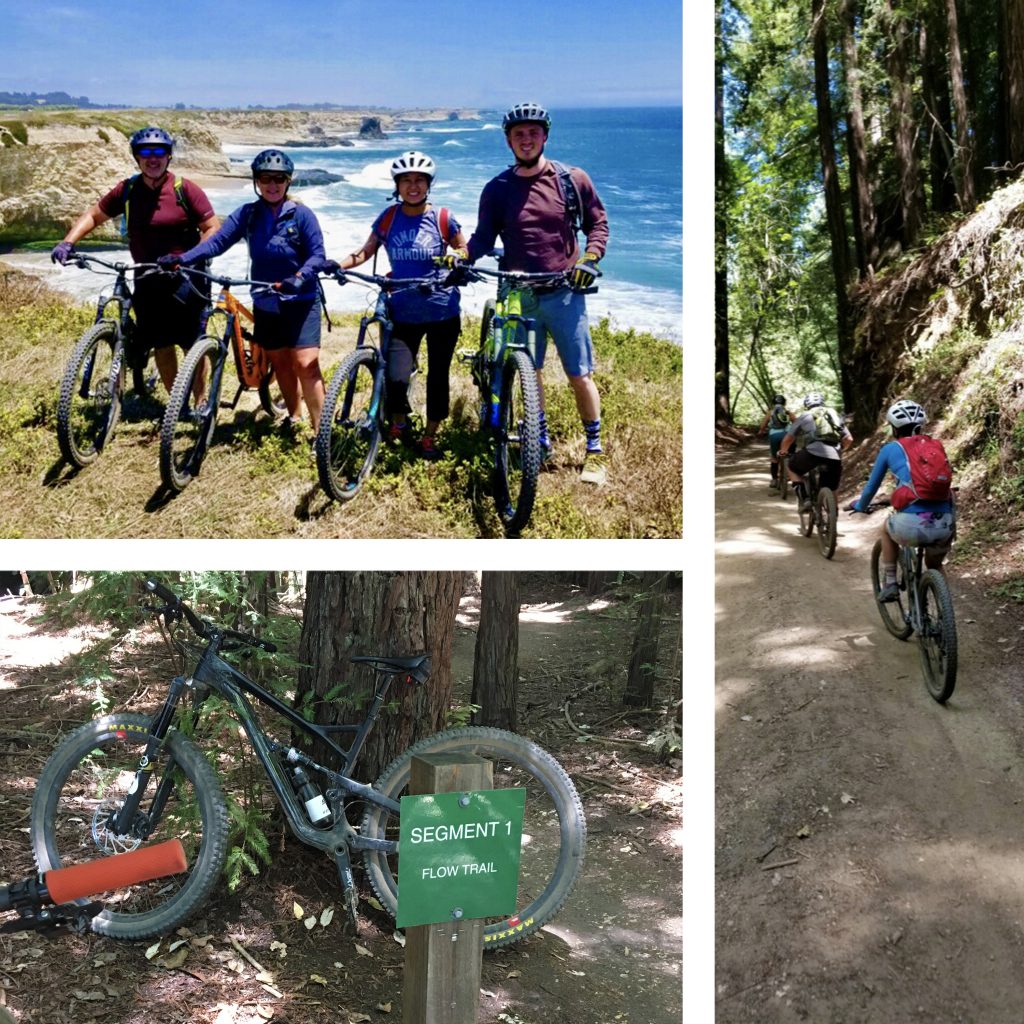 Last time we were in Santa Cruz we got a late start riding the Soquel Demo Flow Trail and got caught in a dark redwood forest with only the light of my cell phone to ride out, 8 miles of terrifying pitch-dark fire roads! This time we got an early start and were going to be joined by my nephew Ben and his wife Vi who drove up from Orange County. They were celebrating their 7-year anniversary and wanted to stay in Bean while we stayed in a hotel. Okay!
The Demo Flow trail has a reputation of being one of the best flow trails in the country and it did not disappoint. Miles of climbing is rewarded by some of the best-banked turns and buff single track you will ever ride! There were some crashes, scrapes, and bruises but it was all worth it. The climbing left us famished so went to one of our favorite taquerias, Los Pericos http://taquerialospericossantacruz.com/. I was craving Los Perico tacos since last New Year's Day when we rode out of the dark forest. Eating amazing food with fresh salsas was the perfect ending to a perfect day with Ben and Vi. I loved replaying our adventures with them and strengthening our bonds through shared experiences.
We dialed back the intensity with a casual ride along the rugged coastline of Wilder Ranch State Park https://www.alltrails.com/parks/us/california/wilder-ranch-state-park. This ride doesn't require a lot of cycling experience but expect a cold headwind riding north so make sure you bring a light coat. The ride (or hike) through coastal farmland takes you to breathtaking vistas of aqua blue waters crashing against sand-colored cliffs. You can also stop at a historic farmhouse if you are curious about the area.

17 Mile Drive, Pebble Beach
This has to be one of the most scenic drives in the world. If you are interested in white-sand beaches, dramatic coastal cliffs, mystical forests, and iconic golf courses don't miss it. Admission is $10.50.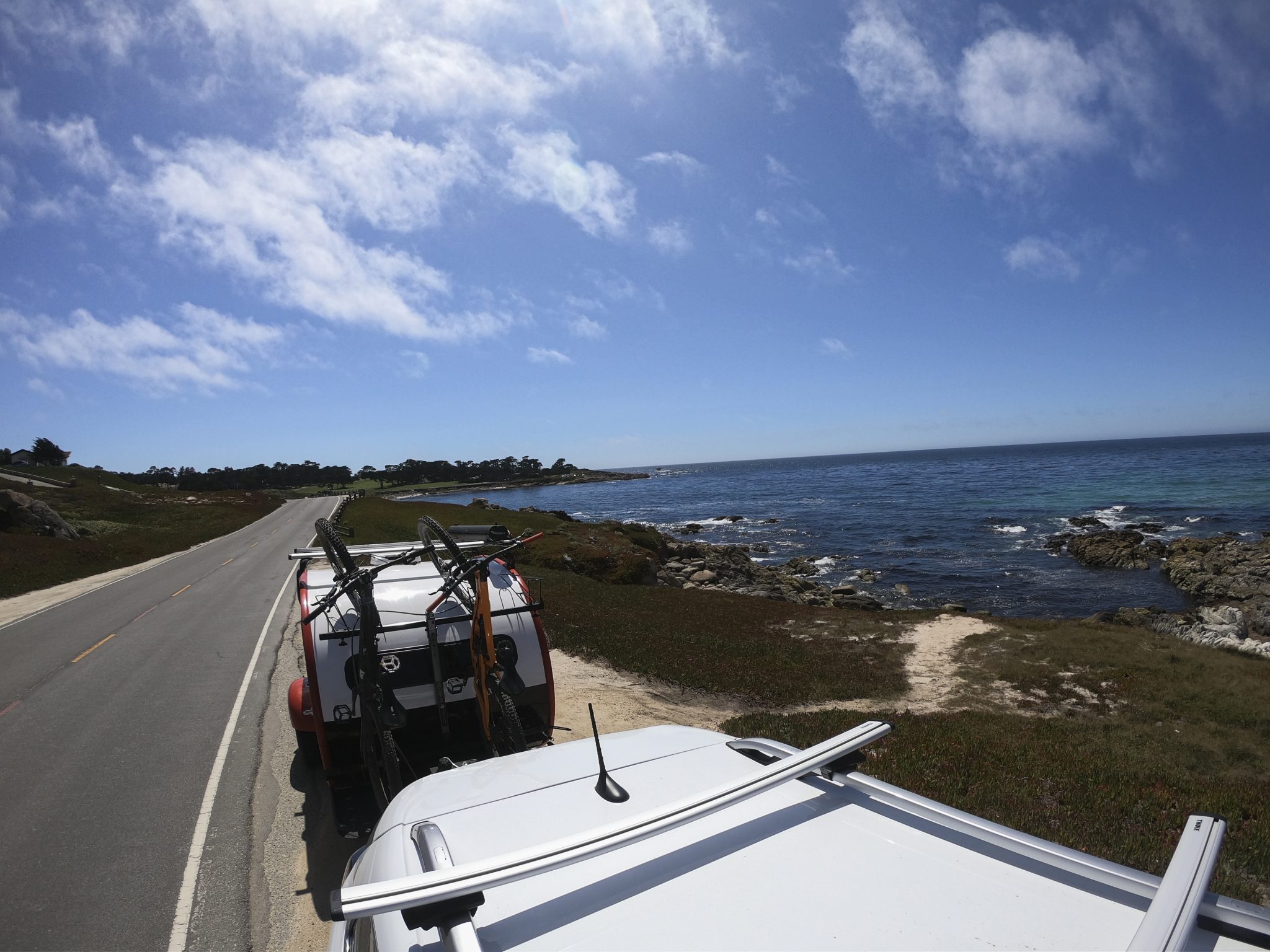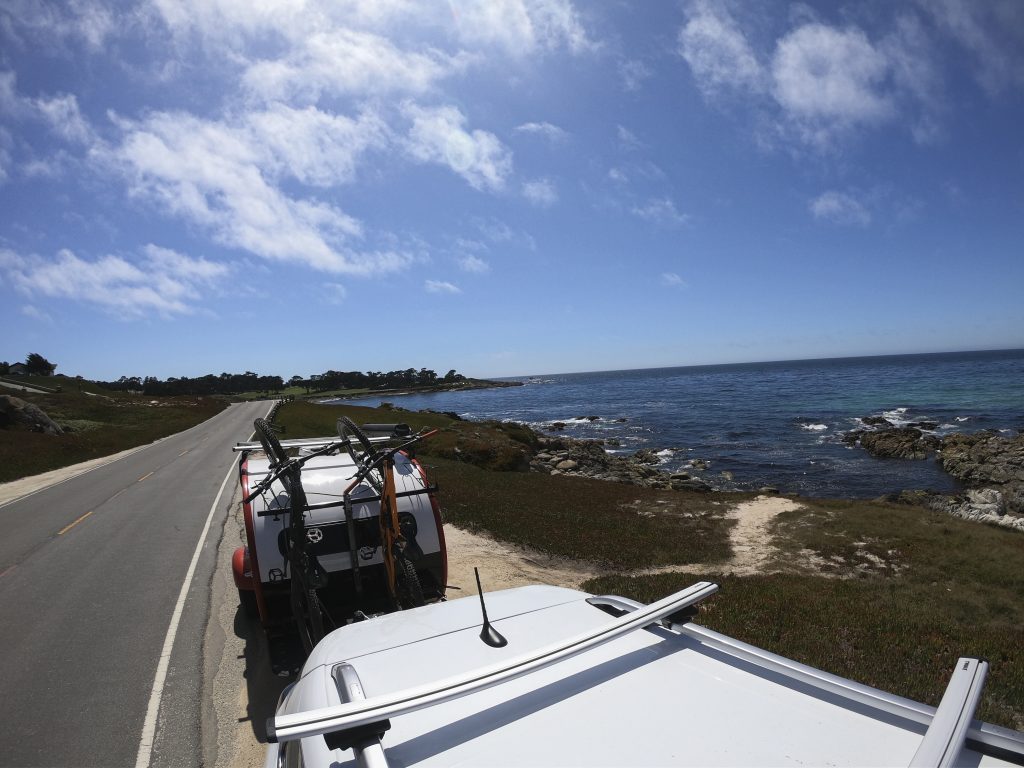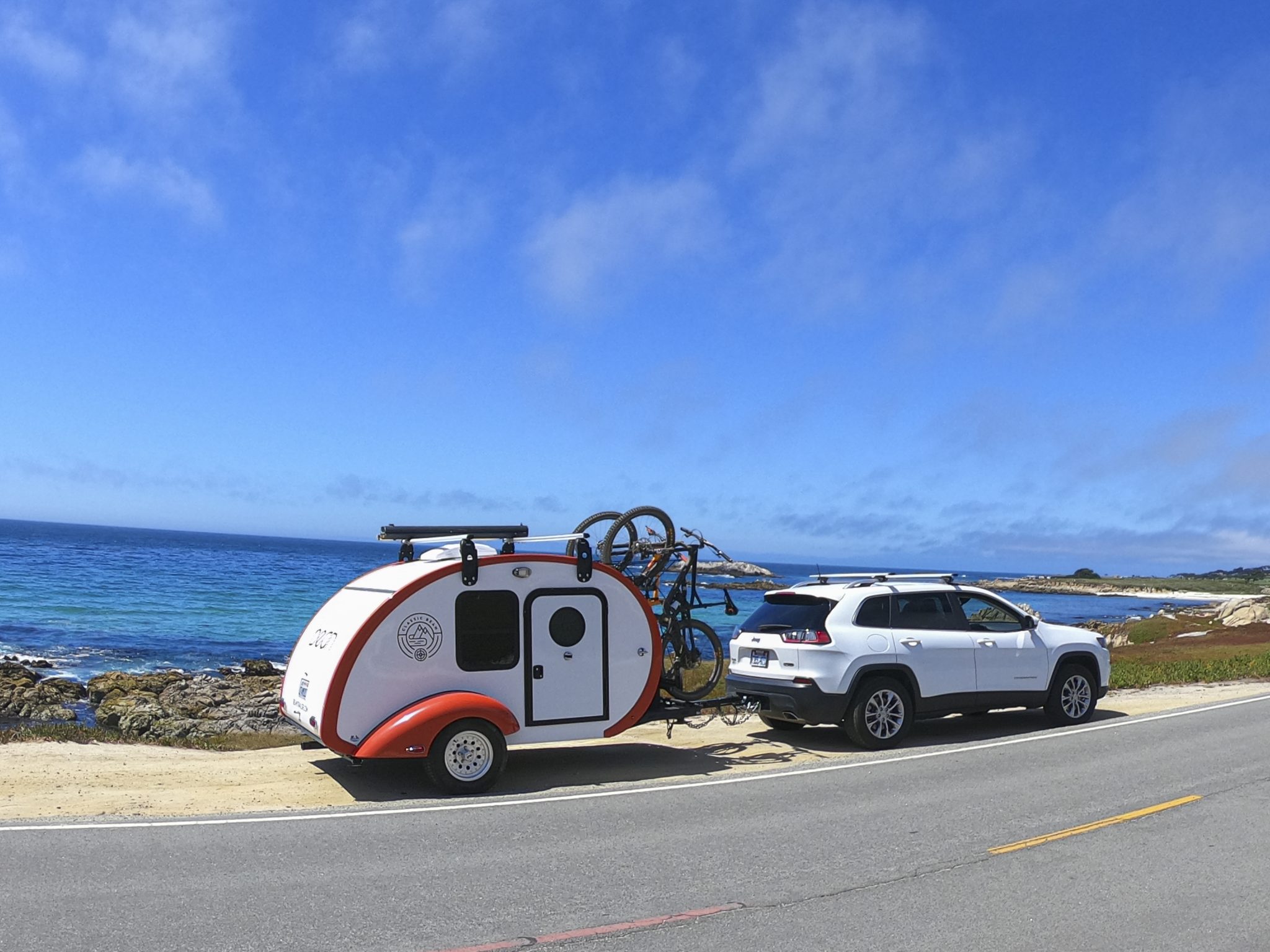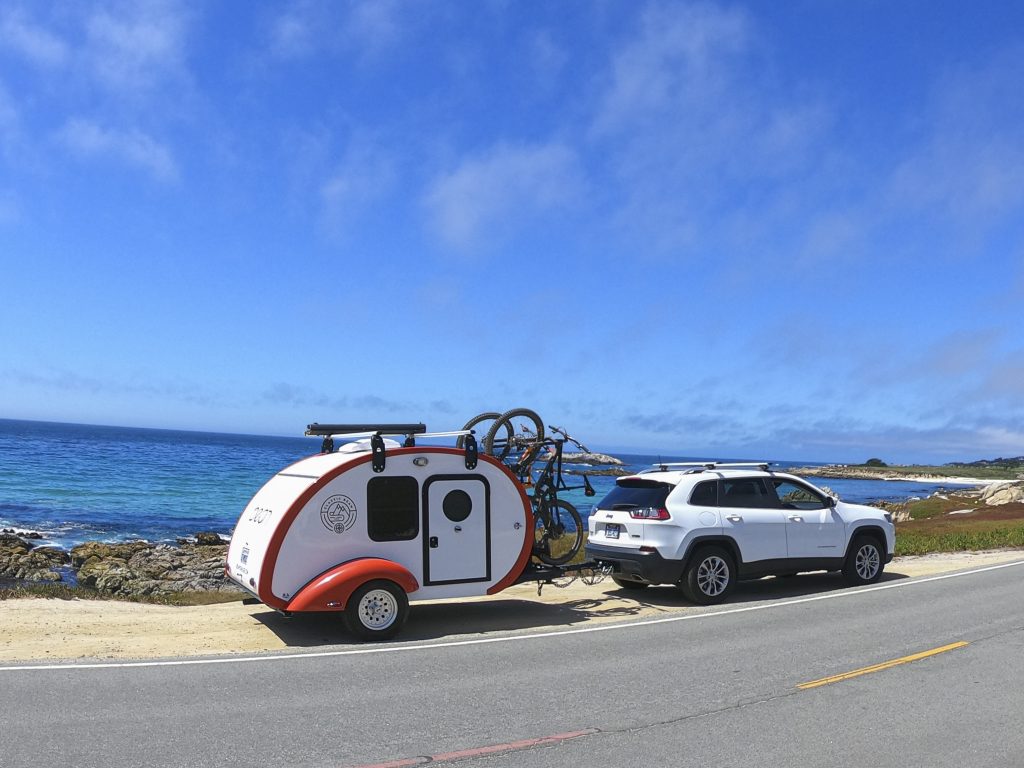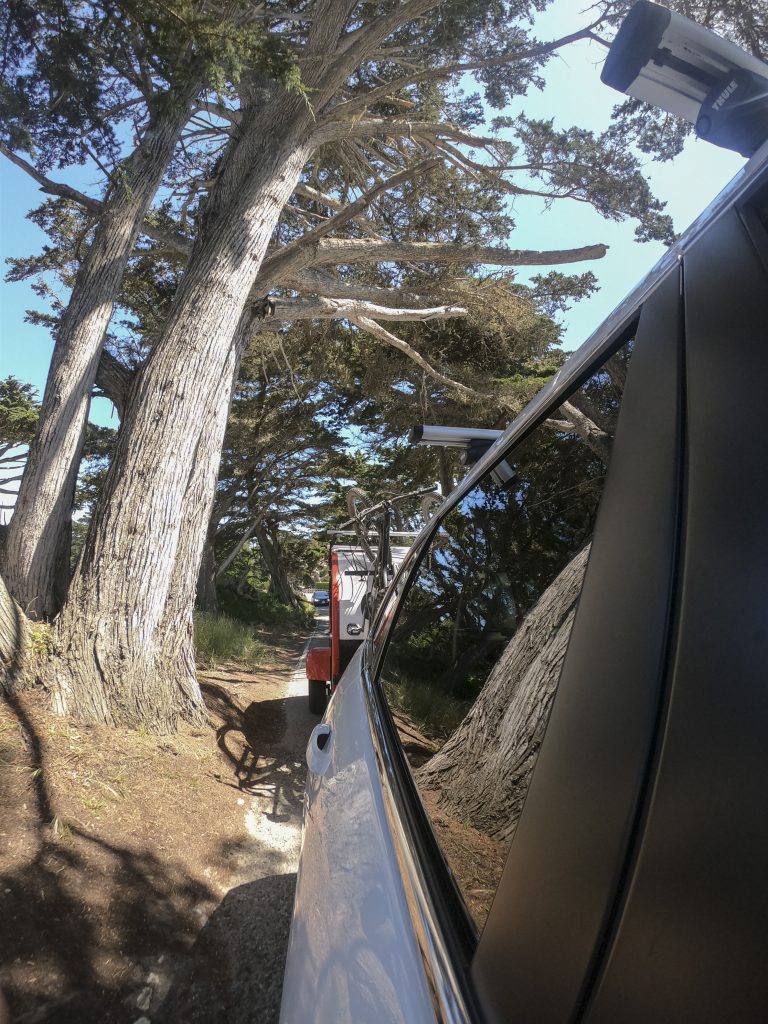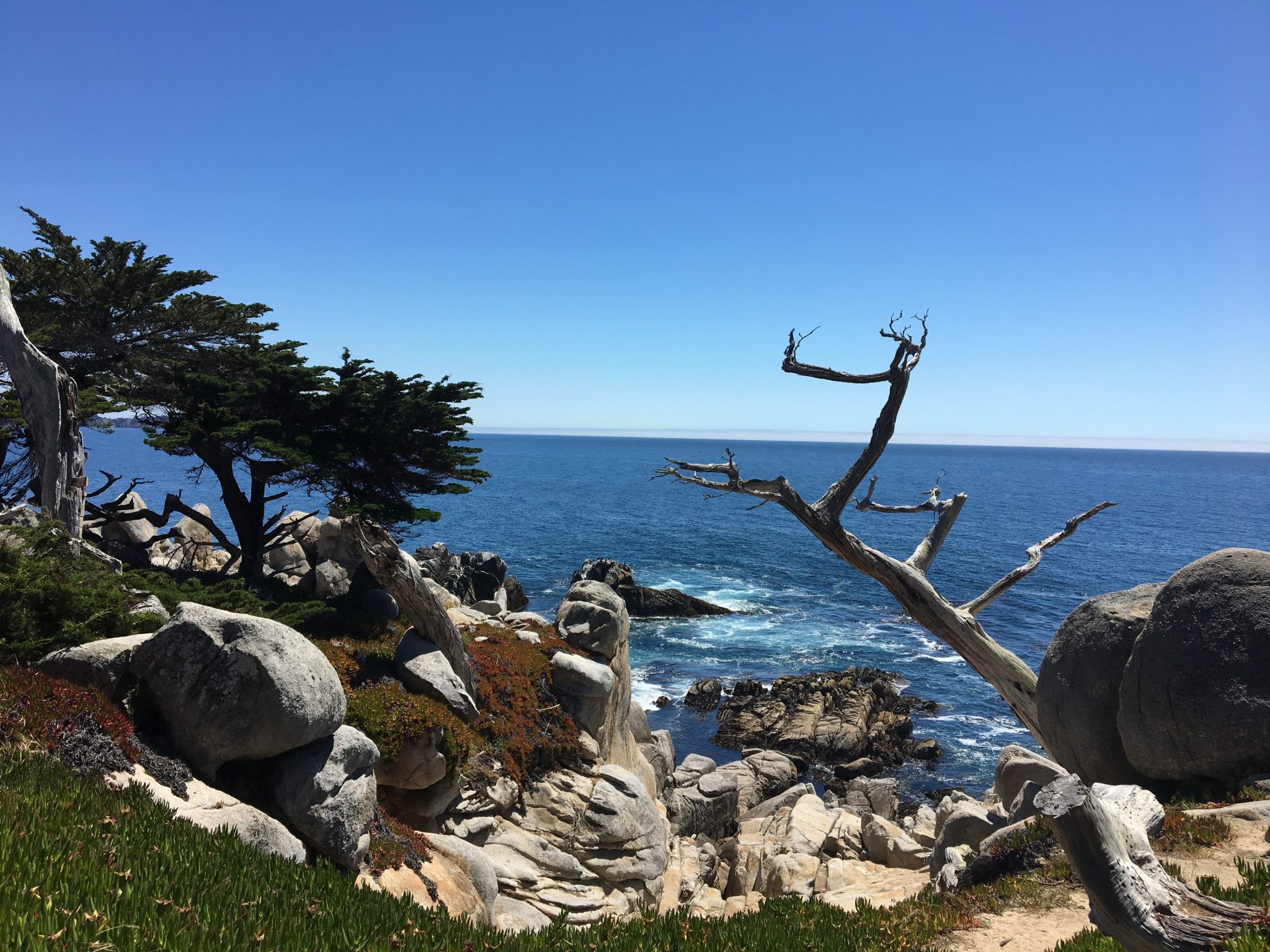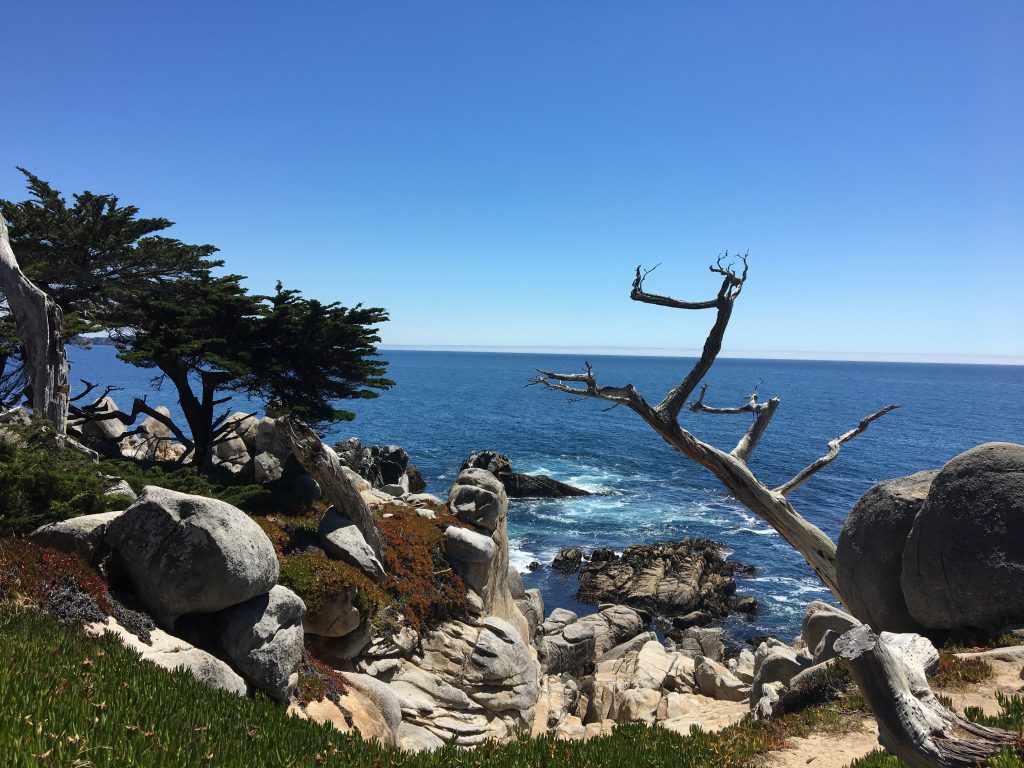 HWY 1
We entered at Carmel and started south past the towering cliffs framed by the rugged Pacific. I am surprised by the minimal guard rails given the tight switchbacks and steep drop-offs. This is a really good place for the driver to keep their eyes on the road and let the passenger enjoy the views! You can always switch off.
There are lots of really cool campgrounds between Carmel and Cambria and they are very popular so you have to be a really good planner to book up to a year in advance and get a spot. That also goes for all popular California campsites.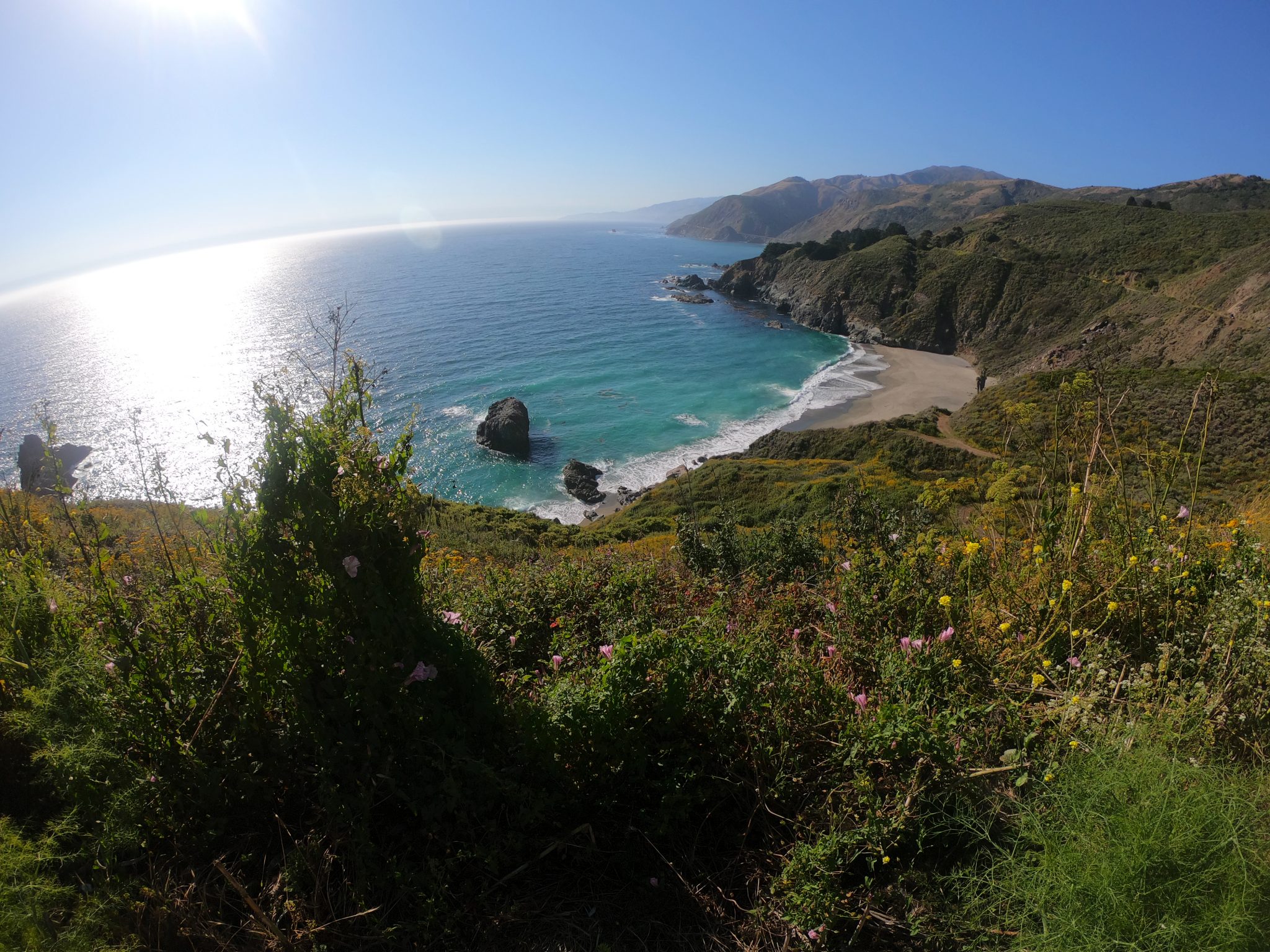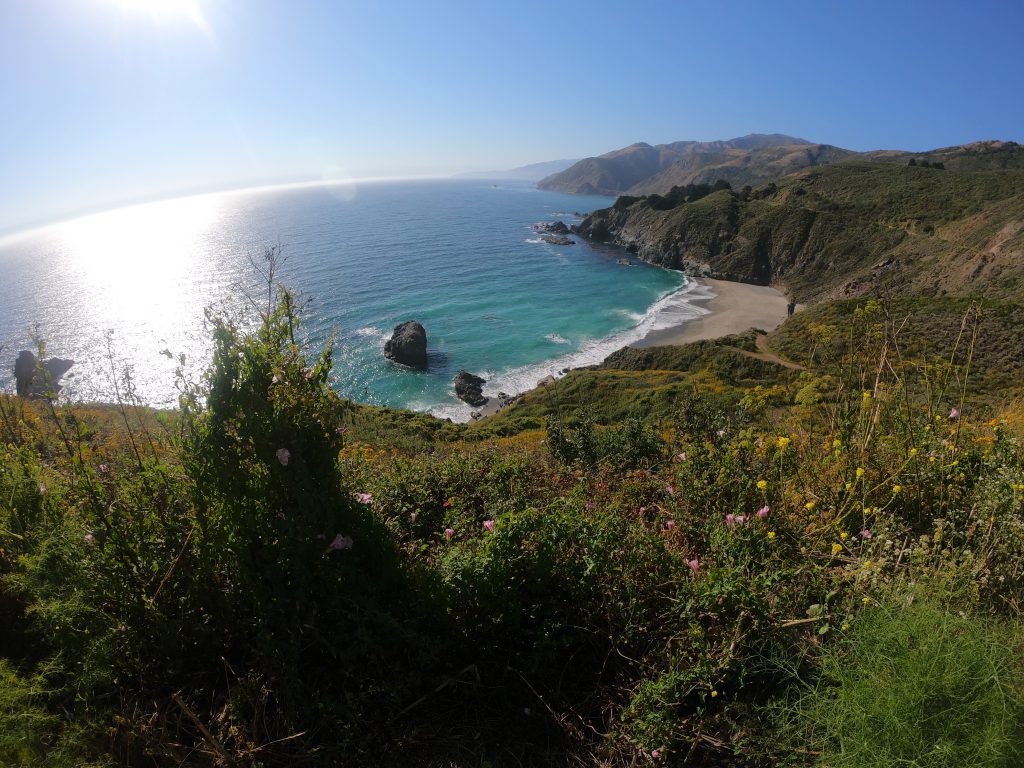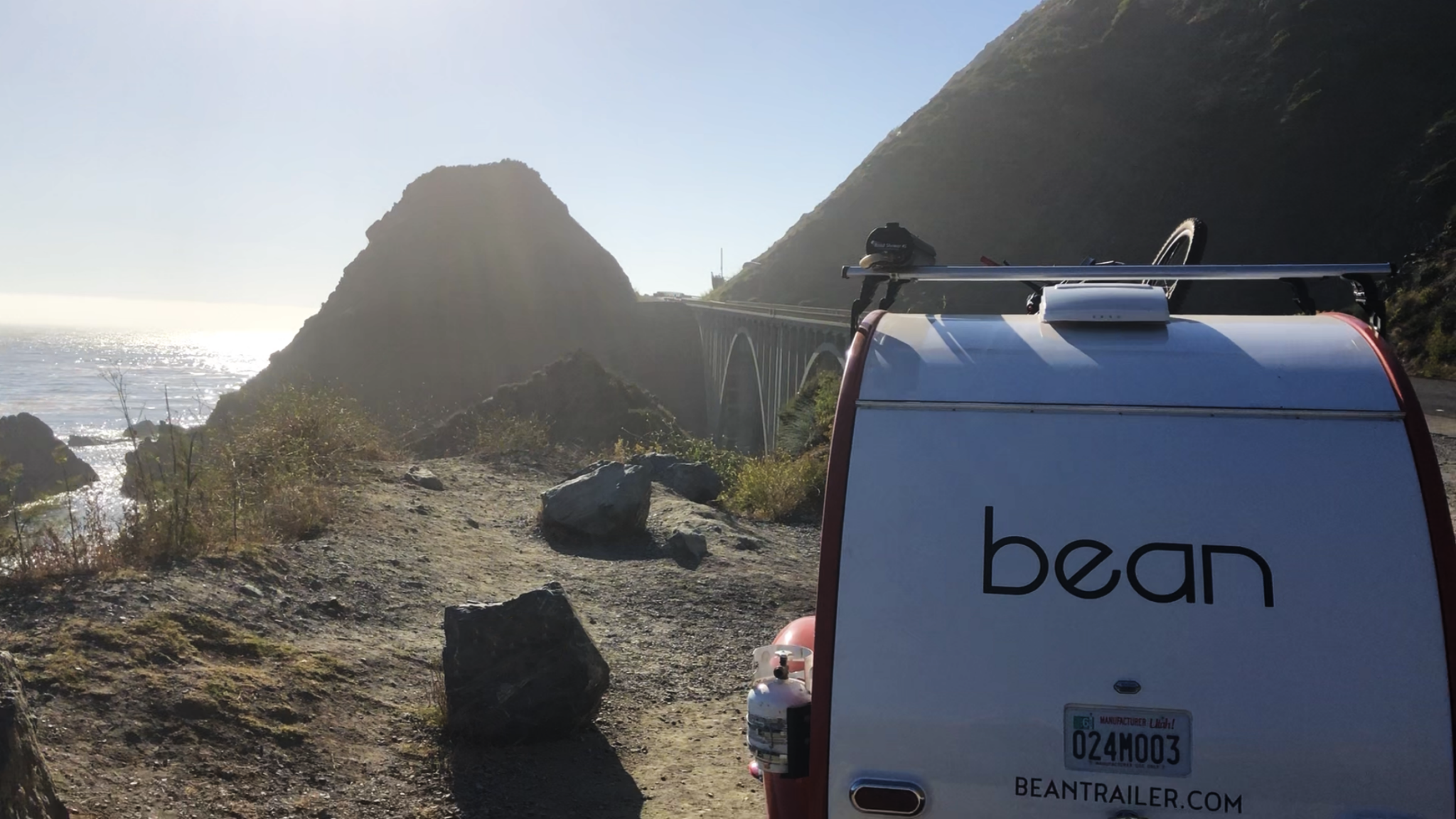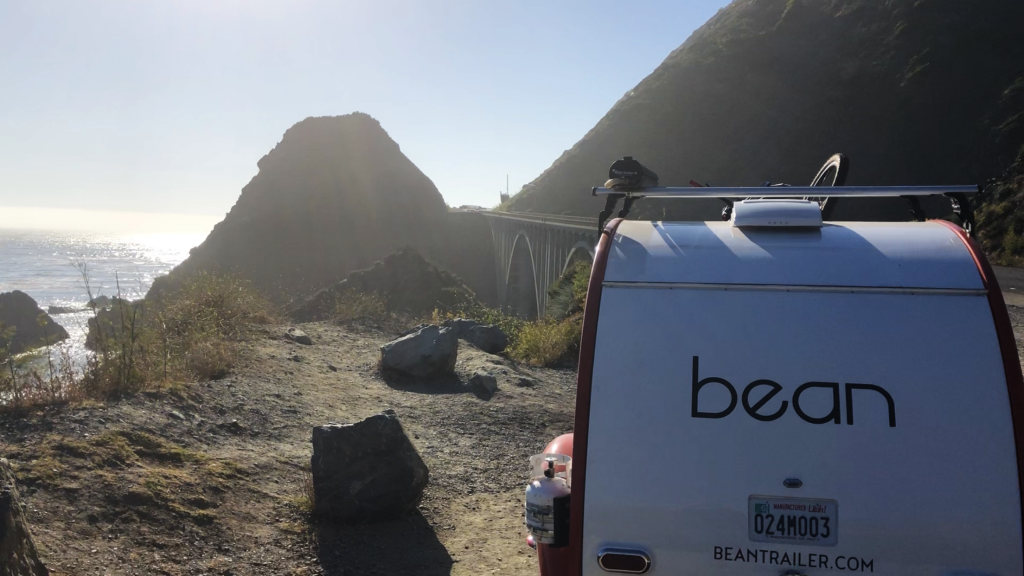 Cambria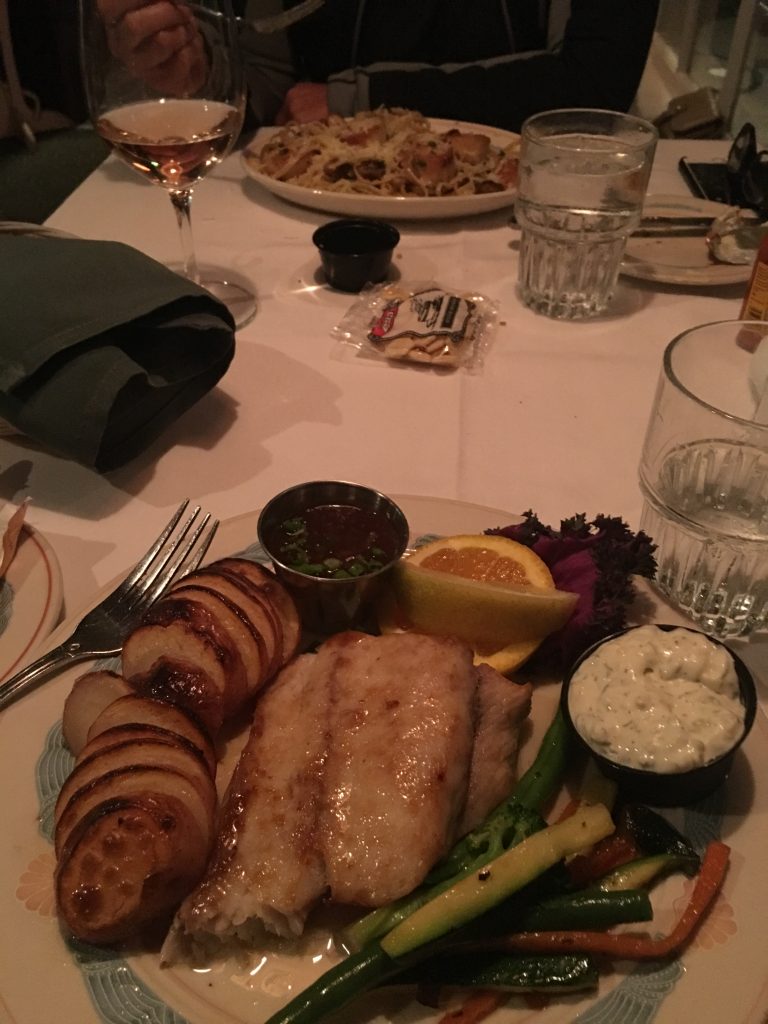 This is where Cindy and I spent our honeymoon so Cambria has always been special to us. We walked along the boardwalk at dusk and watched the sun tuck below the horizon. There is something about the smell of the ocean mist and the feel of coastal air that makes me feel content and grounded. We ate dinner at the Sea Chest Restaurant and Oyster Bar www.seachestrestaurant.com and it was one of the best meals ever! We shared the calamari steak as an appetizer and it was flawlessly cooked (not chewy). Cindy had scallops on a bed of pasta and I had the Mahi Mahi that was perfect. It is cash only but they do have an ATM. That meal spoiled me and I felt like William Randolph Hearst whose castle is just North of Cambria if you want to see it.
It was time to get off the coast and drive straight to the beaches of SoCal. We got in super late and it is really hard to find somewhere to park Bean and sleep so we booked a hotel. The bikes are vertically racked on the front of Bean and stick up higher than the top of the teardrop. I pulled into the entrance of the hotel and forgot the height of the bikes and smacked them against the overhang damaging Cindy's bike. Expensive lesson to learn about being aware of height when towing Bean with bikes!

Beach Time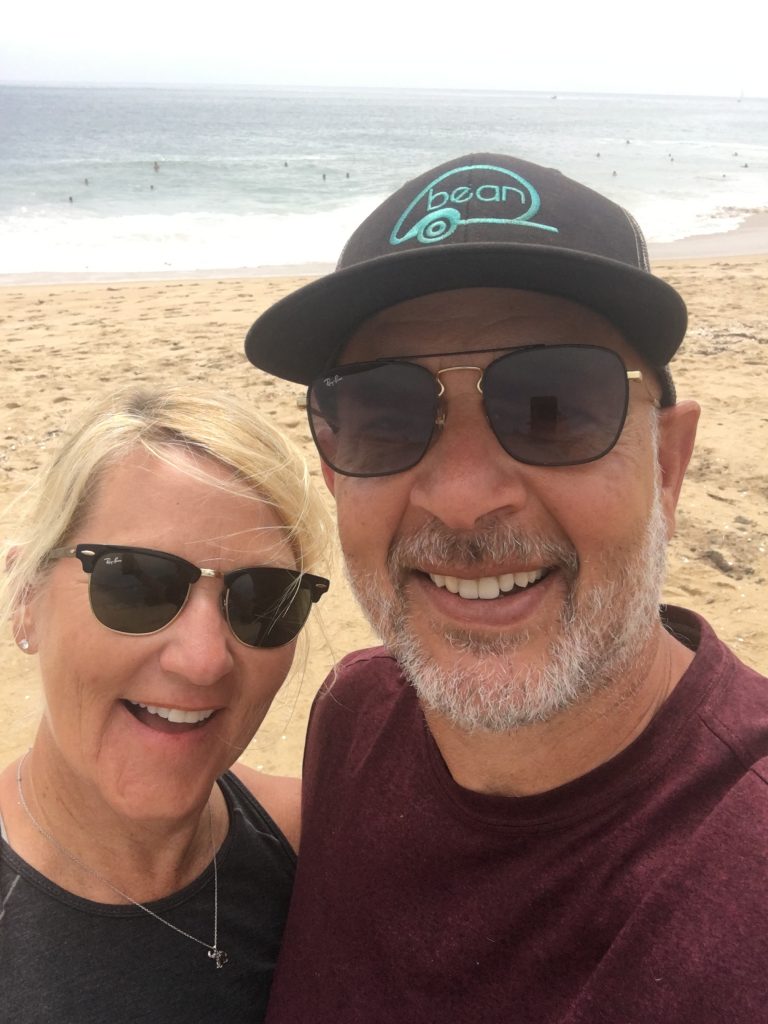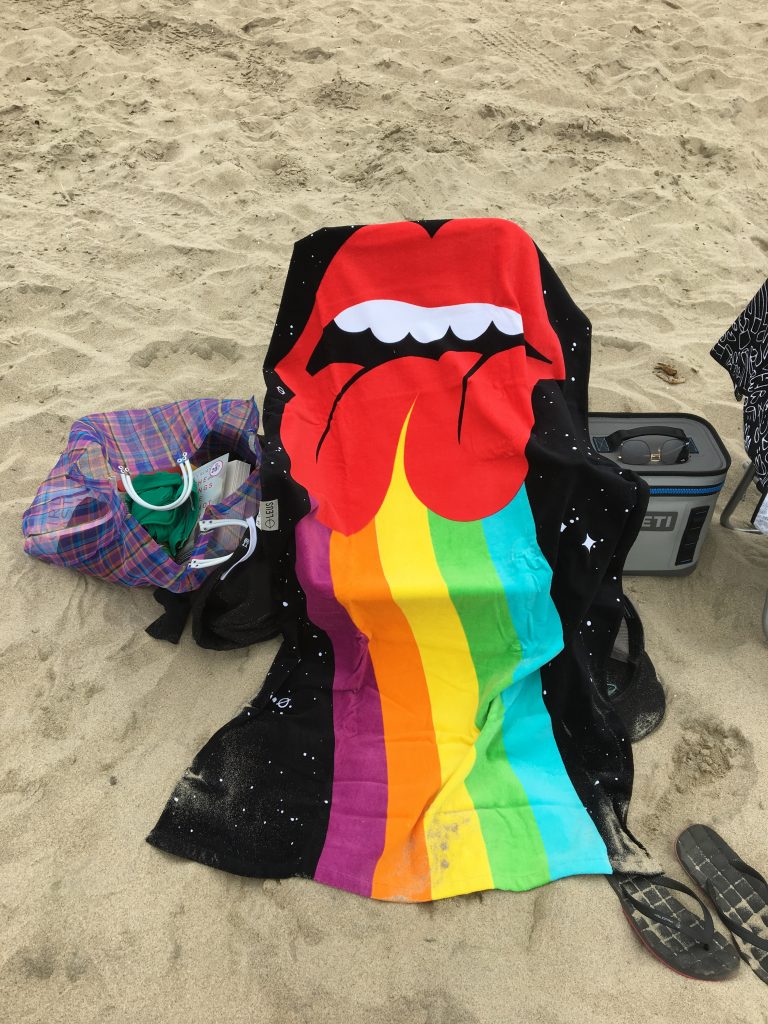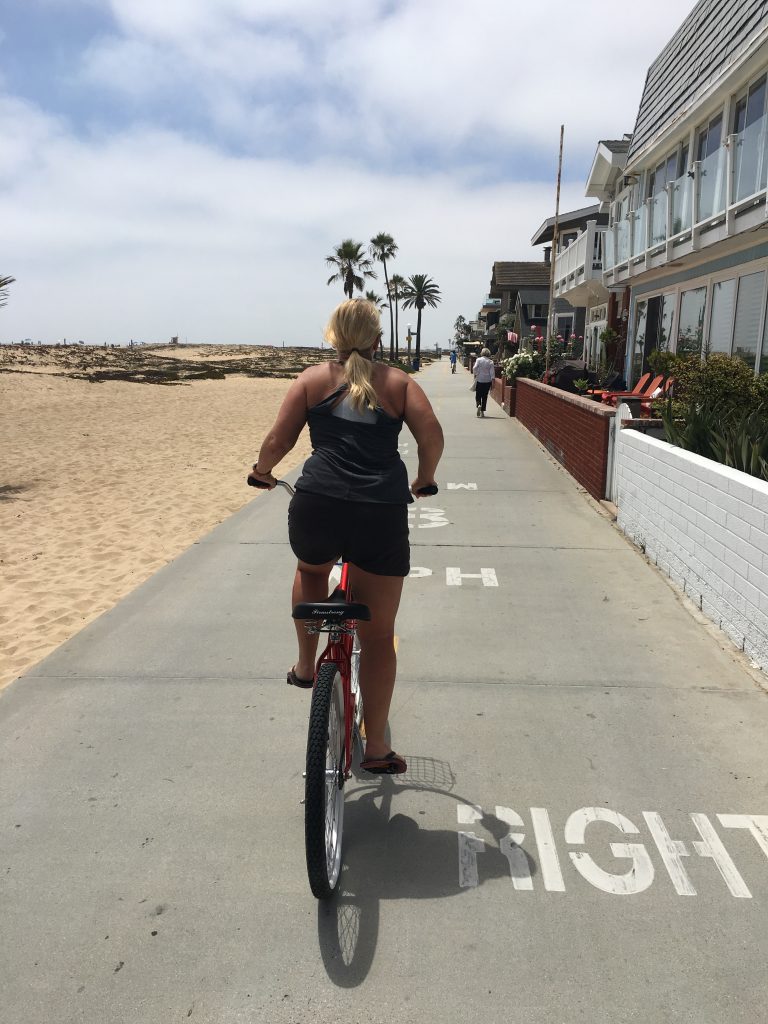 The first part of the trip was adventure touring; the second half was going to be sand between toes on a warm beach with a good book. We met Brian, who works with me, and his girlfriend in Huntington Beach. It was a perfect day with a mild breeze to keep from getting too hot. We set up our chairs and our cooler and got ready to do basically nothing! It was fun to sit around having conversations with an occasional swim and playing on the beach. By the way, a teardrop trailer like Bean is the perfect beach support vehicle where you can rinse off, change, eat and nap! Be prepared to answer a lot of questions because people love Bean at the beach.
We spent the next three days just relaxing at different beaches from San Clemente to Newport Beach. If you are ever in San Clemente get reservations for South of Nick's. Their Mexican food is delicious, but their Butter Cake is decadent! It was so good that we went back a second night just for dessert! The last day we spent at Newport Beach where we repeated annual vacation rituals; renting beach cruisers and riding the boardwalk to The Wedge to watch the surreal wave action created by the jetty and the talented body surfers who have mastered it. Eating at TK Burger (like In n Out, but better). Stopping at Seaside Donuts on the boardwalk before returning the bikes. So repetitive, so satisfying!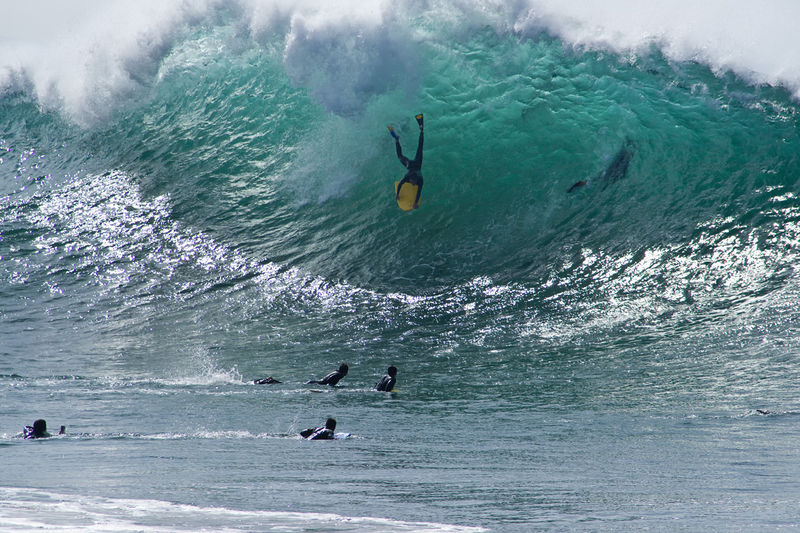 Our usual trips with Bean are two nights. This was an extended vacation with Bean. It was the ultimate travel caddy for as much or as little as you need it. Somewhere to rest or sleep, check. Need a quick snack or a gourmet meal, check. Support for a mountain bike and beach adventure, check. Bean does all this while being extremely easy to tow and requiring virtually no maintenance.

Don't Miss
Moab – Brand Trails (Rockin A trail for an introduction to slickrock) and Mag 7 for mountain biking. Antica Forma for delicious wood-fired pizza with a great crust. Pizza is great but the service can be interesting.
Downieville – Yuba Expeditions for a shuttle ride to Downieville downhill trailhead. Also, a good bike shop if you need your bike looked at. La Cocina De Oro for fresh Mexican with a good river view. Two Rivers Café if you are craving an after-ride burger or pizza. Make sure you try the Crispin cider!
Santa Cruz – Santa Cruz and Ibis have factory stores in town with demo bikes available for very limited use. You need to call ahead if you want to reserve a bike to test. Sequel Demonstration Flow Trail, one of the best flow trails in the country through a redwood forest. Wilder Ranch State Park, a beautiful but chilly casual coastal hike or bike ride. Taqueria Los Pericos, great chips, salsa bar, and Pericos tacos after a long ride. 17 Mile Drive, Pebble Beach – do this only if one of the world's most beautiful drives by white sand beaches, mystical forests and world-class golf resorts are your thing. Admission $10.50.
HWY 1 – Carmel south to Cambria. Tower cliffs and the rugged Pacific. Take your time and switch off so the passenger can enjoy the view and the driver can keep his eyes on the road. Lots of pull outs and view areas.
Cambria – A stroll along the coastal boardwalk at dust with the shimmering Pacific, amber sun and ocean mist might be just the ticket for whatever ails you. Sea Chest Restaurant and Oyster Bar with its delicious sourdough rolls and mouthwatering seafood entrees will have you thinking about that meal for long after. Put your name on the waiting list, walk the boardwalk or sit around their cozy outside fire pit admiring the Pacific.
Huntington Beach – Paid parking lots south of the pier are less crowded. Get there before noon to get a parking spot closer to the bike path at the edge of the beach and close to fire pits. Claim a fire pit (cooler, chairs, wood, etc) and plan on staying through the evening. It gets cold at night so plan on a light jacket. You can always get a cool hoody at Jack's Surfboards on Main Street if you forgot one.
Newport Beach/ Balboa Island – Go during the week and get there by 10 am if you want to find parking. Rent beach cruisers at 20th St Beach and Bikes. Ride the boardwalk south to The Wedge. Lock your bikes or never let them out of your site! Treat at Seaside Donuts close to the pier and a burger at TK Burgers. Poke Fresh for a more health but delicious option.
San Clemente – Good beach for kids. Dinner at South of Nick's. Get the Butter Cake for dessert! It is life changing.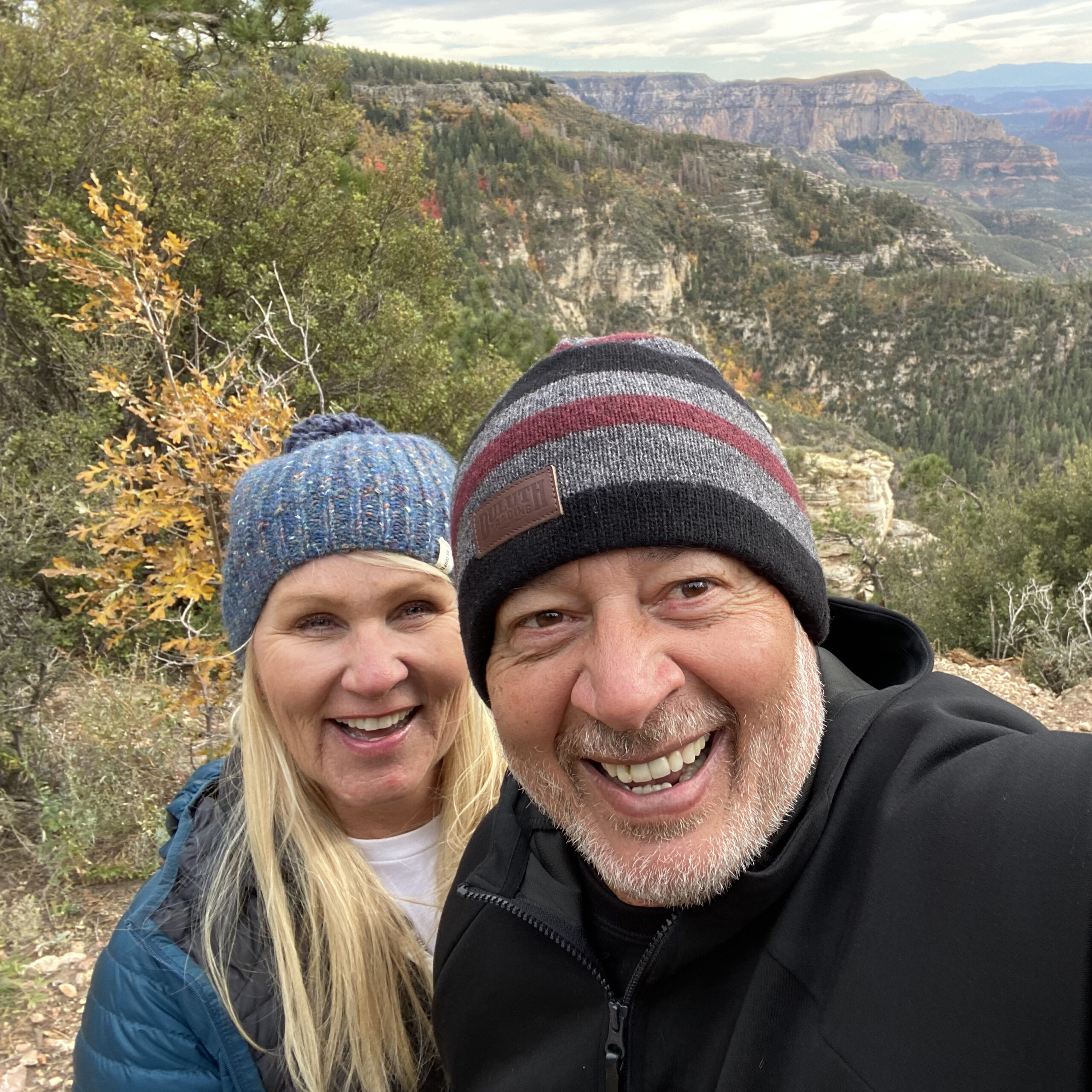 Cindy and I love mountain biking and wanted a small trailer we could take to our favorite trails. After searching, we determined we could design and build a better trailer than anything on the market. Now we have the pleasure of enjoying Bean on multiple adventures from short weekend excursions to epic trips ranging from Canada to Baja, Mexico.