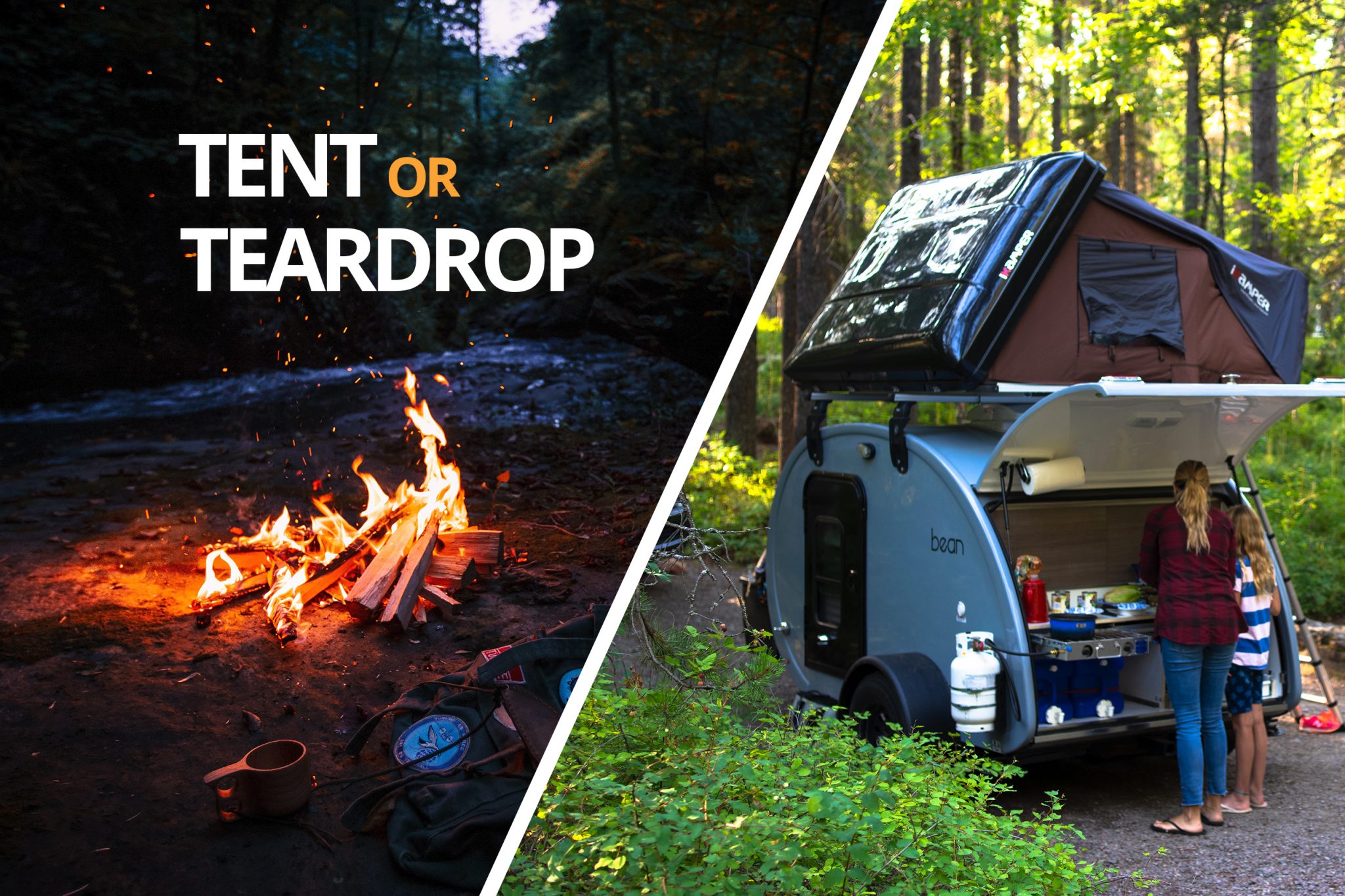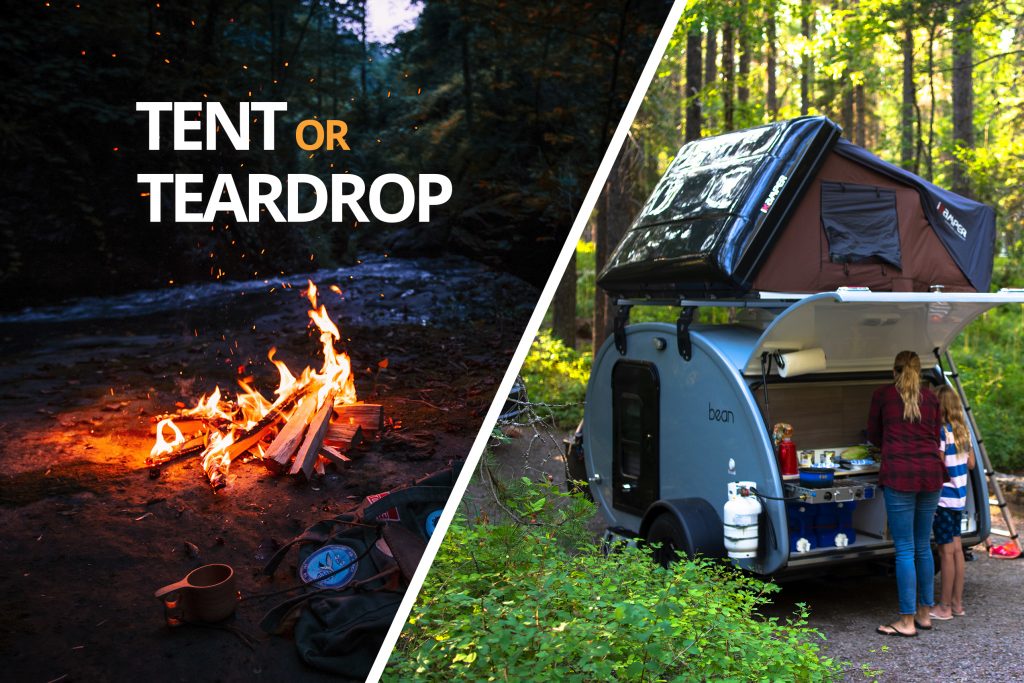 There's a certain romance that comes with spending a camping trip at your favorite destination and enjoying all of the recreational activities the outdoors has to offer! Those of us who grew up camping instantly recognize this feeling. Especially when we begin setting up our tent, lay out our sleeping bag, pad, and spend the remainder of the night by a campfire while snacking on roasted hotdogs and s'mores! Tent camping will always hold a special place in our hearts!
Since you've landed on Bean Trailer's website, it's likely that you may be interested in upgrading and looking into joining one of the hottest travel trends in today's outdoor recreation market, teardrop trailer camping! Now, you've probably heard the age-old debate: tent camping is the only way to camp, but in this article, we take an in-depth look at the pros and cons of each camping style to determine which is more suitable and best for your next outdoor adventure!
The Pros of Tent Camping
Cost – Tents are affordable for everyone. Most of the tents on the market today are budget friendly, ranging anywhere between $200-$500, or more, depending on when and where you decide to camp. If you decide to camp in the Everglades, it will be much different than camping in Glacier National Park. Where you decide to camp is up to you, but we recommend spending a few extra dollars on material that is going to keep you well insulated and mostly dry, especially if unexpected weather conditions arise.
For more information, check out How to Choose a Tent on Backcountry.com
Set Up – Tents are incredibly easy to set up. In fact, there are tents on the market today (pop-up tents) that require little to no engineering whatsoever. In this case, you can literally pull the tent straight out of the bag, throw it up in the air, and it basically sets itself up in seconds. In most cases, the tent you decide to settle on will typically include poles, stakes, a tarp, and any miscellaneous items that are included upon purchase.
Also, it's important to note that most tents are lightweight (five pounds or less). Their lightweight functionality allows them to be easily adjusted and moved across all terrains.
Eliminate Distractions – Leave your electronics at home or in your vehicle. Now, of course, if you decide to camp in a remote part of the wilderness, where there is no cell service, a satellite phone may come in handy, especially in the case of an emergency. Although, most of us who camp specifically head out into the wilderness to reset and disconnect from everyday life. Comparable to teardrop trailer camping, tent camping allows you to step foot into some of the most remote parts of the country. Thus, it almost feels wrong to pull out a mobile device, instead of basking in a mountainous site ahead. If you decide to bring your electronics, be mindful, and only use them when necessary.
Minimal Storage and Maintenance – Tents can be stored almost anywhere and don't require the same maintenance standards as a teardrop trailer. You can store them in your garage, leave them in your car, or even put them in a small storage closet. And if you return from a camping trip and discover a rip or a leak, by taking your tent to your local outdoor gear retailer, they may be able to repair it for you on site and in minutes.
Advice: Consider repairing the tent yourself. Why spend the extra dollars on what could be a simple fix, at home? Most outdoor gear retailers offer tent repair kits for less than $20.
For more information, check out How to repair a tent and REI's Tent repair kit
The Cons of Tent Camping
Comfort – Expect to get only a few hours of sleep each night. A major drawback to tent camping is due to the rough nature of the activity (sleeping on the ground vs. sleeping on a mattress and being outside vs. inside). The comfort level of the activity widely depends on a variety of factors, including your camping gear, weather conditions, insulation, and terrain. To escape and find comfort through these variable conditions, you may want to consider purchasing a teardrop trailer.
For more information, check out How to get good sleep while camping
Food Storage – Yogi Bear and Boo Boo are likely visitors! Tents are NOT a great place to store your food, if at all. Tents are vulnerable to many outdoor elements, including wildlife. Before heading out on your camping trip, it's important to know proper food storage and handling techniques in order to prevent unexpected incidents from occurring. By storing food in your tent, it's not only dangerous to your safety, but it's harmful to wildlife as well. We want to keep wildlife wild and you safe!
For more information, check out How to properly store your food
The Pros of Teardrop Trailer Camping
Comfort – When you upgrade to a teardrop trailer, you're guaranteeing a good night's rest. When you start your day well rested it leaves more room for activities, relaxation, and contentment. Most travel trailers will include some form of bedding and are usually equipped with enough insulation and padding to withstand even some of the harshest weather conditions. As some people say, a travel trailer is a home away from home.
But if a travel trailer doesn't come equipped with the necessary amenities to protect against the harsher weather elements, most companies have additional options to make sure you're ready to take on the weather forces of the wild. For instance, at Bean Trailer, we offer a Truma Vario Heat system upgrade to keep you warm and toasty throughout the colder months.
For more information, check out Bean Trailer's Options and Upgrades.
Food and Supplies Storage – Perishable or not, bring it anyway! A main draw to teardrop trailer camping is being able to store perishable food items in a refrigerated unit. If your camping trip extends for more than a few days, this functionality ensures that perishables maintain their freshness and last longer, while also providing protection from any outside elements, including wildlife.
Mobility – Most camping destinations are attainable to reach! Now, of course, there are some camping locations that may not be accessible with a teardrop trailer, like a backpacking trip high into the Unita mountain range in Utah. But, in most cases, the mobility of a teardrop trailer allows you to venture into some of the most remote parts of the country, that are only accessible with a vehicle. Mobility and off-road capabilities are a certain advantage with a teardrop trailer.
For more information, check out Bean trailer's Off-road trailer testing

Set Up – Teardrop trailers are also incredibly easy to set up! With a teardrop trailer's unique and minimalistic designs features, you can be ready to go at a moment's notice. Its small size allows for easy towing and quick hitch-and-unhitch capabilities, allowing you to set up your trailer in some of the hardest-to-reach locations that its larger trailer and motorhome counterparts couldn't. The most difficult part of this process is deciding on the perfect spot where to set up camp, and that's the fun part!
Weather Conditions – Teardrop trailers are designed for all weather conditions. Checking the weather conditions before any camping trip is highly recommended. But, if weather conditions take an unexpected turn for the worse, camping in a teardrop trailer is a preferable option – hail, rain, snow, and damaging windstorms can greatly affect the outcome of any camping trip. Thus, camping in a teardrop trailer provides a safety net, and an extra layer of comfort knowing that if harsh weather conditions arise, there are preventive elements at stake.
The Cons of Teardrop Trailer Camping
Cost – We can't stress this enough; you get what you pay for. The price of a teardrop trailer is a major factor in deciding which camping style to choose from, and what model to go with. If you're considering in investing in a teardrop trailer, you could be spending anywhere between $10,000-$30,000, or more, depending on your budget, and which manufacturer you decide to go with.
Required Maintenance – Teardrop trailers require a regular maintenance routine. When you purchase a teardrop trailer, you're investing in a product that will experience wear and tear through each camping trip. Like other forms of mobile transportation, they require a regular maintenance routine throughout the year to prevent a potential costly fix.
For more information, check out Ultimate Travel Trailer Maintenance Guide
Finding a Compromise
In our profession, we're keen to the idea there are a multitude of camping styles and activities to spend your time while in the great outdoors. After all, we haven't even touched base on the van life community! But, if you're looking to transition into a camping style that isn't associated with the primitive nature of tent camping (or you've already been there and done that), then owning a teardrop trailer may the choice for you. After all, the teardrop trailer's small and minimalistic design makes it so that you can travel light and with less hassle, and still enjoy all the small simplistic features that are associated with tent camping.
No matter which camping style you choose, there will be advantages and disadvantages to each, thus, a continuation of research is extremely beneficial to the purchasing process. Though, we encourage all outdoor enthusiasts to spend as little time at the campsite as possible. Take a walk out in nature, climb a mountain, or write in your journal along the riverbank. All these things, and so much more, can only be found on each of your unique camping trips: it's a healthy compromise for each adventurer.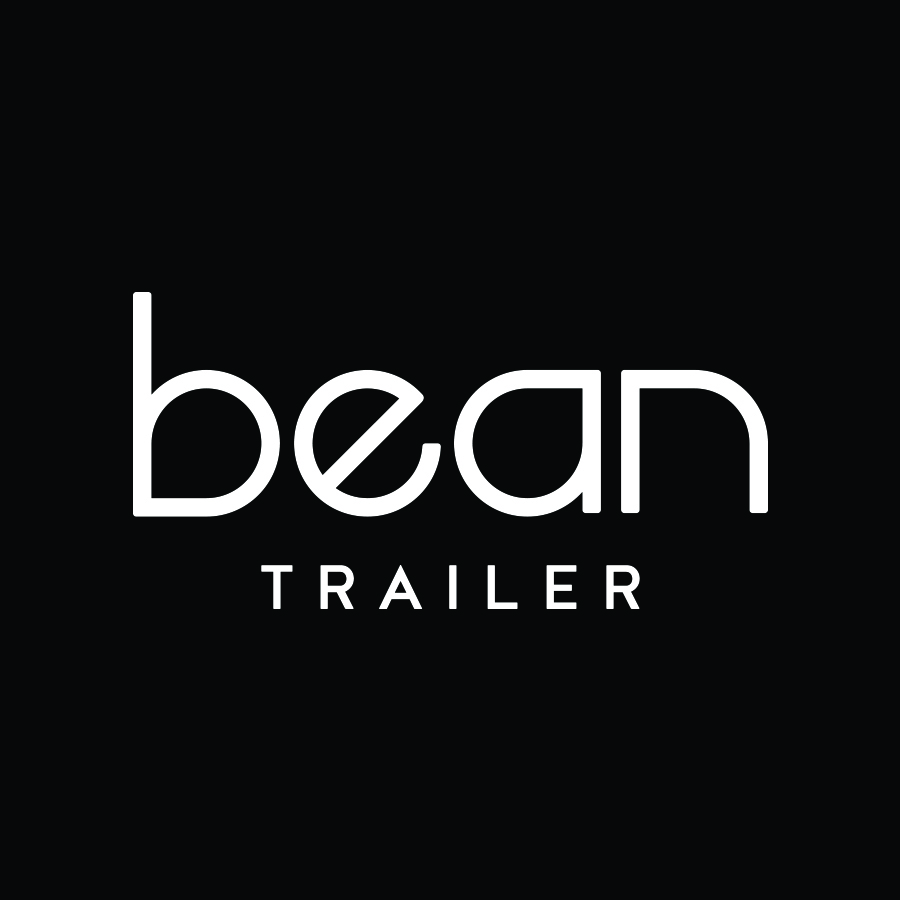 Off-road trailers built for the modern explorer. Inspired by a classic teardrop trailer design with improved construction for long term durability. We provide personalized camper options to all of our customers. Come see us in Salt Lake City!