Not sure what upgrades to go with?
Explore our detailed list of options and upgrades that you can outfit your Bean Trailer with!
As a helping hand, we've collected the data on what the most popular teardrop trailer configuration has been through out the years. As you read through the guide linked below we recommend opening the  2D Builder so you can get real time pricing while you select which options are best for you. 
A favorite new upgrade amongst most owners. This table converts the cabin sleeping space into a relaxing dining and recreational room. 
Compatible with: Meaner Bean, Mean Bean, Classic Bean
With this accent feature you'll bring light into your cubby and attic space. Create additional ambience before a good night's sleep or set the tone for movie night in our relaxing cabin space.
Compatible with: All trailer models
The spray port is a great option for people who want the ability to bring pressurized water to the road.  Instantly spray off totes, coolers, bikes and other camp accessories by simply connecting the coil hose. 
Compatible with: Premium & Premium Plus galley only
Need more room for your favorite gear or camping goods? These brackets are the key to be able to upgrade your trailer with most of our exterior options included on this list.  They are through-bolted to provide superior strength for options like storage racks, roof top tents, and awnings. 
Specs: 
• 220 lbs dynamic load capacity 
• 900 lbs static load capacity
Compatible with: All trailer models
The Roam Box Rugged Case is a heavy-duty storage case that is ideal for storing your long items such as chairs, shovels, axles, recovery gear or just adding more storage to your Bean Trailer. Rugged storage that seamlessly mounts to the Front Box or Roof Rack System on your Bean. This premium case features a durable LLDPE shell, Nylon rope handles, steel lockable latches, and a dust/waterproof gasket seal that makes sure your gear always stays protected no matter the terrain.
Specs: 
• Capacity: 95 L
• Material: LDPE
• Exterior Dimensions: 47.24″ W x 18.90″ L x 11.42″ H
Compatible with: Roof Rack System & Front Box
Enjoy the comfort of hot, pressurized water during your teardrop trailer adventures. The tank holds a total of 7 gallons of water for instant access wherever you go! To get more water pressure, the tank must be filled with the Schrader air valve or a garden hose. Bean owners love this option because it's quick and easy to use and rely's on the sun's rays to heat it up. 
Compatible with: All trailer models
For the camper who plans to utilize Bean beyond a weekend getaway, we're proud to release our custom annex, the next best thing since our 23 Zero 180° awning. Combine the two upgrades for even more additional coverage from the elements, privacy when you need it, and possibly even as a personal shower stall. The options are endless!
Compatible with: 23 Zero 180° Awning
A much anticipated edition to our line up of upgrades, Bean's Front Box provides a secure and sturdy location to store extra gear and your campers battery system. Many owners love this option because of it's better utilization of space and the option to mount a 1UP Dual Bike Rack.
Compatible with: All trailer models
Get the best view of the mountains, forest, or lakefronts  from the comfort of your cabin space. With this option, you'll create a stealthy modern exterior style while opening your cabin space up to more natural light. Recommended with the removable Light Leaf Solar Panel for in-transit protection!
Pro Tip
Combine the front window with our pop-up table option to have a date with nature while you sip on your morning coffee!
Compatible with: All trailer models
Norcold NFR30 Fridge/Freezer
Whether you're reaching for a refreshing drink, a snack, or fresh meat for the grill, the Norcold fridge or freezer is your greatest camping ally. All of our galley's are equipped with a 12V electrical hook up to keep your food chilled without the hassle of ice.  This isn't your average mini-fridge! The NRF30 will fit in our Basic Plus or Premium galleys. 
Compatible with: All trailer models
45 qt. Fridge/Freezer (Premium Plus galley only)
Have you ever felt like you needed more room in your cooler while out camping? Well, we've got you covered. Our powder-coated cooler and fridge rack-out tray on our Premium Plus Galley package accommodates a larger 45-quart fridge and freezer. All of our galley's are equipped with a 12V electrical hook up to keep your food chilled without the hassle of ice.  Your favorite go-to food and drinks won't ever have to fight for space again.
Compatible with: Premium plus galley only
Taking on rough terrain? Need a step up to the stand-on fender or the roof rack? Bean's rockslider upgrade provides serious protection and function for your teardrop trailer. Made of durable steel, these guards can save the under-edge of your trailer's shell from unwanted contact with rocks and branches on off-road trails. This stylish option will  keep your trailer looking pristine for many miles to come.
Compatible with: All trailer models
Whether you're caravanning through the road less traveled or relaxing at an established campground, trusty power sources are a must for most. Charge your gadgets and more with the LionEnergy Safari UT Lithium-polymer 1300 battery. You won't need to worry about battery levels and this upgrade is much lighter. We like to say the Lithium battery will pay for itself over the life of the trailer. 
Lithium Battery Specs:
Double the battery life

Lifetime warranty

23.5 lbs
(Standard Option) AGM Battery  Specs:
AGM can only use about 50% of it's capacity

2 year warranty

69.5 lbs
Compatible with: All trailer models
A step up from the Sun Seeker awning, this easy to deploy, wide coverage awning is great for inclement weather or to escape the beating sun. The best thing about this option is it's sturdy enough to stand up with ratchet straps without having to deploy the additional stabilizing poles.
Compatible with: roof racks on any trailer model
Front Mounted Alta Bike Rack
Being mobile is a beautiful thing. Conveniently bring your bikes anywhere you go with this 4 basket bike rack. This setup ensures contact to the tires only and Alta also uses 8 feet of weld on every rack, to ensure a life time product.
Compatible with: Trailers with standard front storage tray
LightLeaf 140 Watt Solar Panel, Removable
The 140 Watt LightLeaf Solar Panel is an excellent option to charge Bean in transit and be able to offset power consumption at your campsite. While traveling, use the 3 part easy lock system to secure your panel on the front of Bean.  When you arrive at your destination simply detach the panel and angle it towards the sun. 
LightLeaf Specs:
22% efficient SunPower monocrystalline cells
Carbon fiber composite rigid structure moulded to specific curvature
Impact and abrasion resistant UV-safe polycarbonate face
Panels are waterproof with an IP66 rated junction box
Quick-release and lockable mounting hardware
Lightweight and easy to handle at only 3kg and 8mm thick
Compatible with: All trailer models
Freshen up and bring the luxury of a hot shower with you on the road! Instantly heat water from our 18 gallon water tank! For added privacy, many Bean owners pair this option with the 23ZERO Peregrine vehicle shower enclosure or with the 23ZERO Peregrine 180 awning with Bean's zip-in annex.
Compatible with: Meaner Bean and Premium or Premium Plus galleys only
The front lockers provide additional storage space that is easy to utilize. They are secured with key locks and each have interior clothes hooks for items like backpacks, jackets, muddy boots, etc. 
Compatible with: All trailer models
Keep your trailer's interior temperature cozy, even if you're adventuring in the middle of winter. With the upgraded Truma Varioheat, take advantage of traveling around in your Bean no matter the season or weather conditions.
Compatible with: All trailer models
iKamper Skycamp 2.0 Rooftop Tent
Of course, every Bean teardrop trailer is built with ample space and comfortable sleep in mind, but how should you sleep multiple friends or family members? Easy. Travel smart with the iKamper rooftop tent upgrade and be ready to invite your friends and family along for the journey. 
Compatible with: roof racks on any model
Protect your Bean Trailer from harsh weather elements while it's being stored! The cover is made from Sunbrella fabric with Sunbrella SUNZIP zippers, allowing you to get inside the cabin at any time. One-size fits all for a tight and snug fit.
Sunbrella Fabric Specs:
Lifetime warranty

Fade resistant and colorfast

Repels water and mildew

Resissts mold and stains

Breathable and easy to handle
Sunbrella SUNZIP Zipper Specs:
High-performing Sunbrella Acrylic zipper tape

Fights off fading and harmful sun rays

Zipper teeth are made of resistant resin
Compatible with: All trailers without front box
This A/C is fast, efficient and will keep your Bean cool and comfortable when you're camping in warm and humid climates! We recommend a shore power connection for prolonged use but the unit will run for approximately 3 hours off of a dual lithium battery setup alone. This unit is not retrofittable for Bean owners or Bean Trailer's that have already started production.
Compatible with: All trailer models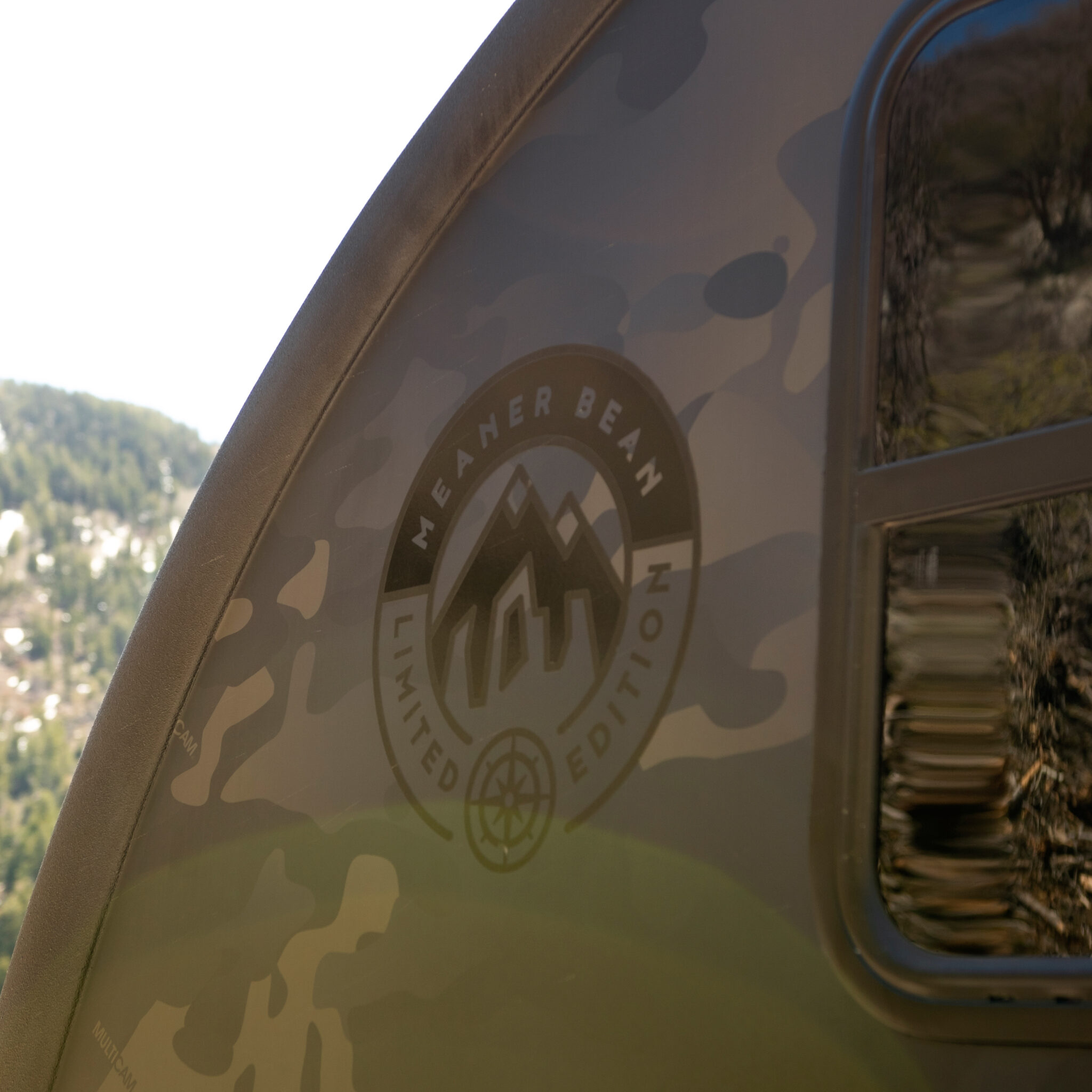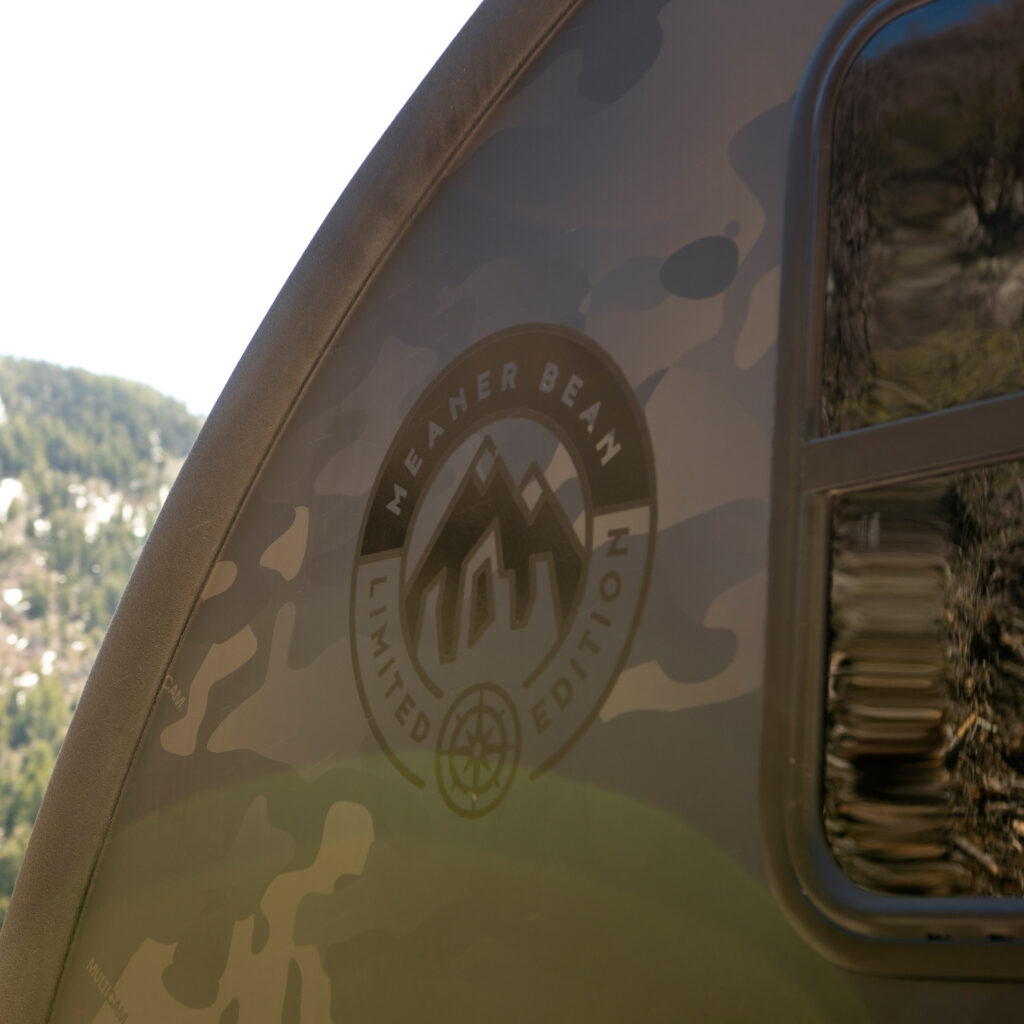 Everything you need and nothing that you don't. With a personalized Bean Trailer, you'll be ready to take on the call of the wild.
Give our trailer experts a call to discuss which options are right for you!