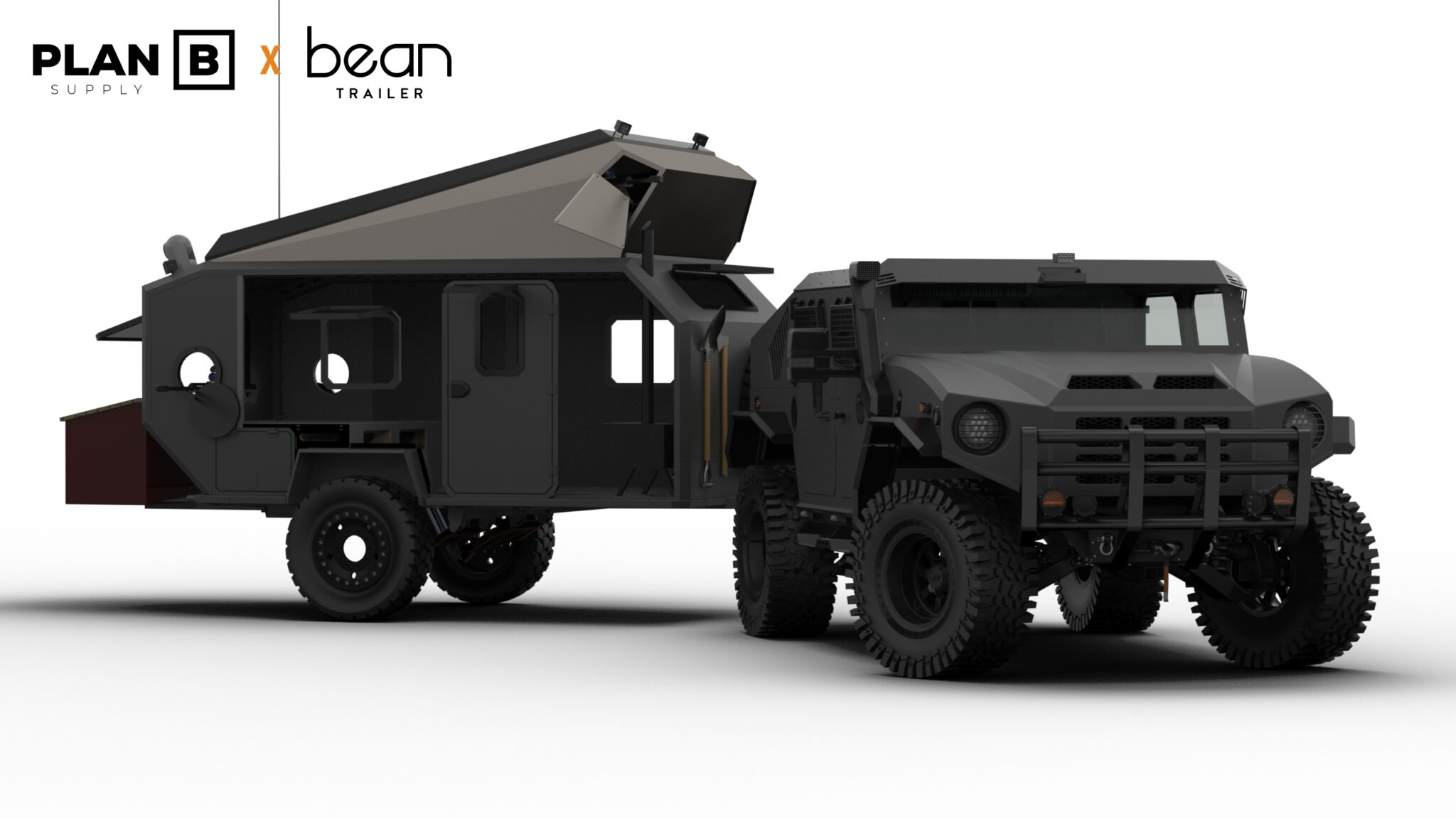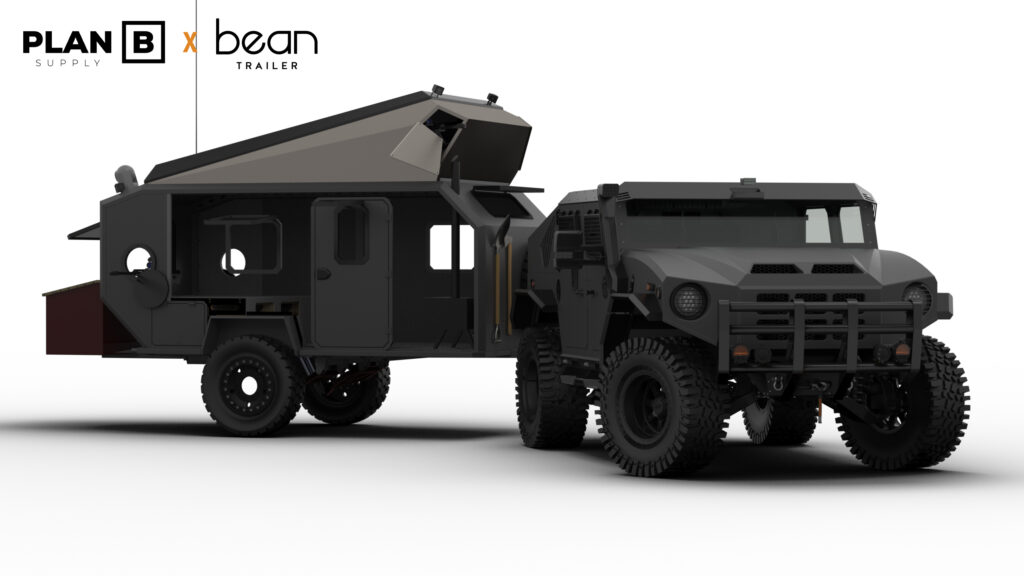 Salt Lake City based Bean Trailer is pleased to announce the introduction of Bug-out Bean, specifically designed for customers who want to take emergency preparedness to the next level, and hold a tactical advantage in doomsday scenarios.
Bean Trailer has spent months working in collaboration with Plan B Supply, to armor up Bug-out Bean. This trailer is specifically designed to integrate seamlessly with Plan B's capable Ricochet vehicle designed to maximize survival under all SHTF scenarios. Some anticipated features, such as electronic camouflage may not be disclosed at this time.
However, published features include:
420 Amp hours of lithium battery bank, 2000-watt inverter and 500 watts of solar panels
Lab599 TX500 Ham radio and integrated antenna
Starlink Roam
Rain capture and water filtration system with 50 gallon holding tank (check your States restrictions)
37" run flat mil spec tires
EMP shield protection
NBC (Nuclear, Biological, Chemical) 60 CFM air filtration system
COMPREHENSIVE & MOBILE Mobilize Rescue Systems with app
Separated food floor storage for two adults including
2000 rounds of 5.56 ammo storage capacity
Secureit Agile Ultralight 52 Pro gun safe
FlIR M617CS Long Range High Resolution 360-degree Thermal Camera System
4 sided off-road lights
B6 ballistic steel cabin, floor and wall panels
(2) Plan B Supply level 5 ballistic steel door with operable 2" acrylic bullet proof window
(2) Plan B Supply operable windows with 2" UL7 rated ballistic glass
Level 4 ballistics ceramic roof and center section
1 hour fire wall rating
Floor escapement hatch with deployable smoke screen
Plan B Supply folding roof mounted steel plated Return Fire TM shield system
Winnerwell Nomad large wood stove
Optional hitch mounted chicken coop.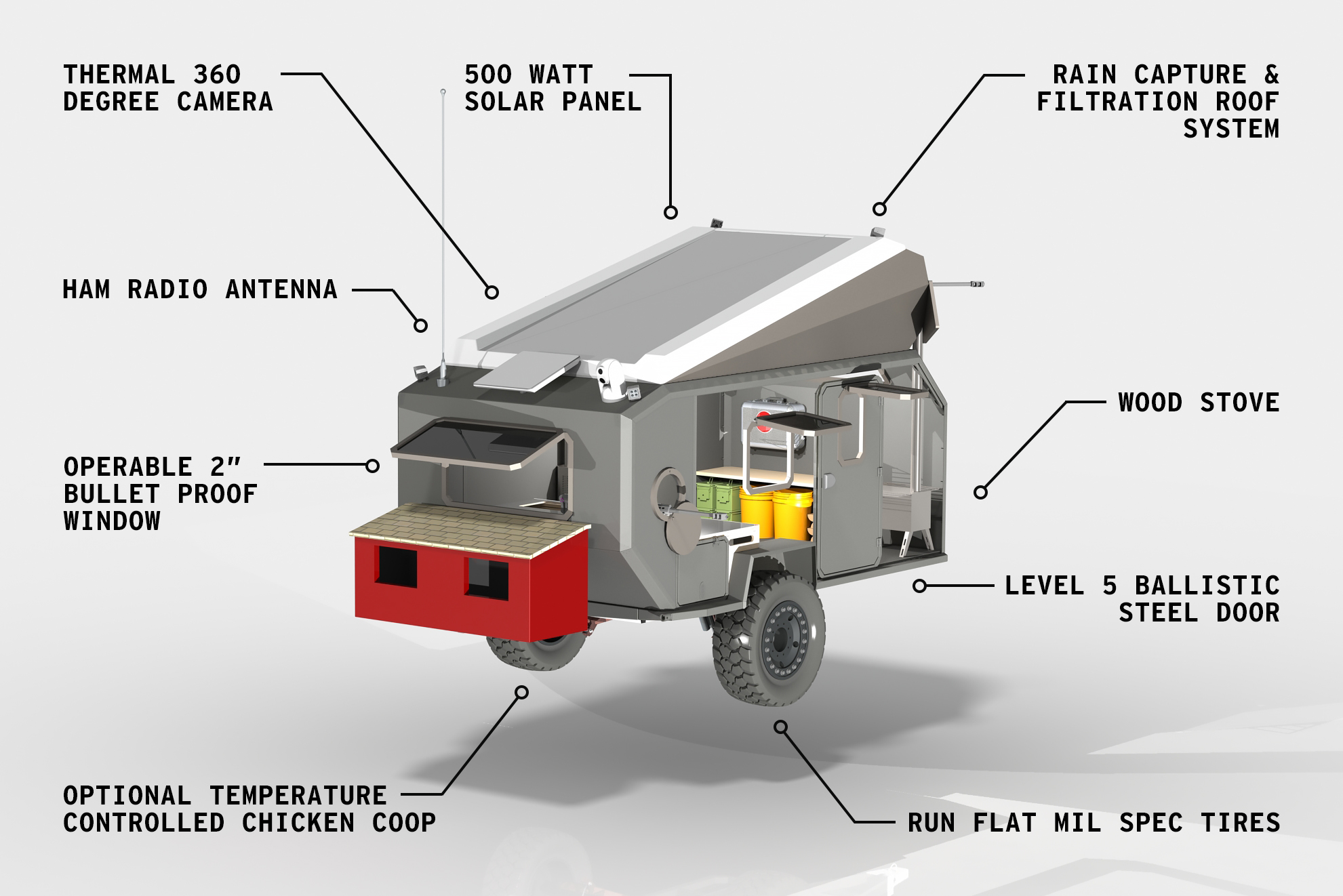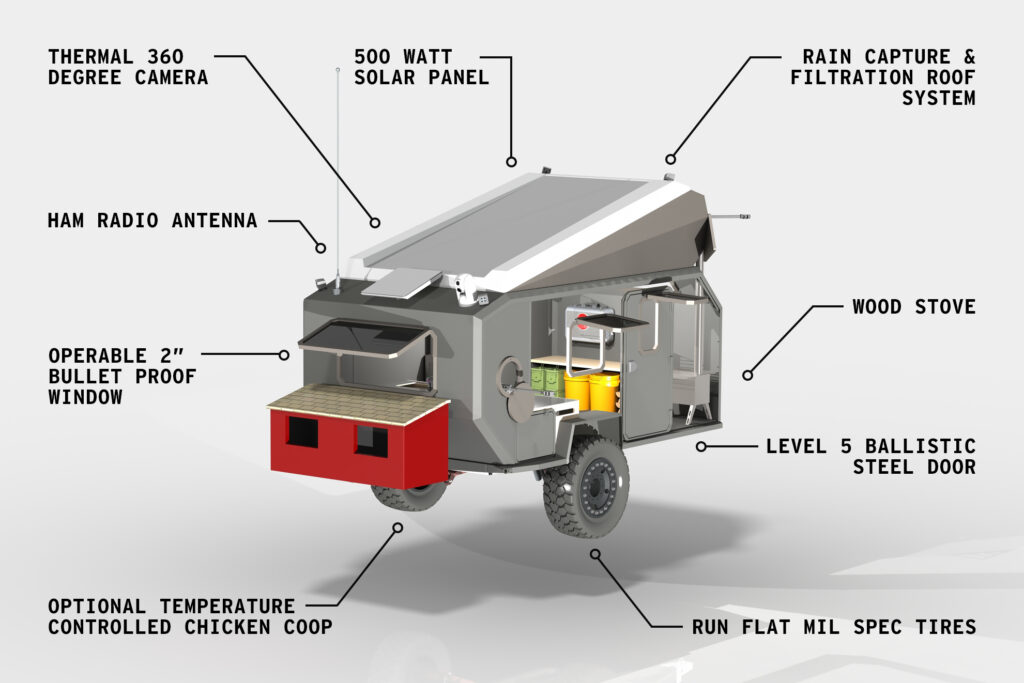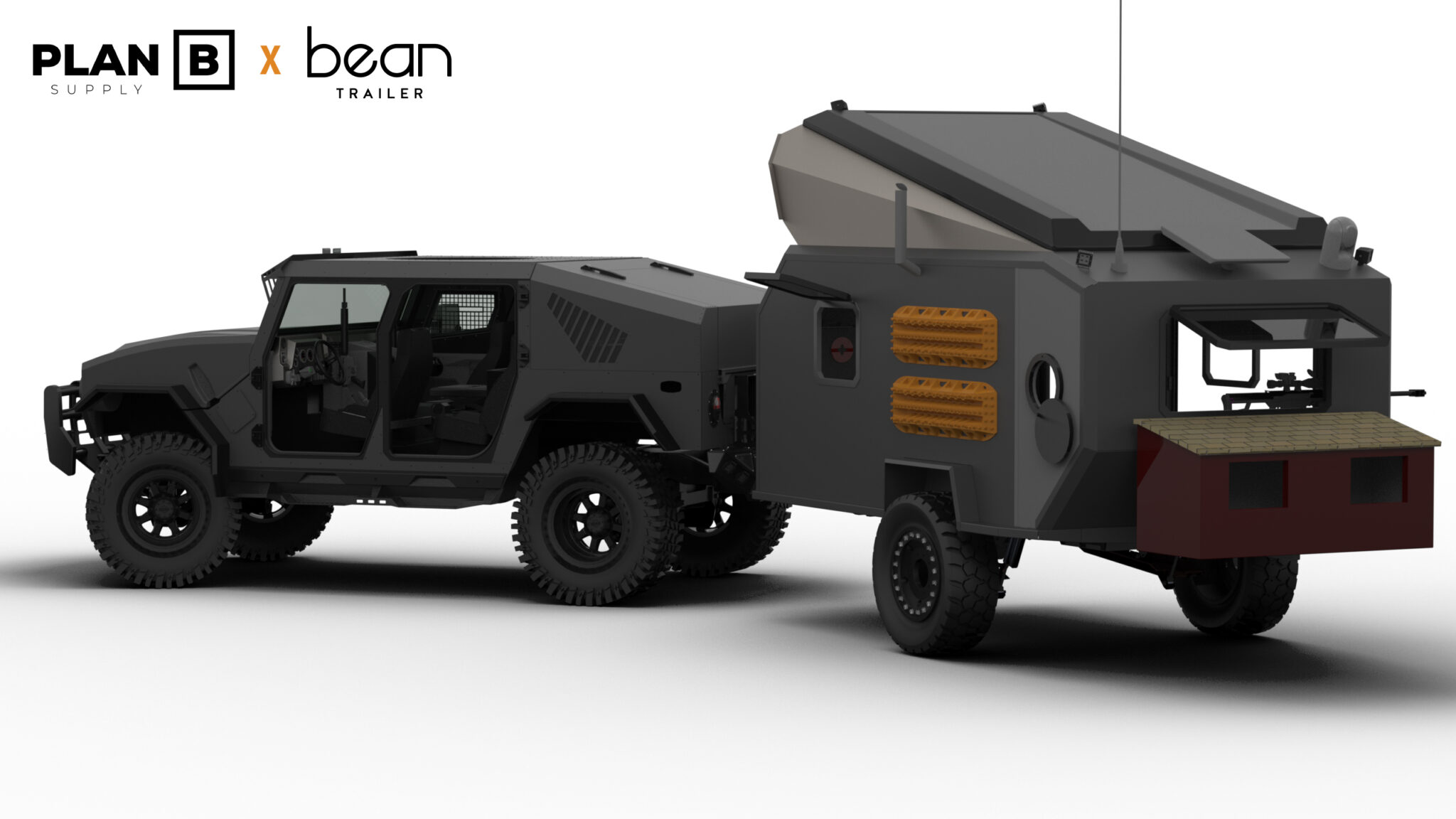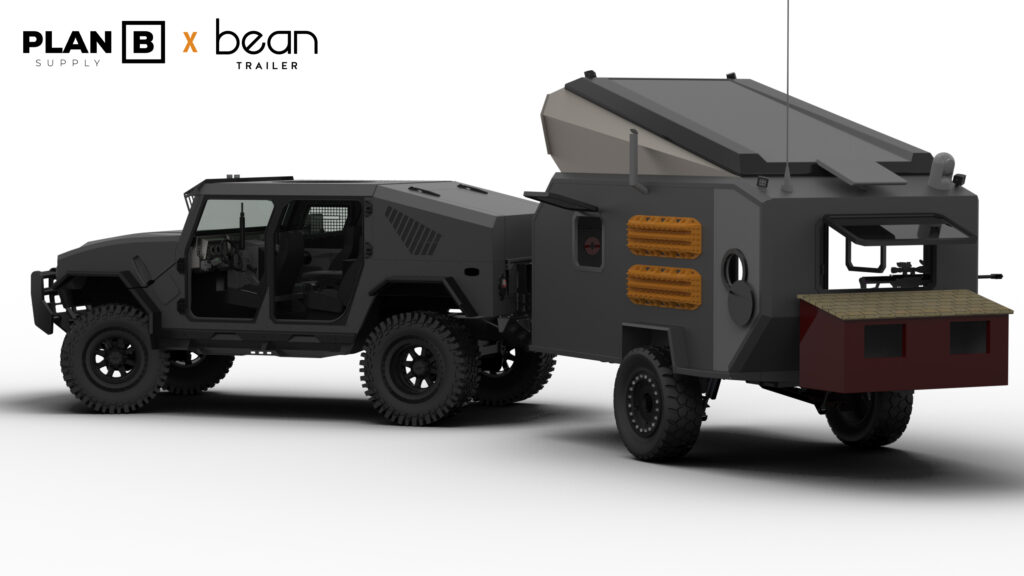 Mark Harling, President of Bean Trailer is proud of the step forward in the SHTF preparedness Bug-Out Bean represents. "We want to thank Plan B Supply for their help in creating this incredibly capable armored trailer" Anticipate dry weight of the trailer is 5000-6000 lbs. and a tongue weight of 800 lbs. Forecasted production starts as soon as April 1, 2024, April Fool's Day.

Bean Trailer is the only custom trailer manufacturer offering superior quality trailers available for immediate pickup in our showroom. Don't wait months for a custom trailer. Check out our inventory trailer webpage to see what we have in stock. Be sure to design and build a custom Humvee from our friends at Plan B Supply, they have some of the baddest rigs on the road.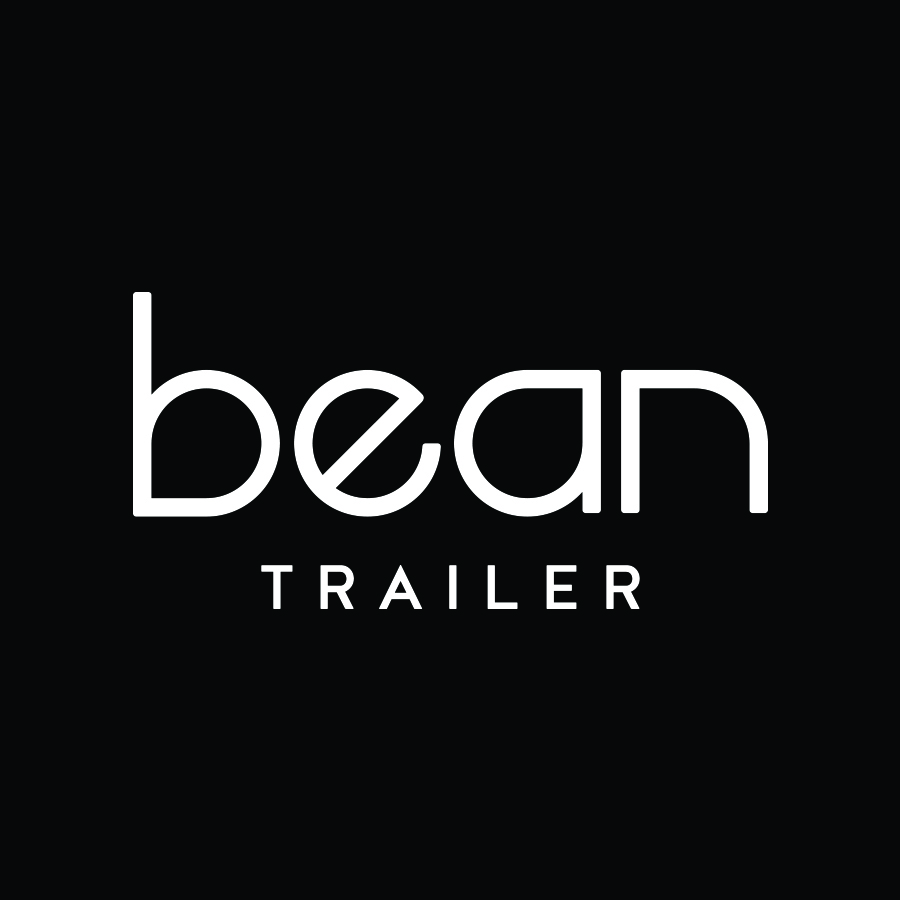 Off-road trailers built for the modern explorer. Inspired by a classic teardrop trailer design with improved construction for long term durability. We provide personalized camper options to all of our customers. Come see us in Salt Lake City!