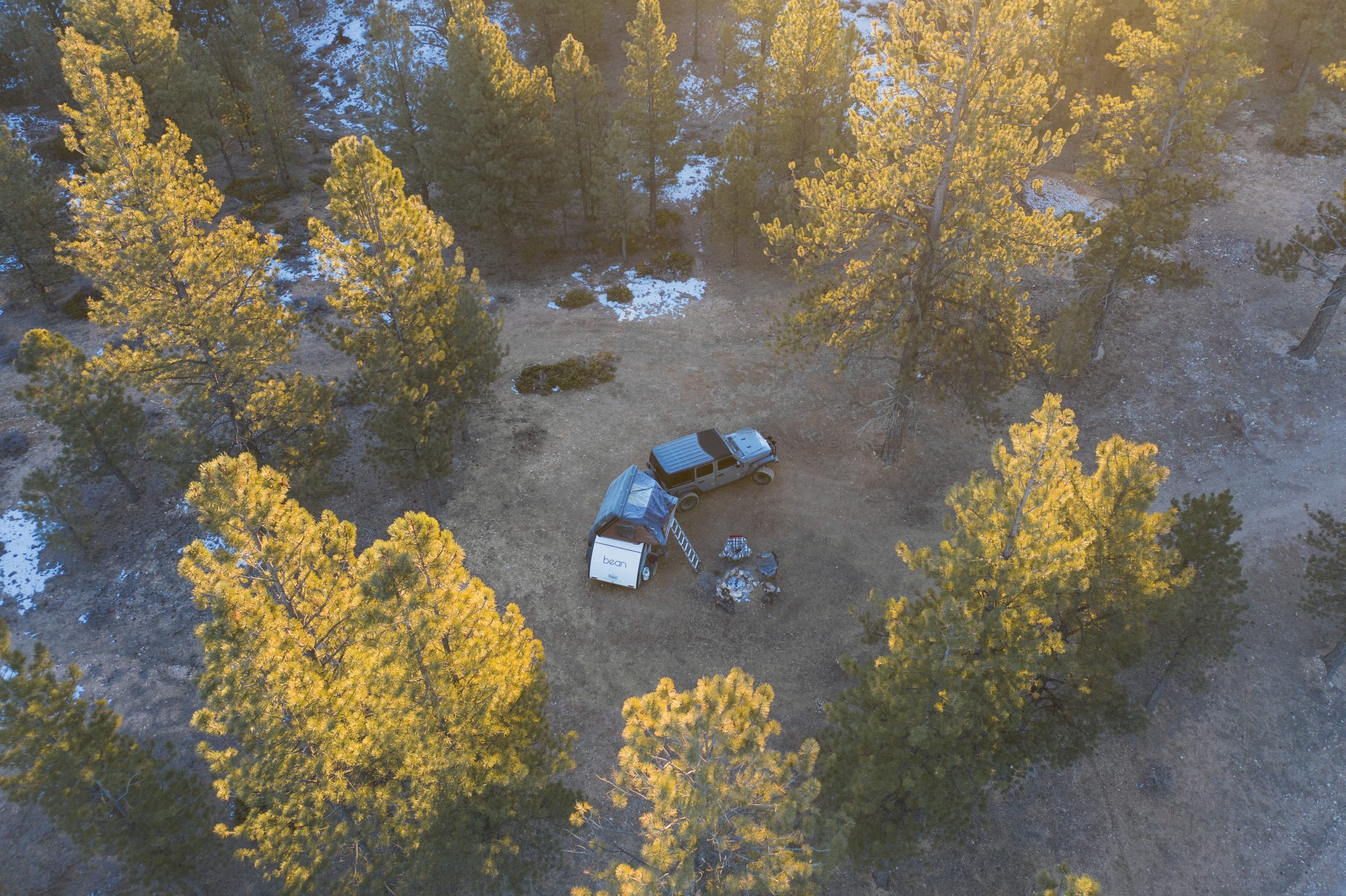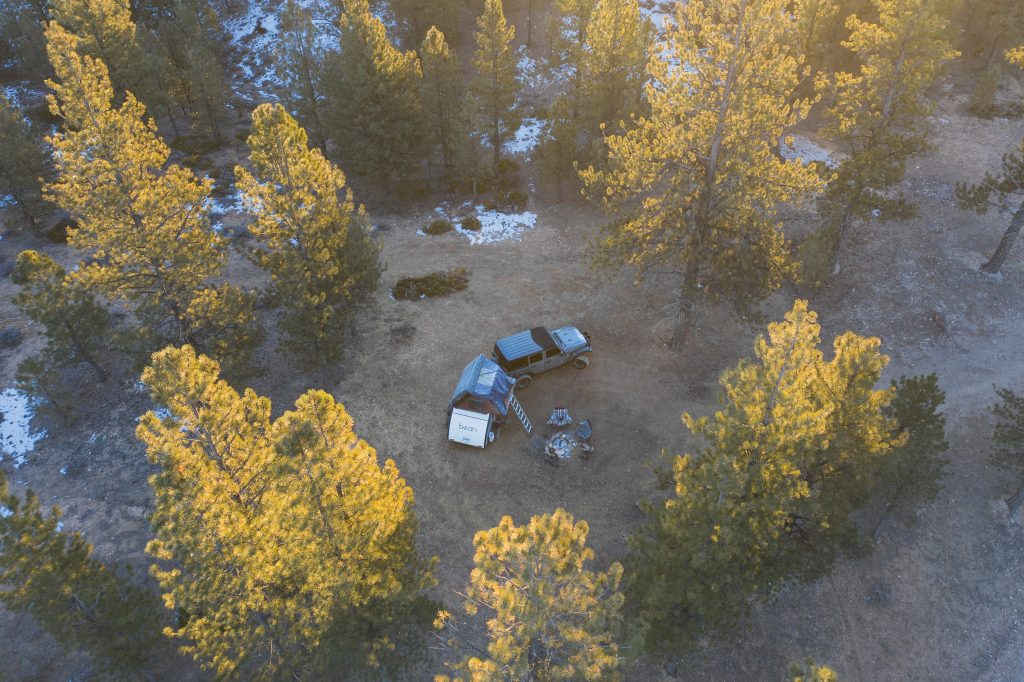 When you wander into a foreign place, the first-time experience is always the most memorable. The sights, the sounds, and the smells are all new, exciting, and curiously entertaining. As a first-time Bean trailer camper, the eager temptation to hit the road and experience something new was calling.
To close out the year, my fellow Bean team comrades and I decided to take the Mean Bean down to southern Utah to experience one of the state's mighty five national parks – Bryce Canyon National Park – a magical land filled with a long and rich history of European pioneers and Native American heritage along with an expansive land of crimson colored and spire-shaped hoodoos (check out the Bryce Canyon Amphitheater).
Due to the spontaneous nature of our trip, we were met with some of the most thrilling and epic road trip experiences of this past year, which made the trip and its challenges even more exciting to navigate through, such as having to hitchhike back to the Bean after getting turned around on the trail! What would an adventure be if some things didn't go according to plan, right? We knew from the moment we arrived to when we left, we had become fully immersed in the experience, each of us creating our own unique perspective on the memories we made. Here's a look at some of the best moments from our most recent #BeanThere adventure!
Day One: The Coldest Night
Prior to leaving Salt Lake, we knew that finding a campsite would be somewhat of an obstacle. Considering that it was already early afternoon when we left, by the time we arrived in Bryce, it was dark. As a group, we decided that we would wing it (as any adventurous group would say) and look for a campsite in or around the park as we got near it. As we turned down highway 12 and started our last leg of the drive, our optimistic approach had turned sour as each turnoff we came across was either closed or blocked off. Maybe we should have actually thought this through.
In a Twilight Zone frenzy, as we approached the last turnoff, and saw that this one was OPEN! Without hesitation, we all agreed this was our best bet. So, we turned down the dirt road and started driving, unsure of where this road led to or what we would find along the way. All we knew is the night was as black as burnt toast, the road as desolate as an abandoned mine shaft, and the Bean as mean as Bean can be.
After a half an hour of driving and a few turns later, it was though a miracle had come about, stumbling upon a flat open terrain accompanied with a fire pit! Our luck had turned. Due to the large accessibility of the campsite, we were able to pull through with the Bean and set up camp in a matter of minutes. I quickly found out that traveling light and with less with Bean is a huge perk, especially in a situation like this one. Now that we were finally at ease with our circumstances, we quickly started a fire and warmed ourselves, sharing campfire stories and preparing ourselves for the longest night ahead.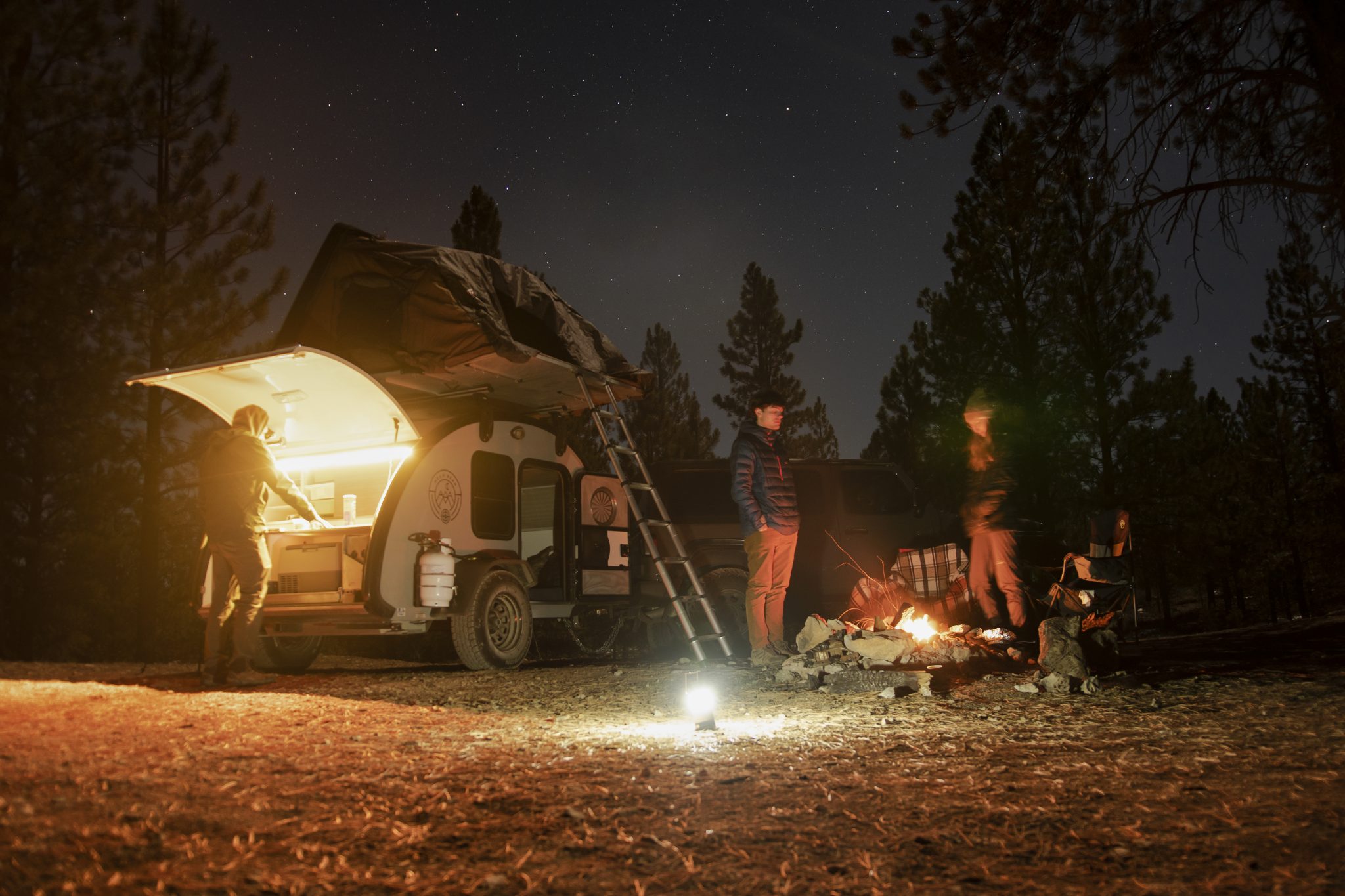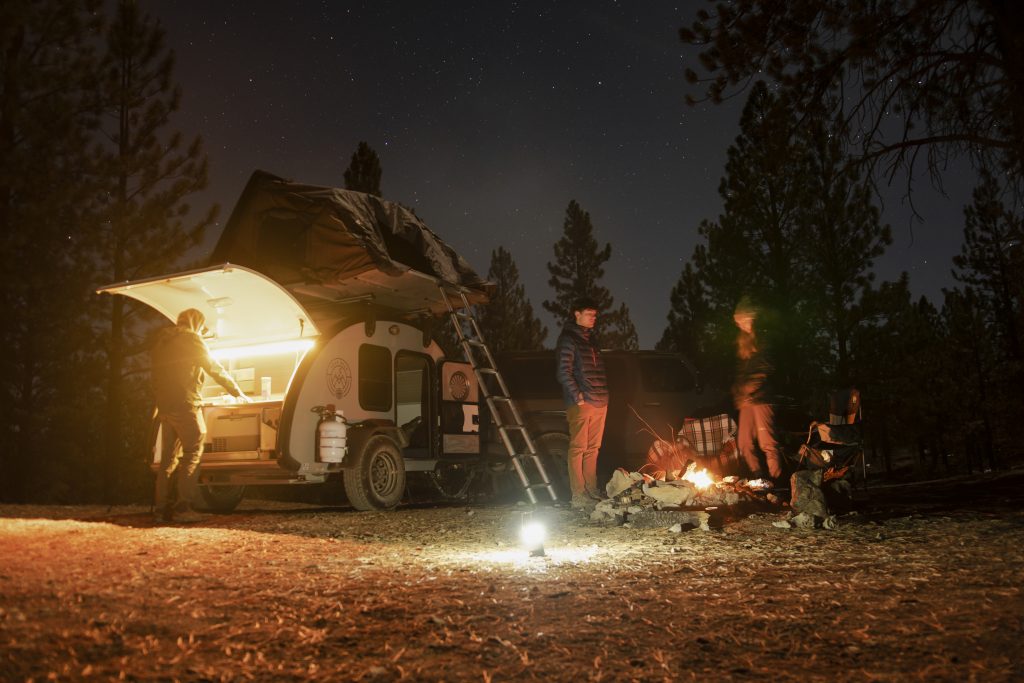 When you decide to go on a camping trip, it's always advised that you check the weather forecast beforehand. That was our mistake. Now, we knew that it would be cold but we didn't think it would be THAT cold. At 6 degrees Fahrenheit, we broke our previous record for the coldest night camping in the Bean without a Truma Varioheat system (this is an upgrade option when customer's build out their trailer). Below freezing temperatures and a steady breeze made this night as uncomfortable as one would expect, especially if you didn't pack the necessary camping gear and equipment needed to maintain some level of comfort. New to the Bean team, Mikenley, got an hour of sleep, at most. No matter what style of camping you pursue, you should always do your research and bring any gear you might think is essential to improving the overall comfort level of your experience. Check out our guide How to Plan the ultimate Bean There Adventure to learn all about a proper trip preparation process.
Directions to Bryce Canyon National Park: From Salt Lake City, head south on I15. When you reach highway 20, turn left then turn right on I89. Then, take a left down highway 12. This road will lead directly to Bryce Canyon, as well as a ton of different recreational areas like trails, campgrounds, and other recreational landscapes to explore.
National Forests are great for dispersed camping! Here are the coordinates of the awesome campsite we found: 37.625531, -112.227051
Day Two: A Walk Among Hoodoos and Scenic Vistas
The next morning, we awoke with our eyes crusted shut and our bodies numb from an exhausting and restless night. To warm ourselves, we spent the early part of the morning in the jeep with the heat blasted on high (like true outdoorsman would do… just kidding). But as soon as the sun started to rise above the pines, and with a clear and empty sky overheard, we knew that the day would be something to look forward to. As the warmth of the sun radiated onto the land, it's presence rejuvenated us instantly. It was a sign that it was time for breakfast! We pulled out the pots and pans and other cooking utensils and began prepping a much needed feast. I think we can all relate that camping food taste better than home cooked food, even though it's technically the same thing, right?
After breakfast, we packed up the Bean and headed back the the way we came to go to Bryce. To those who live in Utah, it's sometimes easy to overlook the luxury of living in a state that has so many outdoor recreation opportunities. From Salt Lake, in just a few shorts hours, you can travel to any of the five National parks as well as some of the most visited national forests in the country. As we entered the park, Bryce's surrounding desert lands, its snowcapped red rocks and hoodoos, and distant panoramic views of the state captured every ounce of the spectacle that was. This, coupled with the bizarre nature of Bryce Canyon, including its slot canyons, windows, fins, and spires (hoodoos), the land offers a wondrous landscape of mazes and one of the most memorable hikes imaginable.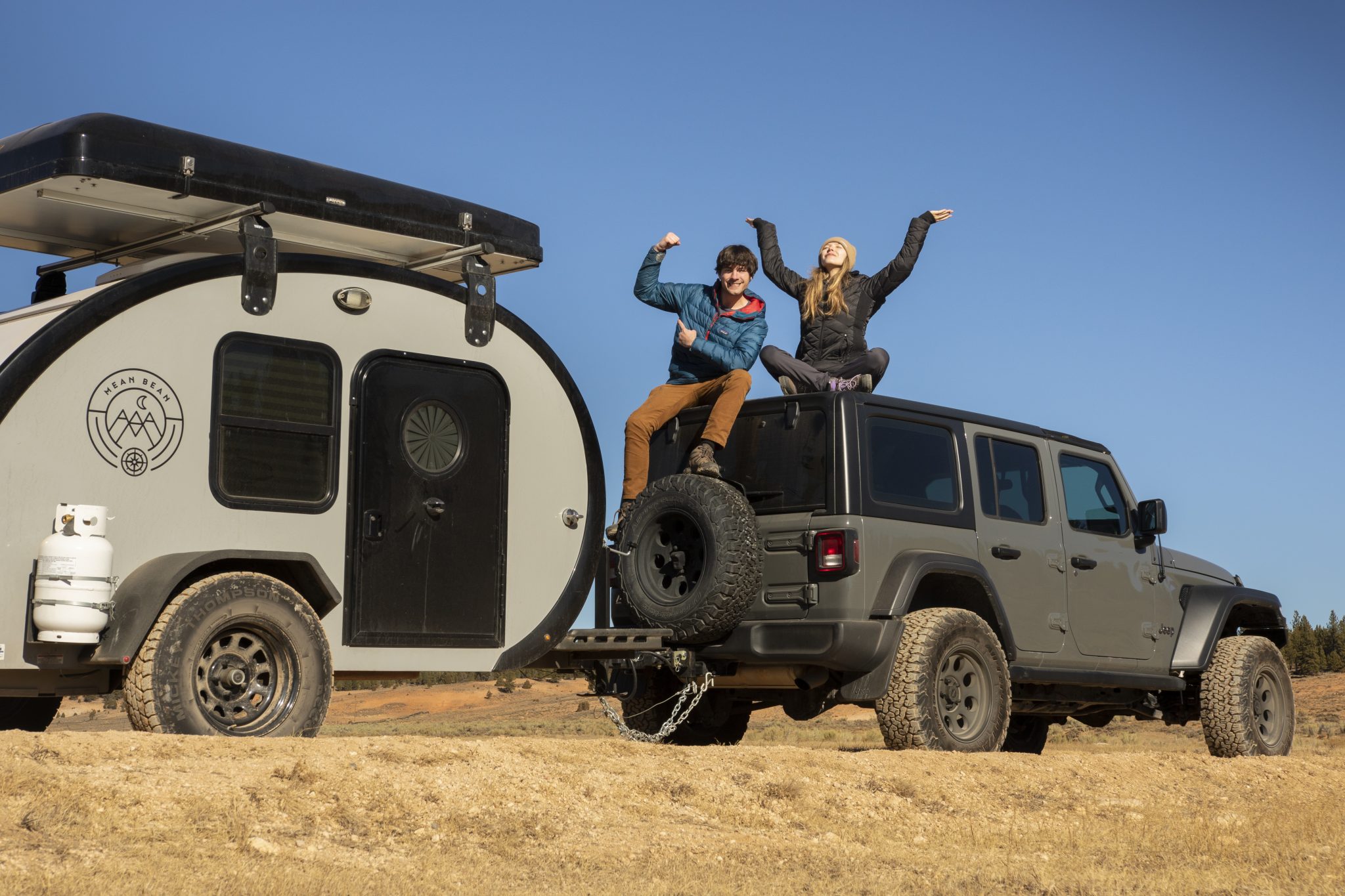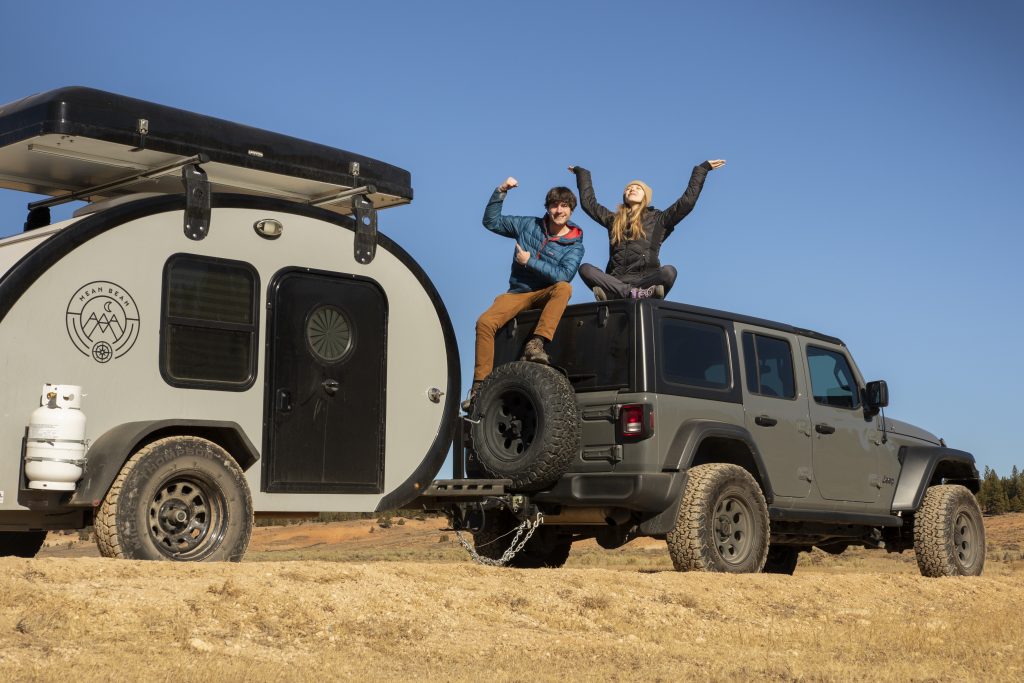 While traveling through the park, we saw all sorts of RVs and trailers. If you're a Bean owner, then you're a part of a community of outdoor adventurists that take a whole new spin on the RV and trailer lifestyle. Plus, the Bean gets a lot of looks and attention! Thanks to its retro design and unique structure, it's one of the most recognizable teardrop trailers in the country.
Shortly after parking the trailer near the trailhead at Sunrise point, we started our ascent up to the overlook to see Bryce Canyon's landscape in its entirety. At the top of inspiration point, we can say that we were definitely inspired. We started our hike around the rim of the canyon then headed down the pass to the Peek-A-Book Loop trail.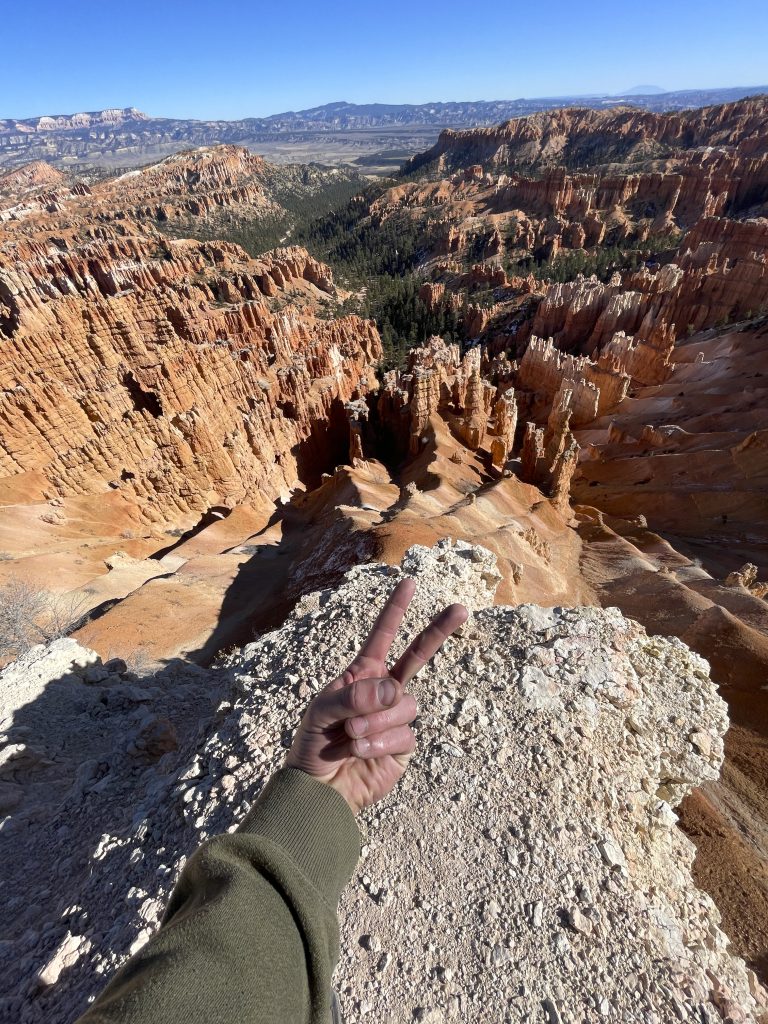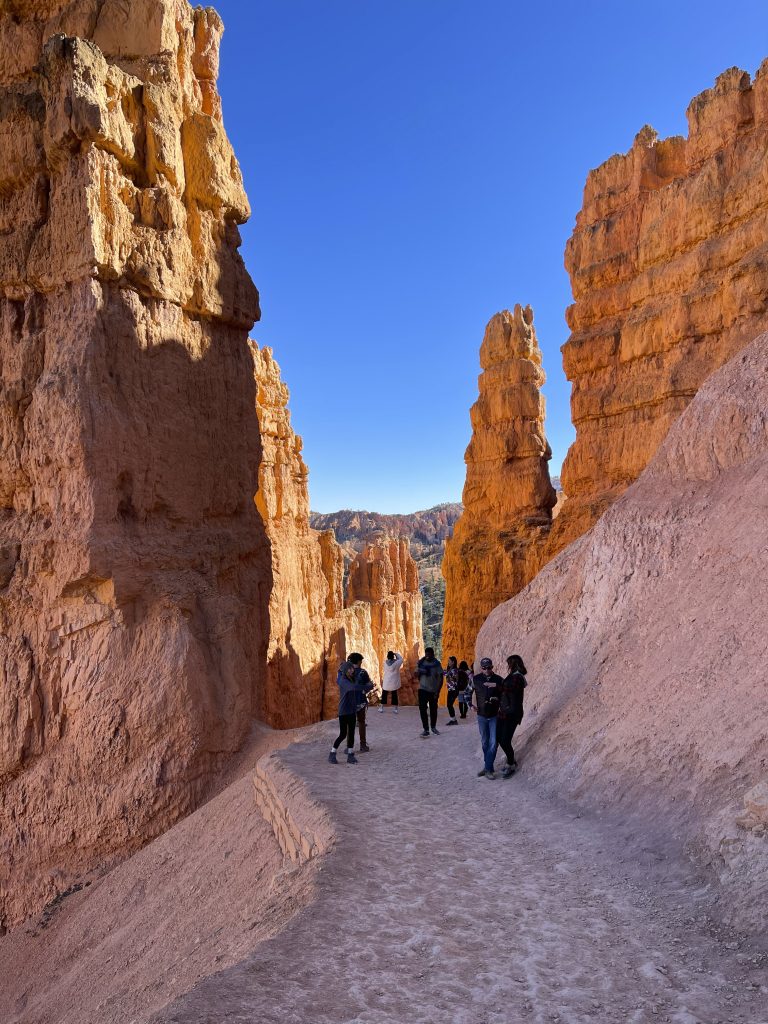 After three hours of hiking through the canyon's marvels, and relying on the AllTrails app to get us back to Bean safely, we quickly realized that the the only accessible trail to get us back to the Bean was CLOSED. This meant we would either have to travel back the way we came (an additional three hours) or we could start walking the road. So, we chose to walk the road and did what any adventurist would do… we attempted to hitchhike back to the Bean! Hitchhiking! We were actually doing it. With smiles on our faces and our thumbs held high in the air, we hoped that anyone would stop and pick up these lost travelers.
Surprisingly, as we walked for a while, there was a car or two that would attempt to pull over to inquire about our requests, but due to a surplus of traffic, it was nearly impossible for them to stop at all. So, they continued onward, looking back in their rearview mirrors at what could have been a friendly and kind gesture. The best part about this experience is when we looked behind us, another group of lost hikers were following us on the same mission. We figured they must have done the same thing. Jokingly, we figured it would be a competition to see who hitched a ride first. Considering their group was much larger than ours, it was no question that we'd be the top choice. In no time at all, a medium-sized white van pulled over and the two vanlifers inside gave us the okay to climb in.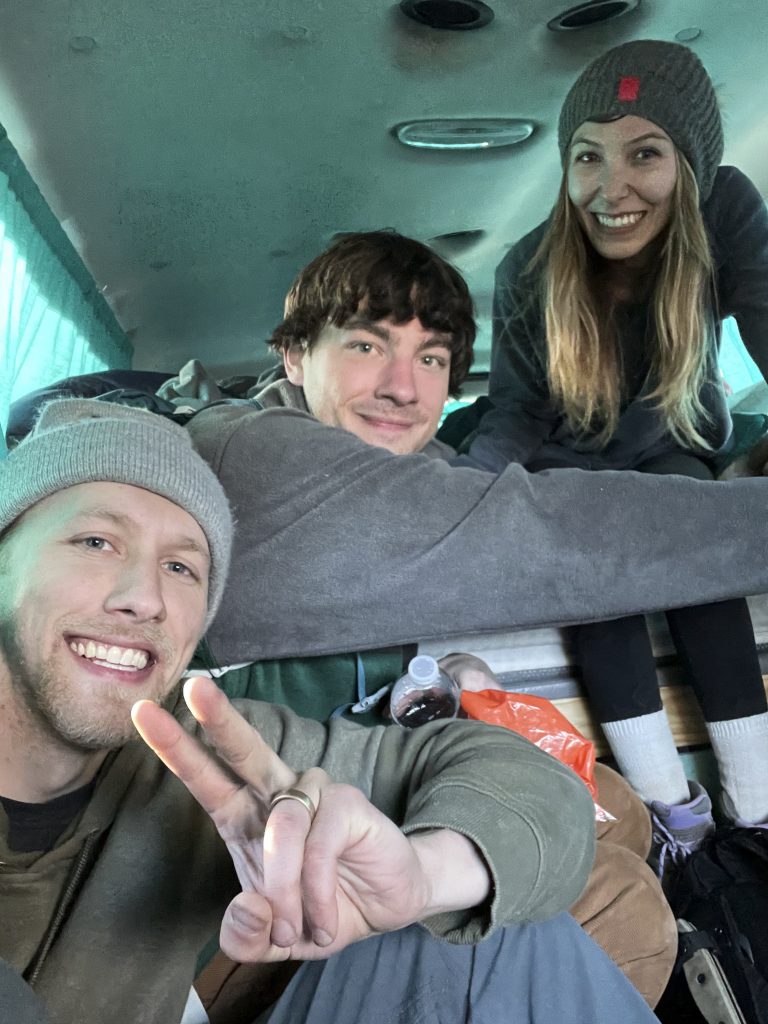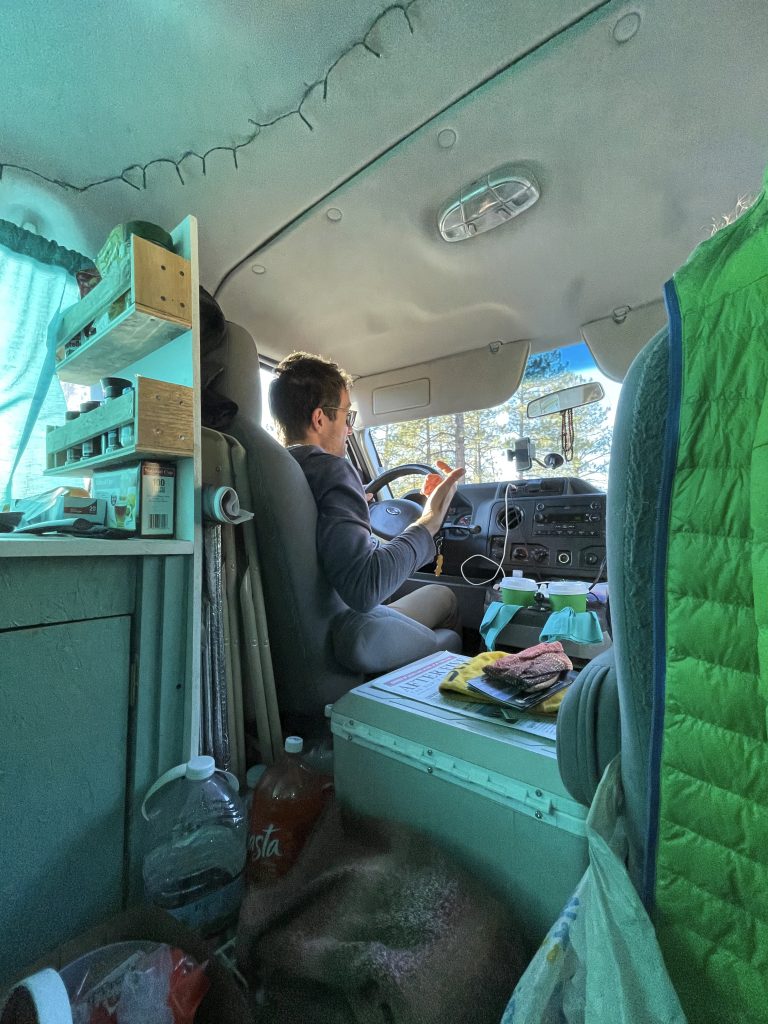 In the van, a couple from the Czech Republic who had been touring around the country had stopped to greet us. They mentioned to us that they'd been helped so many times by people that they'd met on the road, so upon seeing us, they knew that this was their chance to return the favor. Squished and cramped in the small empty cargo space of their van, they shared stories of their travels and why they left their corporate lives behind to live the the life they've always wanted. They were exuberant and extremely delighted to be sharing personal stories while also intrigued about the stories of our lives. In good gesture, before we said farewell, they offered us whatever food they had to give, english cucumbers, apples, and bananas, to name a few. We thanked them and wished them the best of luck on their travels and whatever endeavors they had in store. We hope they encounter more travelers and have great experiences along the way.
Sometimes you just don't have the proper gear for the trip. So as a curtesy to Mikenley, as the day reached its end, we decided to check into a room at Ruby's Inn Hotel. We were very excited to spend the second night of our trip, comfortably, and out of the freezing cold.
Day Three: The Way Home
As with any adventure, it always seems as though the trip ends as fast as it began; as they say, time flies when you're having fun. After two days of eventful and memorable experiences, we knew that the latest Bean adventure would be something to be remembered long after we left and that the Bean would soon return to Bryce Canyon in due time (perhaps when it's warmer outside). Camping in the Bean truly creates a delightful spin on the camping lifestyle while paying tribute to the last 100 years of teardrop trailer camping. Being able to travel light and into places that aren't always accessible with a larger RV or trailer allows you to venture into some of the most secluded and marvelous places you'll ever venture to. It won't be long before we hit the road again and go on another spontaneous road trip and to say that we've Bean There.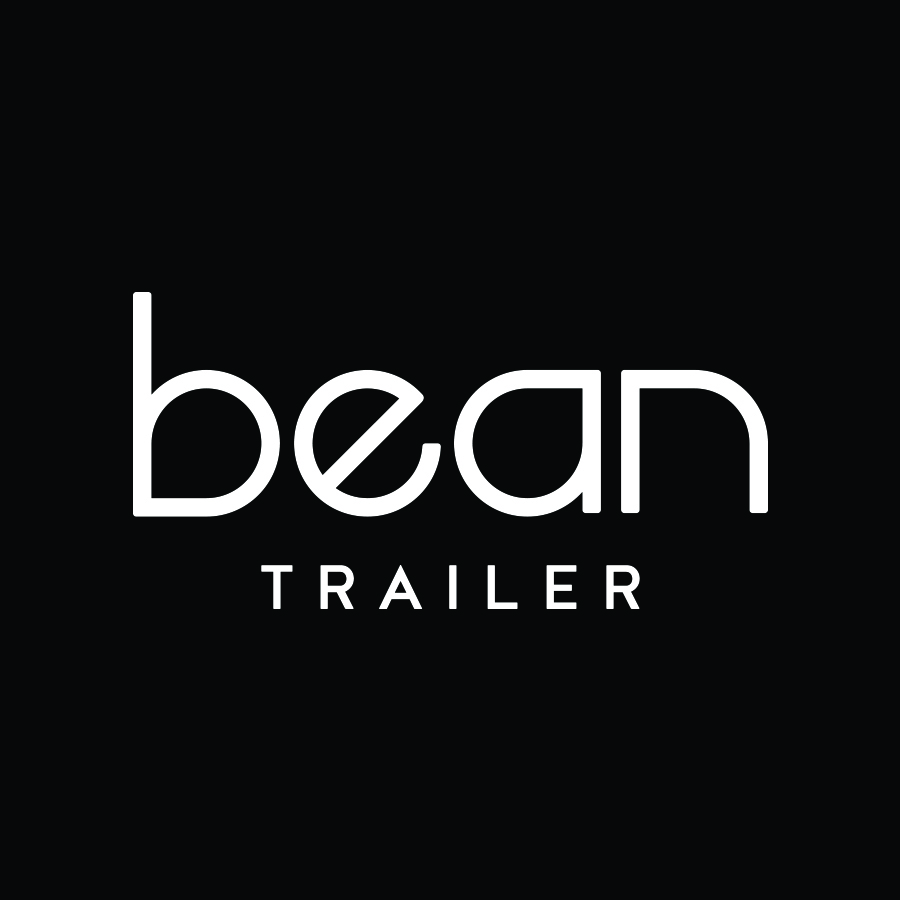 Off-road trailers built for the modern explorer. Inspired by a classic teardrop trailer design with improved construction for long term durability. We provide personalized camper options to all of our customers. Come see us in Salt Lake City!