As an avid adventure enthusiast, I'm always ready to experience travel in new ways. In my particular experience, I started road tripping by sleeping in an old beat up Honda Accord, then I went on to build a travel van, and now I've been blessed to enter into the world of the #teardrop #life. All of these methods have there ups and downs, but at least they're far from clunking down the road in one of those god-awful motorhomes. Does anyone actually have any fun driving those machines?
To start off the maiden voyage with Bean Trailer's top tier model, the "Meaner Bean," I had to consider the elements I was up against. It's January, the forecast showed a low of 5 degrees, and I was using a camper I was otherwise unfamiliar with. At this point, with my outdoor experience, I've come to understand, enjoying the outdoors has nothing to do with weather and has everything to do with being well prepared, so regardless of my teardrop's heating capabilities I was ready to manage some very cold weather. Not to mention, I'd talked my fiancé into coming along so I was on my best behavior while attempting to make the experience as enjoyable as possible for her.
Nonetheless, being that we are very new to the state of Utah, we were up for an amazing adventure and ready to drive off into the sunset (or in our case, snow storm). The target location this time around was Moab, an amazing tourist town surrounded by some of the most renowned National Parks in the world, including Arches NP and Canyonland's NP. Surprisingly, we didn't plan to visit either because I had a more stealthy option in mind – Dead Horse State Park. I'd never visited the park before, so as someone on a mission to visit as many eye-popping locations as possible, and with the help of a quick google search, I knew it was a must-see location.
With our Bean loaded up with blankets, sleeping bags, snacks and all of the good night essentials, we entered into Moab just in time to enjoy the sunset splashing over the astonishing orange rock walls towering above the Colorado River. A couple of things came to mind in this moment. Red tipped rock faces are always amazing to experience through a photographer's eye and why haven't I considered kayaking the Colorado River yet? With little light left to be shared, I was just very satisfied to be enjoying some of my favorite passions like the outdoors and adventure photography with the woman I love. Plus, being the outdoor maniac that I am, I've gotten to test out and use some of the best gear around and towing around a beast of a teardrop trailer was already high on my list.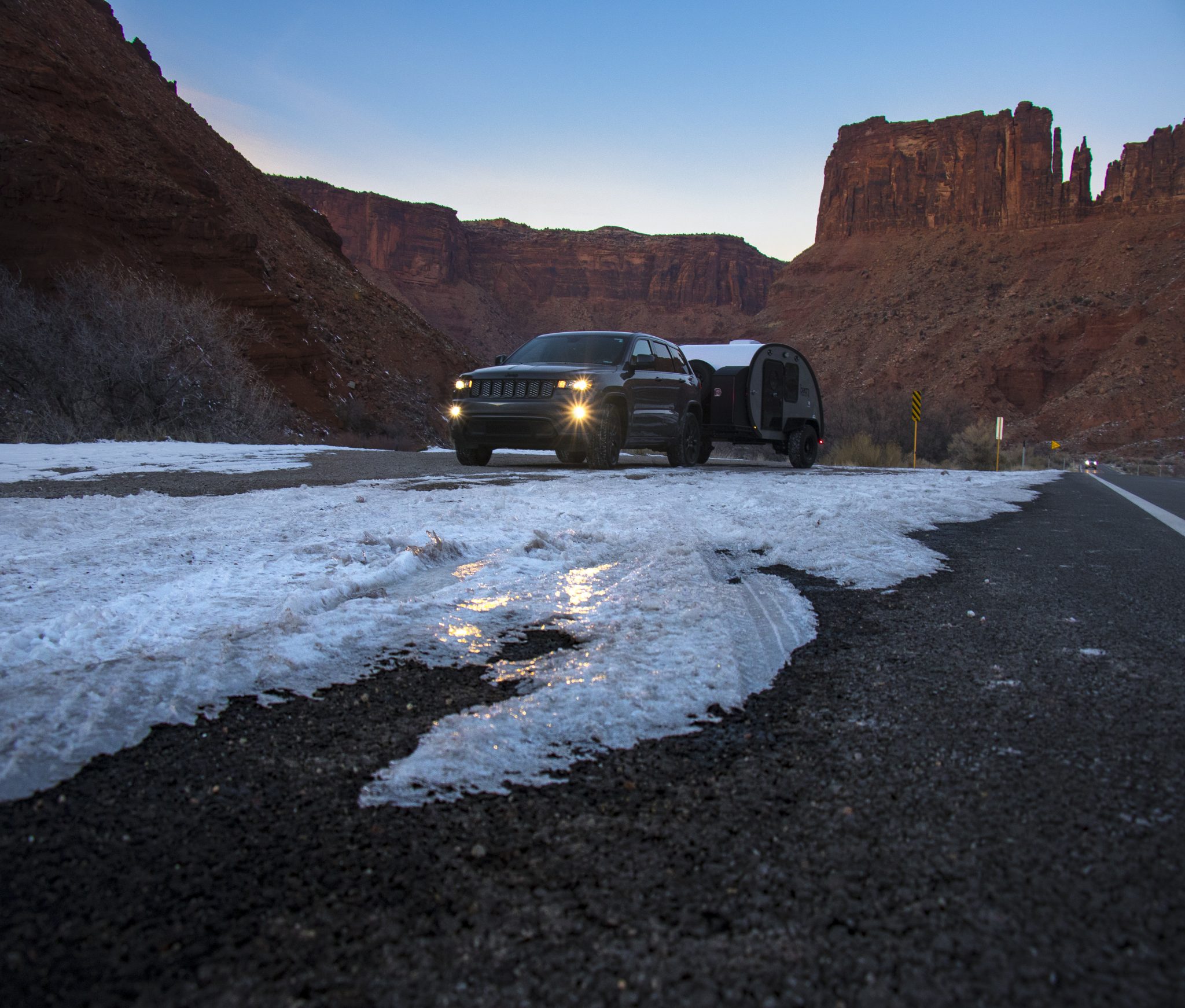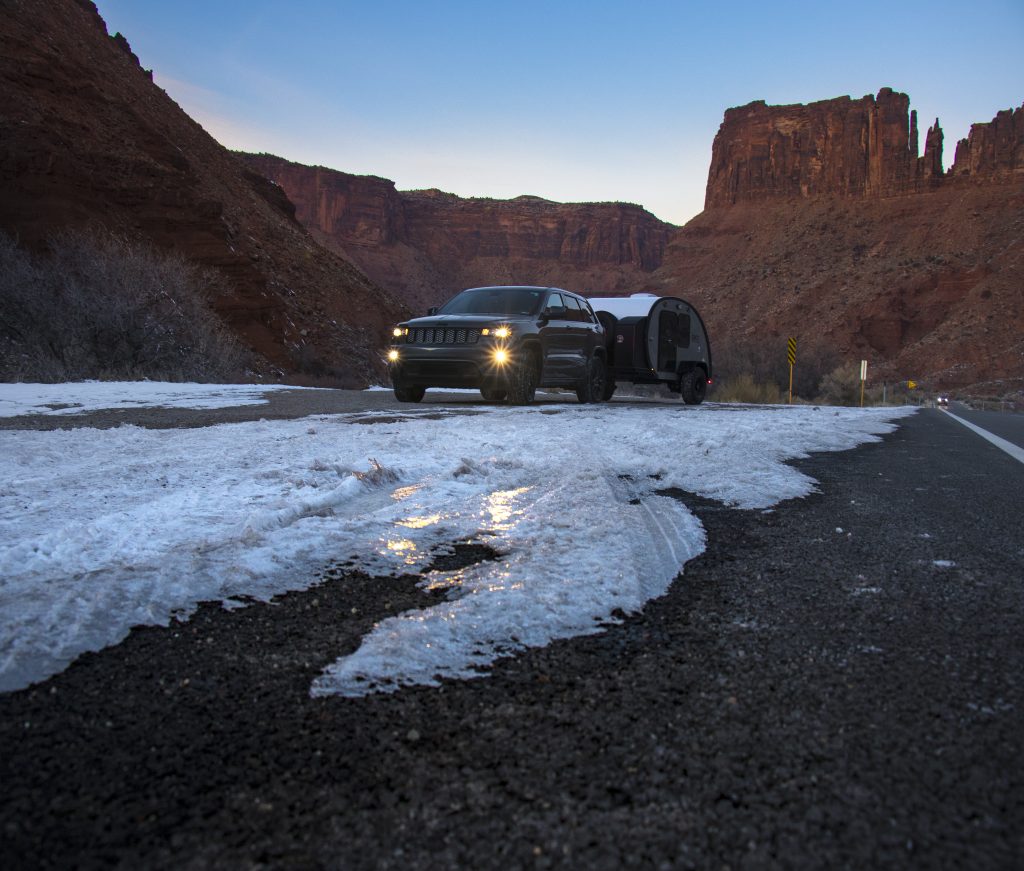 With the first night setting in upon us, and after having enjoyed a good meal from the local Moab Diner, we fueled up and settled into our first night in the Meaner Bean. Fortunately, this luxury home on wheels comes with propane fueled heat so after incurring a small learning curve and the use of a handy reset button on the bottom of the trailer, we were toasty warm in the queen sized cubicle. Before shutting my eyes, my mind drifted to the endless possibilities of utilizing the teardrop trailer while traveling across the country and the relaxing book-open-nights that would ensue under the stars.
The following day we arose at 5:00 AM because if you're traveling with me, getting to beautiful locations at sunrise is part of the package. Also, if you're towing a wonderful bed to sleep on, a short mid-day nap can be a delightful option if you have epic plans for the afternoon. For us, we had our sights on Dead Horse Point, just a short, sweet, and scenic 40 minute drive South West of Moab. Upon arriving, we were pleasantly surprised to to find the visitor center was open because of all of the park closures due to the government shutdown.We drove along the winding roads eventually making it to the lookout point after traversing over an amazing natural bridge that connected the predominant plateau with the floating island like hiking area.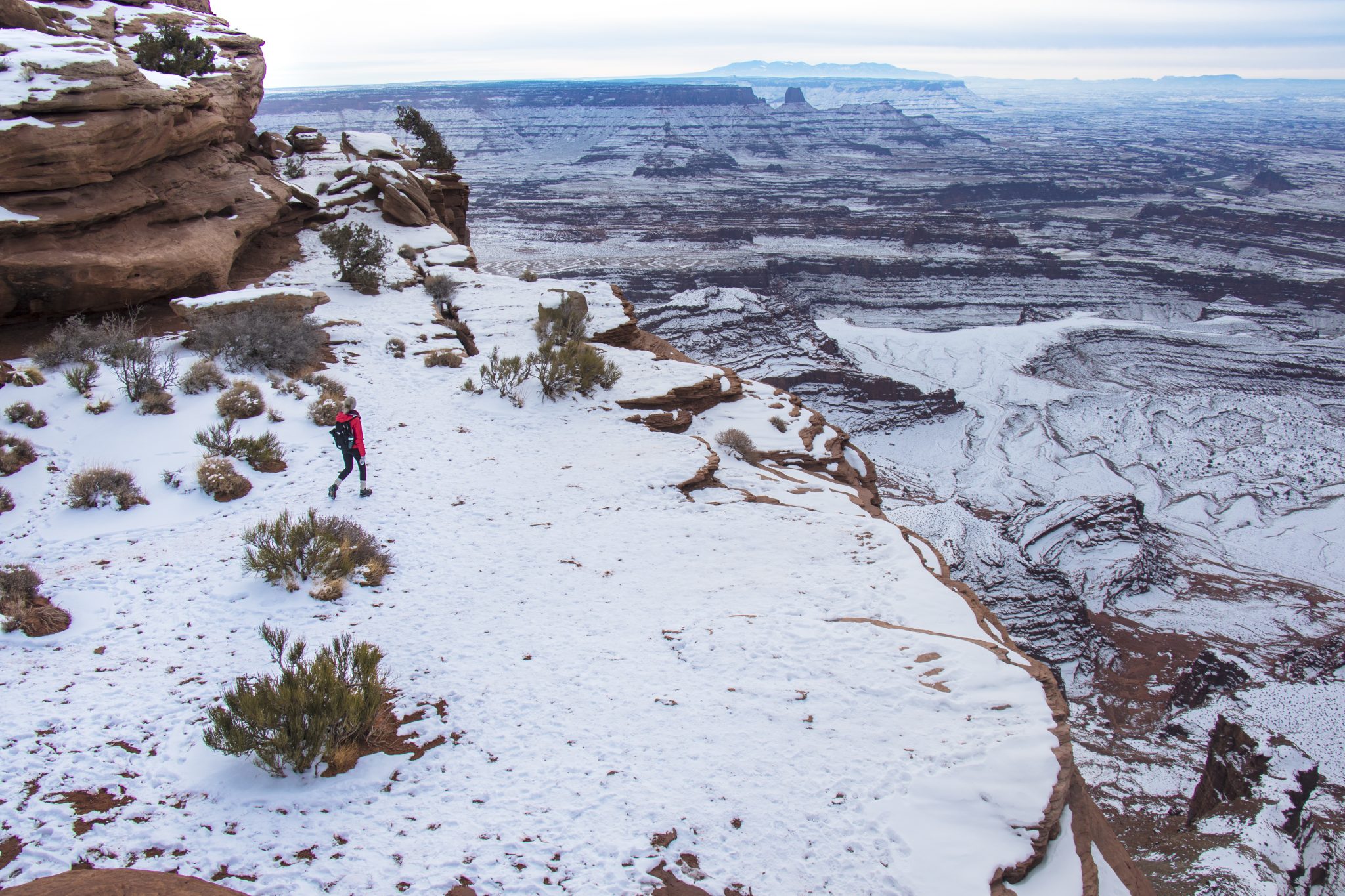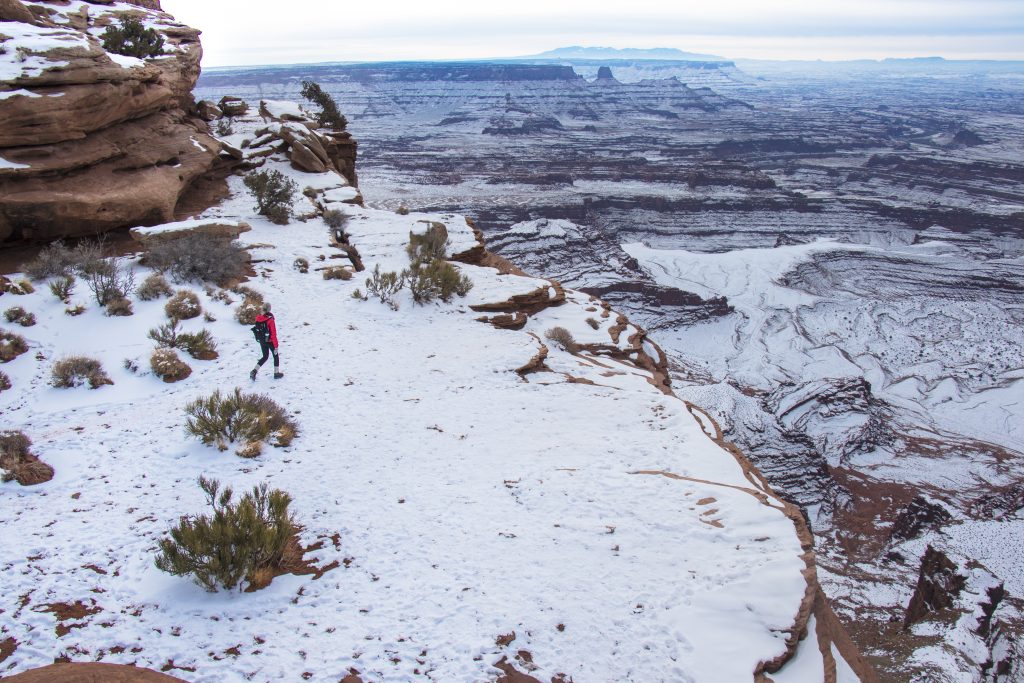 To no avail, the weather didn't cooperate and while it was a rather gloomy day, the view looking out over Canyonland's NP is a spectacle on earth to be cherished. We carefully hiked around the popular loop situated on the cliff's edge, hung out in the Bean, and cooked up some of our world famous pineapple tacos for dinner while enduring the freezing weather before nightfall quickly blanketed the already dismal sky. Fortunately, the steam from the built-in stove helped keep our hands warm while preparing our festive meal, but we had to work quickly before our once warm meal became icebound.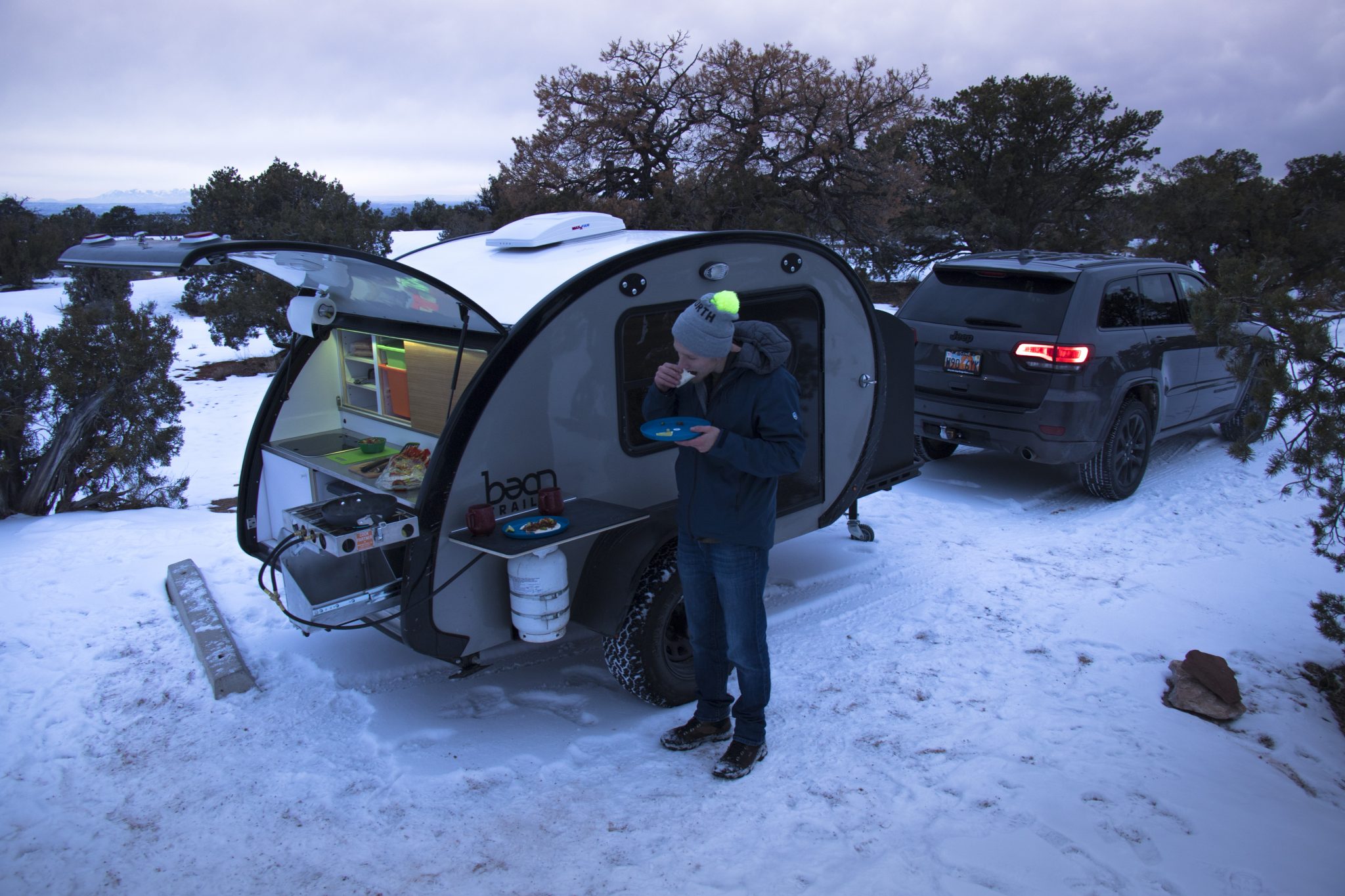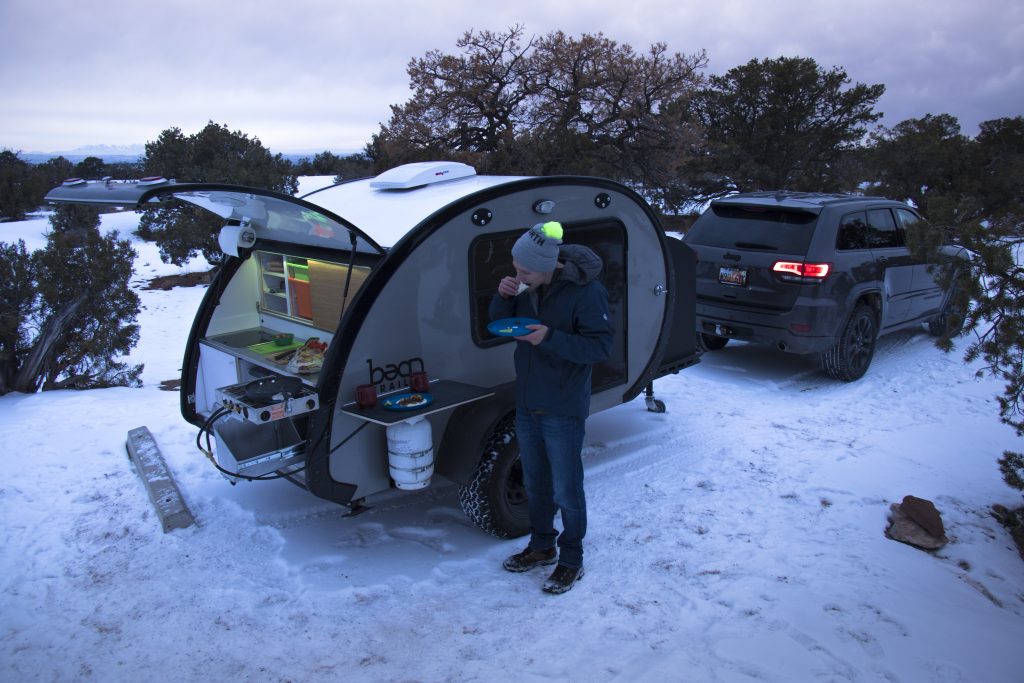 Our trip ended with another early rise out of bed the following morning. With a fresh layer of powder already taking over our campsite and with many more inches on the way in the upper highlands surrounding Moab, we decided the safest option was to start heading back home. Our trip was short, snowy, and eventful, but I suppose that's what you can expect when you take out a teardrop trailer like Bean. Although I'd have no problem living out of one of these amazing travel trailer's for an extended period of time, I look forward to seeing how I can evolve my weekend warrior routine with the compact luxury amenities Bean Trailer provides.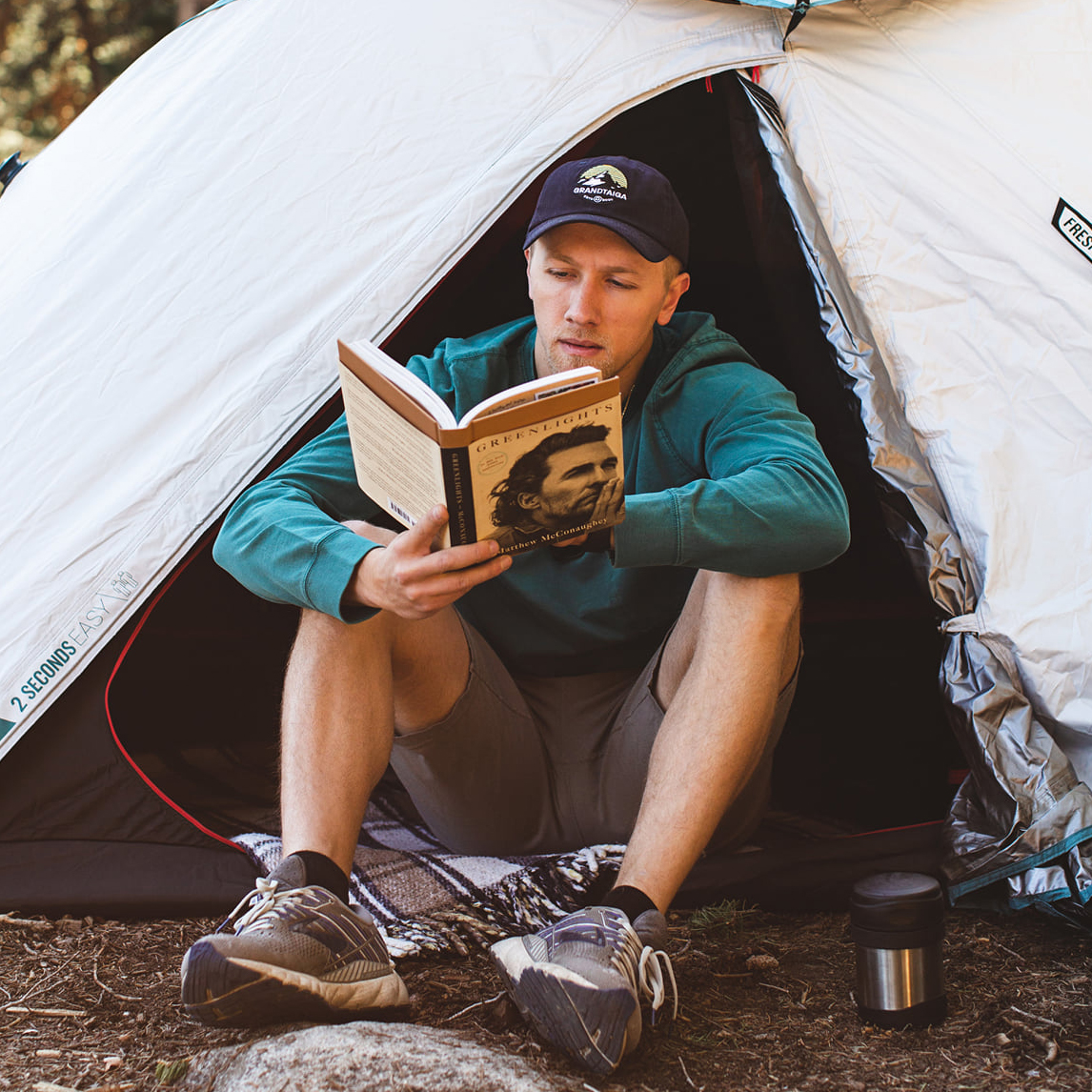 Nick lives a "can do" lifestyle, with a deep passion for exploration, and curious living. His goal has always been to encourage everyone to get outside, live healthier, and walk lighter on our feet.